Toughest Challenge or Greatest Opportunity?
The pandemic continues to have a lingering impact on the office sector. As employees work from home—reports show just 40 percent are back in the office—companies have found they can rein in expenses by offloading unused space. According to research by Transwestern, there's about 9 million square feet of sublease space available locally, with some notable companies looking to lighten their real estate obligations. In Plano, 225,000 square feet is available in Liberty Mutal's new Legacy West high-rise. Another 327,400 square feet hit the market after Reata Pharmaceuticals moved into a smaller space. How much of this sublease space will be absorbed—and how quickly—remains to be seen. But at least one top broker is optimistic. "Someone is going to snag it," says CBRE's Jeff Ellerman, who leases Reata Pharmaceuticals' space in Legacy business park.
More Downtown Residences
A little more than 25 years ago, downtown Dallas had just 200 residents. About 20,000 multifamily units have been added since then—and more are on the way. New developments include Dallas Gateway on Ross Avenue from Portman Holdings, which aims to add 700 apartments, along with office and retail space. But, in moves that will further stabilize the downtown market, many of the new apartments are coming from the redevelopment of underperforming office towers. Projects include Woods Capital's revamp of Bryan Tower and a renovation of Energy Plaza by Todd Interests, which recently added 324 luxury residential units in its vertical mixed-use tower, The National.
Game-Changer for South Dallas
Construction is set to kick off this year on the Southern Gateway Park, spanning Interstate 35 between Ewing and Marsails avenues. The engineering marvel will span 5 acres of wooded slopes and will include water features, a retail complex tucked under a hilltop, and a kids' playground with many bells and whistles. In the same way its predecessor Klyde Warren Park over Woodall Rodgers Freeway connected Dallas' Uptown and downtown corridors and sparked new mixed-use and office projects, backers are hoping this latest deck park will spur similar private development in South Dallas.  
Wide Open Spaces
Dallas-Fort Worth builders added approximately 59,000 new homes last year. But, with historically low mortgage rates, the region is still close to 170,000 houses short of consumer demand. Enter: Anna, Aubrey, Celina, Little Elm, Melissa, Prosper, and Wylie. Get ready to hear a lot more about these outlying suburbs in 2022 as homebuilders continue to gobble up land and announce more massive subdivisions. That, paired with the upcoming Dallas North Tollway's expansion into Grayson County, gives even more credence to the phrase, "boom in the 'burbs."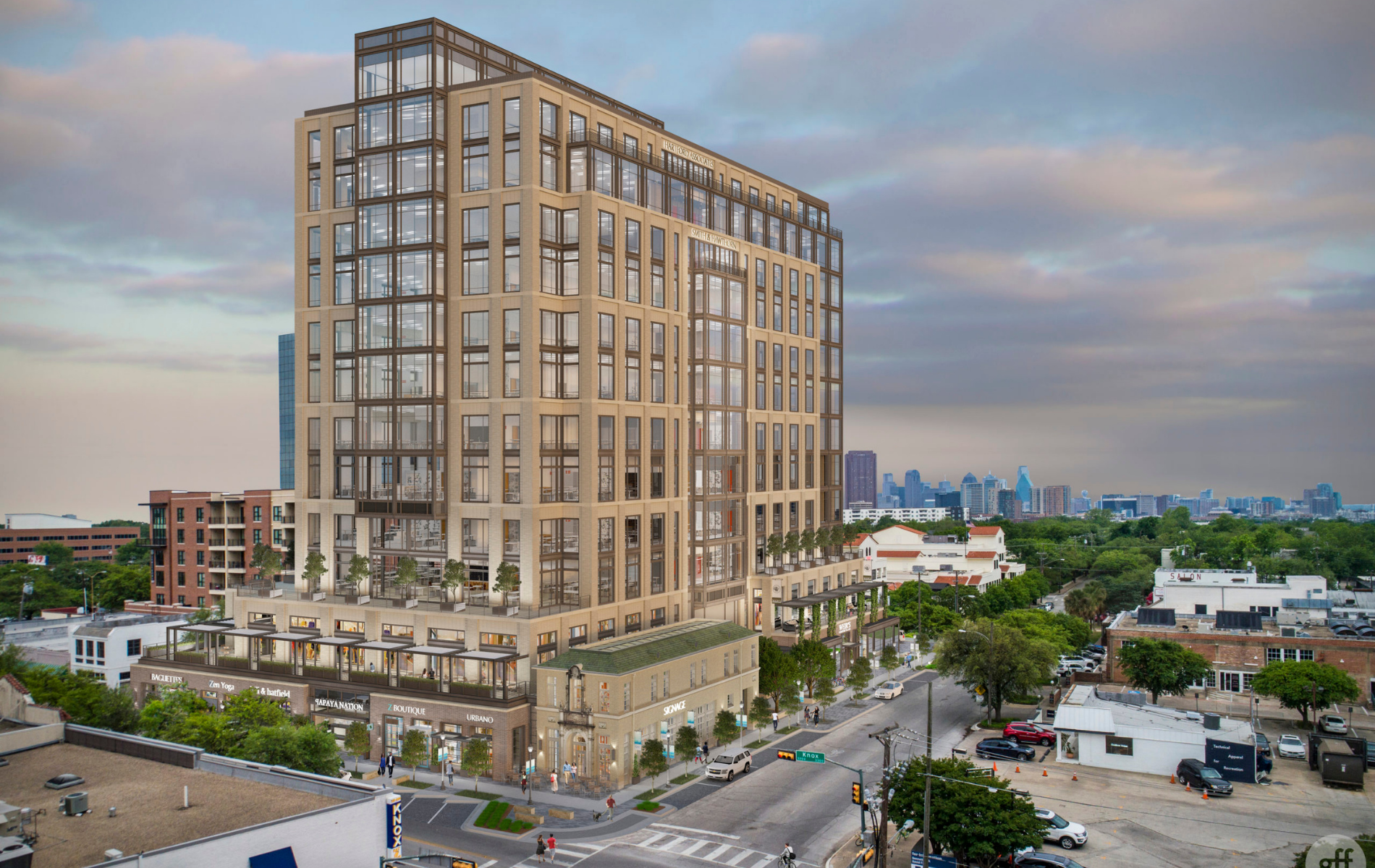 Reinventing Knox Street
It has long been a popular restaurant and retail destination. Now, with the backing of some of real estate's biggest players, the Knox Street neighborhood is diversifying with landmark projects that will add significant amounts of office, hotel, and residential spaces. Four Rivers Capital is wrapping up its impressive $155 million, 12-story redevelopment of Weir's Plaza, which includes 250,000 square feet of Class AA office space. And now, a long-awaited 12-acre project funded by Austin billionaire Michael Dell, in collaboration with Trammell Crow Co. and The Retail Connection, is taking shape. The partners have revealed plans for three buildings—a tower with 18 floors of luxury condos atop an Auberge Resorts Collection hotel, another 150-unit residential tower, and a six-story, 125,000-square-foot office building with street-level retail.
Get the D CEO Real Estate Newsletter
Get weekly updates on breaking commercial real estate news and relevant industry reports.
Authors
Brandon J. Call is the executive editor for D CEO magazine. An award-winning business and data journalist, Call previously served…
Christine is the editor of D CEO magazine and its online platforms. She's a national award-winning business journalist who has…