From December 2022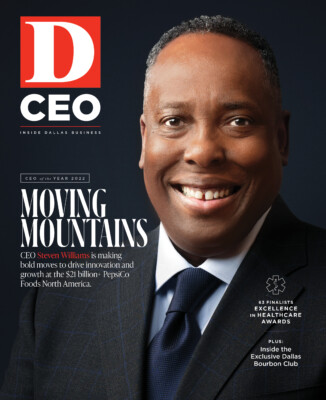 Dancers are doers. That's the motto of Lily Cabatu Weiss, who left a 36-year career on the dance faculty at Booker T. Washington High School for the Performing and Visual Arts (where she ultimately served as artistic director) to become executive director of the Dallas Arts District in 2016. After a nine-month search, the hiring team realized the perfect leader was someone who had seen the neighborhood grow all around her since 1978. "I've always said dancers are doers because we're physical," Weiss says. "And so, when something needs to be done, the response always immediately is, 'I can do it.'"
That tenacity led Weiss to change jobs at the age of 62 to lead the largest contiguous urban arts district in the country. The 19-block neighborhood includes all of the city's major cultural facilities—the Dallas Museum of Art, AT&T Performing Arts Center, Myerson Symphony Center, Winspear Opera House, and more.
A connector by nature, Weiss began by meeting with the district's many stakeholders. One of the chief struggles, she says, is figuring out how to balance the commuter tendencies of those in the region with a more pedestrian-centric approach. That's what's needed, she says, to create a thriving neighborhood in the tradition of some of Europe's greatest Renaissance cities.
And just as she developed a strong curriculum as an educator, Weiss went to work on the latest version of the Arts District Connect Masterplan, a strategy that received city council approval in January 2021. Like the Sasaki Plan, which laid the groundwork for the neighborhood in 1983, the new vision calls for transforming Pearl Street into the "Avenue for the Arts" and remaking the Ross Avenue corridor into a more pedestrian-friendly boulevard.
In addition, the new strategy aligns with Downtown Dallas Inc.'s Dallas 360 Plan, which calls for more public art, infill development, enhanced greenery and lighting for the district, and more. "I've had to learn patience," Weiss admits. "Nothing happens overnight. Incremental progress is still progress. And working with an urban district like Dallas made me understand the speed—or lack of speed—in anything that happens in a big, bureaucratic area."
Of course, the most significant test of her leadership—and the arts community's resiliency as a whole—has been the pandemic, which caused some organizations to lose nearly 50 percent of their revenue overnight. Instead of retreating into silos, Weiss encouraged disparate arts groups to collaborate, share ideas, and work together. "At the end of March 2020, we got on the phone and said, 'OK. What are we going to do?'" Weiss says. "We immediately figured out that it would take all of us. We needed to determine what everybody was doing, and only then did we realize there is strength in numbers. We've probably always known that, sure, but Dallas has not necessarily always played that game."
With a new sense of esprit de corps, a survey of arts organizations commissioned to put a number to the pandemic losses, revealing that 92 organizations lost about $95 million in revenue. She and the Dallas Arts District will soon unveil a new public relations and social media campaign with the goal of helping the groups recover some of those critical funds.
"Nothing replaces that live arts experience," Weiss says. "It's not about selling tickets. It's about creating memories. It's about focusing on experiences. If you experience something that is game-changing and transformative, you will come back again and again."
Get the D CEO Newsletter
Stay up to speed on DFW's fast-moving business community with weekly news reports, interviews, and insights.
Author
Brandon J. Call is the former executive editor for D CEO magazine. An award-winning business and data journalist, Call previously…