From April 2022
Leo Francis Corrigan was just 16 years old when he stepped off a train and hit the streets of Dallas in 1910. With just a fifth-grade education and $10 in his pocket, the ambitious newspaper boy from St. Louis had decided to seek his fortune by following in the footsteps of one of his role models, American beer baron Adolphus Busch. Corrigan learned that Busch had seen so much promise in Dallas, he had invested more in the Texas city than in his brewery and other holdings in Missouri.
He got a job selling newspaper ads and did that for a few years, until one of his clients, a real estate investor, offered him a job leasing downtown office space. Showing an early talent for negotiating favorable terms, Corrigan worked out a deal that had him going from a $10-a-week ad man to a $50-a-week broker. He put together his first commercial real estate lease in 1917, at the age of 22. Four years later, he brokered one of the largest office transactions in Dallas—a 50-year deal for three stories of space in a downtown building, valued at a whopping $1.5 million.
Corrigan went on to pioneer strip shopping centers along Lemmon Avenue and rode the post-World War II housing boom with numerous hotel and apartment projects. He transformed the Dallas skyline with his Tower Petroleum Building, Corrigan Tower, 211 N. Ervay (the iconic turquoise building downtown), and other office properties. He was an active investor as well, buying The Stoneleigh, Maple Terrace, and, in a milestone moment, the Adolphus Hotel.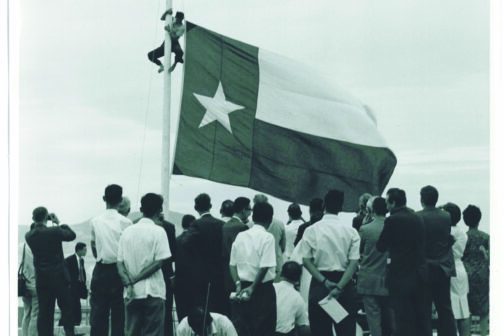 His work also took him around the world with hotel developments in Hong Kong, the Bahamas, Bali, and other exotic locales. At one point, he also owned The Biltmore Hotel in Los Angeles. In a 1957 article, The New York Times put the value of his holdings at $750 million—or about $7.6 billion in today's dollars.
Corrigan built his portfolio through a willingness to take bold risks. "There are 40 ways to get into trouble in my business," he told the Times. "And I've discovered that there are also 40 ways to get out of it."
Leo F. Corrigan Jr. joined his father in the business and played an instrumental role in refining and enhancing the portfolio. In the 1990s, Leo Jr.'s five children divvied up the holdings, with four of the five (Leo III, David, Catherine, and Alice) continuing the legacy with Corrigan Properties and Corrigan Investments.
Note: In each issue, D CEO takes a look back at some of the people and events that helped shape Dallas in a special series called End Mark. Send your ideas to [email protected]
D CEO Newsletter
Stay up to speed on DFW's fast-moving business community with weekly news reports, interviews, and insights.
Author
Christine is the editor of D CEO magazine and its online platforms. She's a national award-winning business journalist who has…