It was early July 2020. The pandemic still hung heavily over a hot Texas summer, and then the news that every Texan never wants to hear: the state fair of Texas would be canceled.
Not since 1945 had the 134-year-old tradition been torpedoed, and now millions of people wouldn't be able to buy a jacuzzi, see a giant butter sculpture, or enjoy the midway rides. But the loss that struck the hearts, minds, and stomachs of potential fairgoers most might have been the loss of Fletcher's Original Corny Dogs, the most famous of the fried fair fare. In a triumph of capitalism and collaboration, though, the corny dog dilemma was solved by Golden Chick, a somewhat unlikely candidate known for its fried chicken and fluffy, fresh-baked rolls.
As COVID-19's first wave hit throughout the spring, the prospect of the fair, as well as an overwhelming majority of Fletcher's revenue, was in danger.
"In April, we started thinking, 'What if this doesn't happen? What's the plan?'" says Aaron Fletcher, CEO of Fletcher's Original Corny Dogs. He and his team came up with a strategy to do pop-up shops to offset expected losses, but it was unclear just how much that would help. The company typically sells around half a million corny dogs during the fair in just a few weeks. "I was batting around every possible idea I could come up with," Fletcher says. "I didn't know who we would partner with, what it would look like, or what it would take."
For Jim Stevens, the newish president of Golden Chick, the cancelation of the fair was a lightbulb moment.
"I was in the car one day with my vice president of franchise, and they came on the radio and said we're canceling the State Fair of Texas," Stevens says. "Immediately, I called my chief marketing officer and said, 'Let's see if they're willing to do something. They'll need to figure something out, and it'd be a good combination of local legacy brands.'"
Stevens' people called Fletchers' people. Existing connections between the marketing execs at each company helped pave the way for a partnership; both sides agreed it would be a win-win. But the partners had no idea just how successful it would be. During the weeks that usually host the State Fair, Golden Chick would sell out of Fletcher's Original Corny Dogs at every single location.
Part of what makes Fletcher's famous dogs so unique is the fresh preparation, the size, and the curly loop of batter that adorns the top. The company wanted to maintain that freshness—no frozen dogs would do. So, Golden Chick employees had to be trained to mix the batter, dip the dogs, and fry them. It wasn't easy, but in the end, both sides were happy with the product. "We knew that in order to do something like this, we would have to be pretty hands-on in everything that they did," Fletcher says.
During an interview with Stevens, he shared with me a graph that showed the impact the corny dog had on his company's sales. I should have known what they'd reveal. Last fall, I had heard about the Golden Chick-Fletcher's deal on the radio and went to see if I could get a taste of the fair at the nearest location to me. But every time I drove by, cars were wrapped around the restaurant. Some Golden Chick stores were selling 500 corny dogs a day; all told, the chain sold nearly 500,000 during the promotional period.
"That month was the best year we ever had," Stevens says.
Although sales were still shy of what the corny dog-maker would have sold at the State Fair, they came close, Fletcher says, and a huge weight lifted for a business that depends so heavily on one event. The collaboration worked so well, the two organizations joined forces again this summer, when customers were able to preview the 2021 State Fair of Texas with a Fletcher's corny dog at Golden Chick.
Looking In From the Outside
Stevens seemed destined to be the president of a fast-casual restaurant chain. A competitive triathlete, he's built more like a linebacker than a distance cyclist, but he has an easygoing way about him that is more local business owner than corporate big wig. He worked his way up at several other restaurant chains, including Arby's and Checkers, before being named chief operating officer of Japanese rice bowl brand Yoshinoya. But by 2018, he had grown tired of corporate life, so he kissed his six-figure salary and all the benefits that go with it goodbye and moved with his wife to North Texas to open a single Golden Chick franchise—a role that initially would earn him just a fraction of what he made in his previous post.
He wanted to own his business and grow it rather than being an executive in Corporate America, but Stevens' success as a franchisee didn't pass unnoticed by the chain's parent company Golden Tree and its chairman, Mark Parmerlee. Along with Golden Chick, Golden Tree owns restaurant chains Jalapeño Tree, Fireside Pies, and more, and Parmerlee was looking to step away from the president role. "It dawned on me that I'm not immortal and will not live forever," he jokes. "I thought it would be irresponsible of me to die one day and not have done a better job on succession."
From the start, Stevens was identified as an ideal candidate for the handoff.
"He didn't realize that when I helped him become a franchisee, he was really on a one-year interview for taking the torch from me," Parmerlee says. "I saw it from the very beginning, but I didn't share that with him. I helped him become a franchisee, and I sat back and watched. He was everything I had hoped for."
Stevens wasn't wholly in the dark and began to warm up to the idea of getting back into a leadership role. He started meeting with Parmerlee to learn more about the organization.
"I was looking in from the outside, thinking I could probably impact that organization pretty well from the inside," he says. He was named president of Golden Chick in the summer of 2019—and immediately began making waves.
Chicken Is Having Its Moment
Although the past 18 months have been challenging for many, fried chicken has been going wild. Hot chicken restaurants are popping up all over North Texas, and the fast-casual market has been booming due to sit-down restaurant closures during the pandemic. Several chains are battling in their version of a nuclear arms race to create the best spicy fried chicken sandwich. 
Golden Chick has not missed out. The company's 213 locations are primarily in Texas—nearly half are in Dallas-Fort Worth—with some in Oklahoma and Louisiana. It currently has just five locations in Houston, but Stevens says a franchisee is working on opening 55 stores in that area, and another aims to open 35 in West Texas. Those two expansions alone would grow Golden Chick's store base by 45 percent, but there are also plans for another 40 stores in North Texas, 20 in the Las Vegas area, and more in six Southern states.
Stevens is especially bullish on local appetites. "We could probably spend the next 10 years [growing] without getting outside of Texas," he says.
According to a 2020 report in Restaurant Business that cites research from Technomic, Golden Chick ranked No. 186 on a list of U.S. chains, with 2019 sales of about $183 million and 184 locations. That compares to giants like Chick-fil-A ($11.3 billion and 2,470 locations), KFC ($4.5 billion and 4,065 locations), Popeyes Louisiana Chicken ($3.8 billion and 2,476 locations), Raising Cane's Chicken Fingers ($1.5 billion and 457 locations), and Wingstop ($1.4 billion and 1,231 locations). 
But the company isn't afraid of bumping up against the big hens in the fast-casual chicken coop and believes its products can stand on their own. "We can open up down the street from a Chick-fil-A, or they can open up down the street from us, and it really doesn't impact our business," Stevens says.
The marinated chicken and fresh-baked roles bring in customers, but Golden Chick also offers lower-calorie fish options and even has a Zagat-rated chicken salad. As a private company not backed by private equity, the chicken chain must generate revenue to grow. Being innovative helps. Along with cash bonuses, Golden Chick helps corporate staff become their own franchises. It also has developed new building techniques to get restaurants up and running faster. (See sidebar at right.)
Stevens doesn't shy away from making bold moves.
"Jim gets out in the field and interacts with franchisees and employees and is very hands-on and creative," Parmerlee says. "As a leader, he's not afraid to make a decision."
Time will tell if the current chicken boom is a permanent change or a flash in the pan, but thinking differently about the restaurant business and creating unique partnerships are paying dividends.
"This organization has a lot of momentum," Stevens says. "Innovation works."
This past March, Saginaw became home to Golden Chick's first restaurant to be built with modular construction. Its three sections were dropped into place on site, then plumbing and electric work finished out the eatery's build.
Three-Piece Special
Stevens says modular construction allows Golden Chick to save time and avoid delays when building new restaurant locations in Texas.
Customers can order a three-piece combo at Golden Chick, and unbeknownst to them, the restaurant where they order it might have arrived in three pieces, too.
Last March, Saginaw became home to the chain's first modular restaurant, where the venue is built offsite, then fit together on the property. Golden Chick isn't the only quick-service restaurant turning to modular construction. Chick-fil-A, for example, is another brand embracing the approach, which has been shown to trim both construction times and costs.
Permitting delays in Dallas and other places can mean that once a developer owns the land, it might be six months or more before construction is approved. Only then can a developer begin building. That means the restaurant won't open for as many as 18 months after land acquisition. With modular construction, groundwork can begin while the permitting process runs its course.
"It's a game-changer," says Jay Alexander, director of construction at Golden Chick. "It enables our brand to get to market quicker."
While site design and civil engineering work is being done, the finished facility is constructed offsite. The pieces are delivered on a flatbed truck, and a crane drops them into place. After the three pieces are fit together, plumbers and electricians come through to make the restaurant function. This process slices a year off the timeline, and earnings can roll in sooner.
"Our time to open is five to six months instead of 18 months," Stevens says. "We start making money a lot more quickly."
Get the SideDish Newsletter
Dallas' hottest dining news, recipes, and reviews served up fresh to your inbox each week.
Author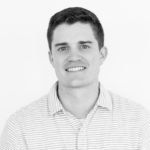 Will is the senior editor for D CEO magazine and the editor of D CEO Healthcare. He's written about healthcare…