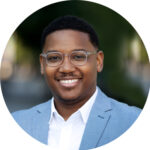 As we settle into a booth at Avoeatery at Trinity Groves, Benjamin Vann, CEO of nonprofit accelerator Impact Ventures, tells me he is a regular there.
"I've been here three times in the last two weeks," he confesses, as he recommends his go-to dish, the salmon. Its avocado coriander sauce quickly convinces me to take his advice. Vann is more in the mood today for a hot chicken sandwich, commenting briefly on the recent explosion of Nashville chicken before praying over the meal. 
He tells me he grew up in a family of entrepreneurs in Kansas. "In my family, you typically go through two routes, either clergy or entrepreneurship," Vann says. A talented football player, he majored in finance at Washburn University in Topeka, inspired by Reginald Lewis' book, Why Should White Guys Have All the Fun? "I was the only Black player on the football team who was a finance major," he says as the two of us bond over our experiences as student athletes.  
After graduating in 2010, Vann moved to Texas and worked for Fidelity Investments for nearly five years, before transferring to the company's nonprofit, Fidelity Charitable, managing donor-advised funds. He also ran Dallas Black Professionals Social Network, an organization aimed at helping Black transplants get anchored in North Texas. It gave him a look at how capital flowed between communities in Dallas-Fort Worth.
"That's where I got a lot of my entrepreneurial chops," Vann says. 
The experience also piqued Vann's interest in how philanthropy worked in Dallas, so he left Fidelity to raise money for parks at The Trust for Public Land.
"What I saw was that the people who were writing the checks didn't look like me, and the people who were receiving the checks didn't look like me," he says. He was eventually laid off and gave up his apartment, sold his possessions, and lived out of his car for two-and-a-half years while building Impact Ventures. The nonprofit provides startup and scaling capital to women and BIPOC entrepreneurs. "I had a passion for finance and investing and helping people; wanting to merge those together was how Impact Ventures was born," he says. 
Impact Ventures launched its first accelerator group in 2020 and has since supported more than 60 entrepreneurs. Vann recently secured a $200,000 investment from a family foundation based in Dallas and North Carolina, Phillips Foundation, to start a capital fund for women and BIPOC entrepreneurs, the Dallas Inclusive Capital Fund. The infusion followed a $450,000 grant from the Communities Foundation of Texas and a $50,000 Pegasus Prize from the Dallas Foundation.
The new fund will help exponentially expand his nonprofit's impact, Vann says.
"We see opportunities for any type of enterprise led by women and communities of color due to their diversity of lived experiences, culture, and interest," he says. "This diversity can spur new opportunities, markets, and unique solutions to solve both social and business problems." 
Get the D CEO Newsletter
Stay up to speed on DFW's fast-moving business community with weekly news reports, interviews, and insights.