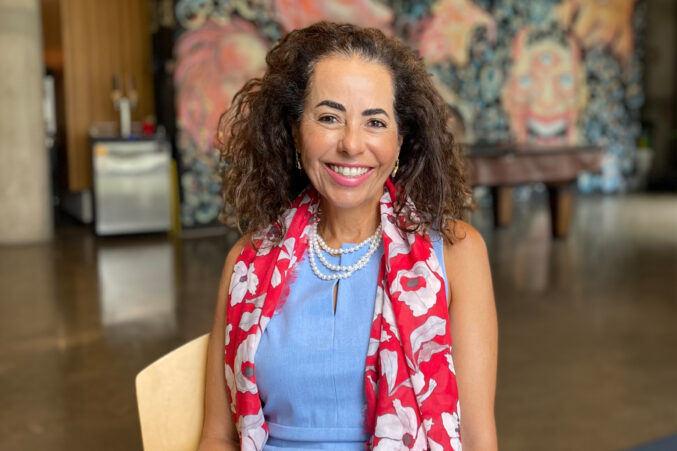 Meet Production Innovator Lola Lott
Her Dallas-based company Charlieuniformtango works with clients such as Samsung, McDonald's, and Amazon.
Lola Lott's family left Egypt when she was 3  years old, and she didn't return until after college.  When she went back, a friend took her to a production studio to help set up one of the very first Macintosh computers. Lott didn't realize how the experience would change her life.
"They kept finding work for me to do," she says. "I ended up learning how to put a crew together and how to do dubs. And then, of course, I learned how to bid and schedule, and it was just the best way to start a career, not knowing that it was going to be my career."
"Her company does work for name brands such as Samsung, McDonald's, and Amazon"
Today, Lott is the principal owner and CEO of Charlieuniformtango (CUT), a production company she founded with video editor Jack Waldrip in 1995. The duo began working together in the 1980s and developed a process that integrated the various workflow parts—Avid, online editing, graphic design, and audio—under one roof. The company now has more than 30 employees, offices in Dallas and Austin, and does work for name brands such as Samsung, McDonald's, and Amazon. 
"We got into video production a good 25 years ago, before anybody was paying attention, and it was slow. But we were very persistent," Lott says. "We slowly built a roster of directors and brought in the right producers to help us build production, and now we are doing amazing projects, small and big."
In late 2019, three of Charlieuniformtango's veteran artists were named partners—Deedle LaCour and James Rayburn, both senior editors, and Joey Waldrip, senior Flame artist. Lott is continuing as principal, CEO, and majority owner, and Jack Waldrip is continuing as senior editor and co-owner. But, after decades in the business, the new partnerships help give the co-founders a continuity plan.
Lott also makes it a priority to give back. She and her husband bought the 1929 Winnetka Congregational Church in Oak Cliff about six years ago and have since turned it into a performing arts center called Arts Mission Oak Cliff.
"We wanted a place where emerging artists could learn or educate or perform. And it has evolved. It's amazing the amount of art that is out in our community," Lott says. "Back in the early days, Charlieuniformtango used to hold art shows—long before anybody was doing that. Creating Arts Mission Oak Cliff was an opportunity to bring it full circle."