Aspen Has Everything Stephen Jones' Family Wants in a Getaway
The mountain paradise has long been a summer and winter destination for the chief operating officer of the Dallas Cowboys.
By Will Maddox
Published in D CEO October 2021
Photography by Matt Power, Nick Trininenko, byDaniel Bayer, and Courtesy of Aspen Chamber and Dolce Aspen Meadows Resort
I don't think I will ever forget the moment I realized that Aspen has it all. My wife and I were e-biking a 12-mile climb into the Elk Mountains to get a look at the Maroon Bells—two 14,000-foot peaks whose soft red shale and paler siltstone give them their distinct, purplish hue. As we took in the view of the bell-shaped mountains reflected in a quiet alpine lake, we began to understand why they are some of the most photographed mountains in the country.
For a Texan, escaping the summer heat in favor of fresh mountain air accompanied by plentiful outdoor activities, luxury accommodations, fine dining, and panoramic mountain views, is a blissful respite. My wife and I stayed in Aspen Meadows, a Dolce by Wyndham resort. The 40-acre campus sits on the edge of town and integrates nature and art, providing both rest and inspiration. 
The Bauhaus-style rooms and facilities are arranged like a small college campus, because the resort was originally built, and is still home to, the Aspen Institute, an educational and policy studies organization based in Washington, D.C. Over the years, the Colorado campus has hosted presidents, statesmen, diplomats, and business leaders. It also houses a gallery with works by the influential Bauhaus artist Herbert Bayer.
Aspen's free rental bike program came in handy throughout our stay. We took a 10-minute ride into town each day through neighborhoods full of quaint mountain homes to arrive at a bustling downtown full of restaurants, shops, and galleries. We also decided to take a hike along Hunter Creek, winding our way down from the mountains just north of town. Accompanied by a guide from the Aspen Center for Environmental Studies, we took in the stunning views and learned about the local flora, such as the fairy slipper, a pink and purple mountain orchid.
Aspen is great for burning calories, and lucky for us, it may be even better at replacing them. We enjoyed hearty and warm Italian fare at L'Hostaria Ristorante, where the spinach fettucini and Bolognese stood out, and we finished with colorful mountain of gelato, meringues, and berries. 
At Aspen Meadows, one can enjoy the views at Plato's, where Chef de Cuisine Rachel Koppelman's summer menu was fresh and delectable. The Wagyu tenderloin from Snake River Farms, paired with potato, fennel, wood sorrel, and lemon ash, was outstanding. We also enjoyed sitting off the town square at BOSQ, where Chef Barclay Dodge's summer tasting menu was equal parts art and nourishment. The dishes were as diverse as Peking duck with Chinese pancakes, duck liver mousse on black bread, and blackberries and beets with pistachios and lemon verbena.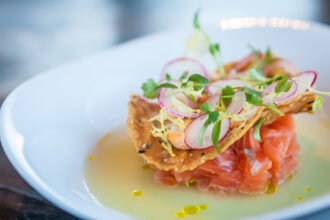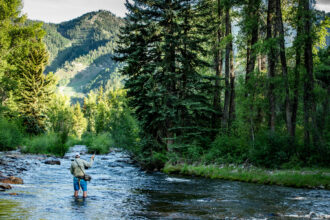 Our trip also included an up-close look at mountain streams with an afternoon fly fishing trip on the Roaring Fork with Aspen Outfitting Co. The shallow stream was moving quickly, but the cold, clear water and expert guidance helped us reel in a few brown trout. The views and pursuit were unbeatable. That afternoon, we once again took the e-bikes into the mountains, with the cool breeze and breathtaking views reminding us why Aspen is among the premier vacation spots that America has to offer.