From D CEO May 2021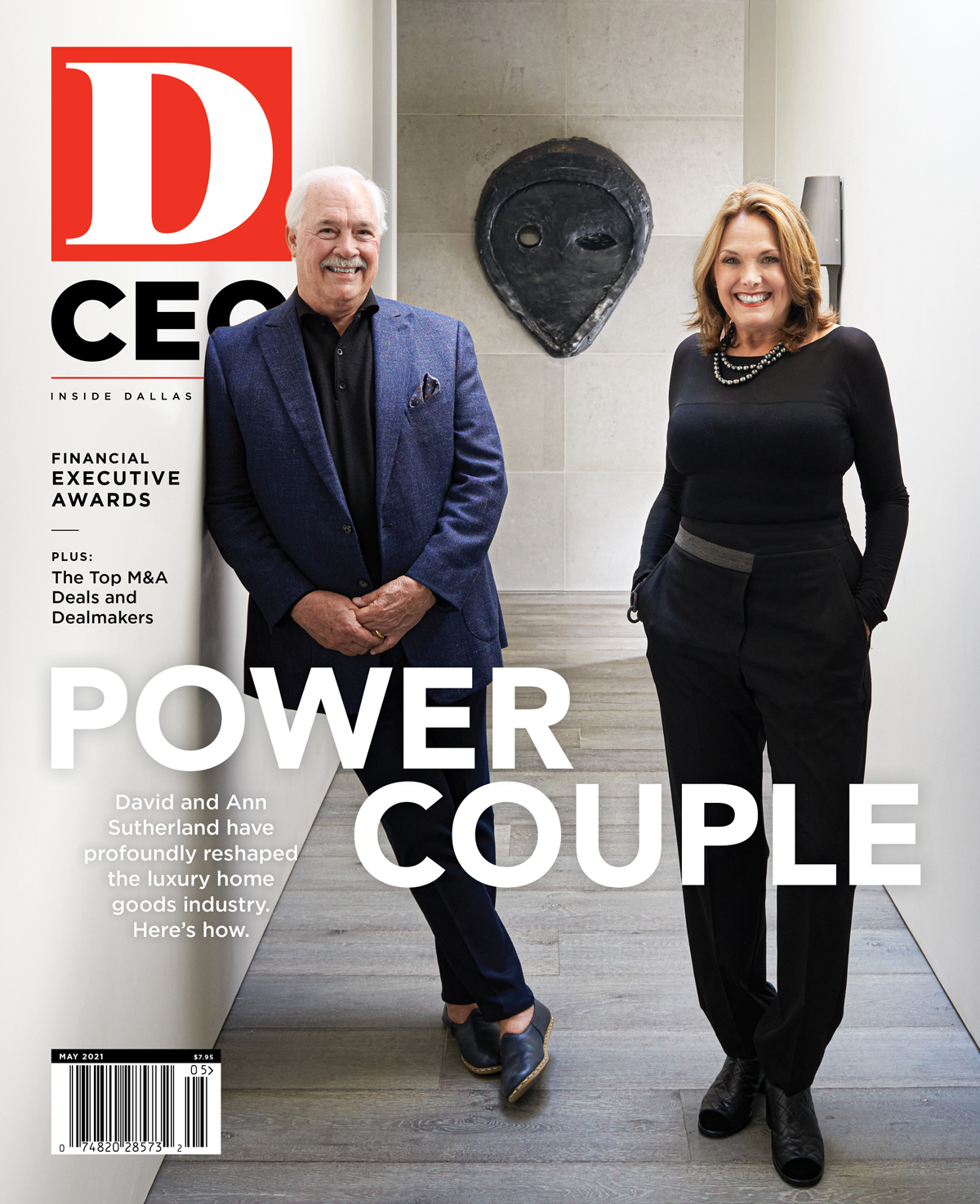 Subscribe
The unique challenges and market volatility of 2020 highlighted the critical role of financial executives like never before. Uncertainty shifted the focus of CFOs and other finance leaders to conserving cash flow, saving jobs, preserving liquidity, and navigating federal aid requirements. Health and safety concerns demanded a hard look at processes and procedures.
The world shifted to a culture of remote work that brought with it new communication methods and technology platforms. It all made financial modeling essential, as businesses tried to prepare for every possible outcome that the coming days, weeks, and months would bring.
Here, in partnership with the Association for Corporate Growth, TXCPA Dallas, and Financial Executives International, we highlight 38 North Texas CFOs and other leaders who helped their companies adapt and thrive in the past year's challenging climate. Our 2021 Financial Executive Awards finalists were selected by esteemed judges, including Daniel Boarder of Whitley Penn, Jim Farrell of GHIG Services, Jason B. Freeman of Freeman Law, and Sharon Lukich of Thomas Edwards Group.
On Wednesday, May 5, more than 100 of the region's most prominent financial executives and industry leaders turned out at Westin Downtown Dallas to celebrate the recipients of the 2021 D CEO Financial Executive Awards. The invite-only crowd represented 38 professionals named as finalists in the annual program (Click here to read about all finalists). Title sponsors included BKD CPAs & Advisors, UMB Bank, and Vaco.
Scroll down for the list of winners.
Outstanding CFO: Large Public Company
---
Tracey Doi, Toyota
The financial leader across Toyota's 14 North American manufacturing plants, Tracey Doi says asking what the company should stop, change, and challenge helped her team reallocate resources to tech, new products, and mobility initiatives last year. "As we address short-term challenges, it is important that we look through that lens and continue to invest for the future," she says.
Philip Schlom, AZZ
Philip Schlom joined AZZ in October 2019 as CAO and rose to CFO by May 2020. "I took the helm of a changing organization and had to use skills learned in earlier experiences to get up to speed with treasury, deal with a hardened insurance market, and get filings back on track—all while working with new outside auditors," he says.
Outstanding Financial Executive: Public Sector
---
Sheri P. Kowalski, City of Dallas
"Problems don't get better with age. Have the courage to address problems head-on. If you don't deal with problems quickly, you lose the respect of your people."
Outstanding CFO: Nonprofit Organization
---
Weslie Brittin, Ability Connection
In the midst of fundraising challenges to maintain care for individuals with disabilities, Ability Connection CFO Weslie Brittin established a new finance team, pivoted to prevent layoffs company-wide, helped complete three years' worth of company audits, and increased the nonprofit's billing percentage on government contracts by 30 percent.
Fred Grote, Mercy Ships
Mercy Ships is a nonprofit that brings medical assistance to developing countries by ship. Its CFO, Fred Grote, managed a $200 million capital campaign during 2020, implemented a new document managing system, and developed a new financial executive dashboard—all without the help of a controller.
Miguel Molina, Avocados From Mexico
As the financial lead of Avocados From Mexico, a nonprofit organization that supports 28,000 avocado growers and 62 packers, Miguel Molina says his role expanded last year to include understanding analytics, strategy, negotiating, and advancing business and customer knowledge. "The CFO is the new CIO," he says.
Outstanding CFO: Midsize Private Co.
What is one of your key leadership strategies?
---
2021 Financial Executive Award Winners
---
Outstanding CFO, Large Public Company Tracey Doi, Toyota Motor North America
Outstanding CFO, Large Private Company Darin Harper, Main Event Entertainment
Outstanding CFO, Midsize Public Company Dan Hollenbach, BGSF
Outstanding CFO, Midsize Private Company Karra Guess, ESRP
Outstanding CFO, Nonprofit Organization Fred Grote, Mercy Ships
Outstanding CFO, Colleges and Universities Daniel J. Tenney, University of North Texas System
Outstanding CFO, Health Systems Shelly Miland, Texas Health Fort Worth
Outstanding Finance Team Whitely Penn, led by Jim Penn
Outstanding CAO, Controller, or Treasurer Laura Santillan, Alliance Data Systems
Outstanding Finance Executive, Public Sector Sheri Kowalski, City of Dallas
Outstanding Internal Auditor James C. Paulus, Daseke
Outstanding Finance Executive, Community Service Rick Bollar, Capital CFO Partners
Constantine "Connie" Kontans Award Mary Jane Broussard, At Home Group
Outstanding Community Service
---
Rick Bollar, Capital CFO Partners
"I'm a collaborative leader by nature, and if a consensus is possible, that's desirable. But if it looks like that's not possible, I'm not shy about making a decision and pushing forward with a plan."
Outstanding CFO: Midsize, Public Co.
---
J. Michael Edge, Hilltop Securities
Hilltop Securities CFO Michael Edge says it's critical to build a team you can trust and that artful delegation can multiply one's effectiveness. "There is simply too much to accomplish, and the business is too complex to do everything yourself," he says. "I am transparent with my team, and I make sure they know how I think on key topics, so they are empowered to speak confidently on my behalf
Dan Hollenbach, BGSF
Dan Hollenbach, CFO of BGSF, helped the staffing company close two acquisitions. And he says more are coming. "We foresee growth from acquisitions and organic growth opportunities from pent-up demand for services in one of our segments," Hollenbach says. He also hired two team members and implemented a new enterprise resource planning system in 2020.
Constantine "Connie" Konstans Award
Mary Jane Broussard, At Home Group
This year, the editors of D CEO and our panel of judges decided to rename the Excellence in Corporate Governance Award in honor of Constantine "Connie" Konstans. The late accounting and information management professor at The University of Texas at Dallas was the award's fir t recipient and a true pioneer. For years, he served as director of UTD's Institute for Excellence in Corporate Governance, which is dedicated to developing and impacting corporate strategy across various disciplines. This year, the award is being presented to Mary Jane Broussard, general counsel, chief administrative office, and corporate secretary of At Home Group. In addition to leading the charge through 2020's myriad safety concerns, omnichannel expansion, and board oversight into emerging issues, Broussard became At Home Group's chief administrative officer and interim chief human resources office. "Those expanded responsibilities were critical to the company maneuvering through COVID," she says. Among other things, it helped the company implement remote working protocols, prioritize health and safety, comply with varying local mandates and orders, and rapidly expand e-commerce capabilities. In the second half of the year, Broussard says, these maneuvers helped At Home Group hire a record number of new employees to serve customers.
Outstanding CFO: Finance Team
---
At Home Group led by Jeffery R. Knudson
At Home Group's finance team, led by CFO Jeffrey R. Knudson, helped the company achieve new highs in comparable sales, profitability, and free cash fl w. "We wanted to ensure that we could withstand a worst-case scenario and emerge as a marketplace winner upon reopening," Knudson says.
Whitley Penn led by Jim Penn
Whitley Penn Partner and CFO Jim Penn says one of 2020's biggest challenges was shifting focus from long-term to short-term savings. "Our personnel understood the need to temporarily adapt and rallied with ideas of their own to save the firm money," he says.
Security National Bank of Texas led by James Landen
James Landen says his Security National Bank of Texas team saved 5,000 Dallas jobs through its assistance with PPP loan applications. "Our bankers spent countless hours working with customers so that their businesses were eligible for PPP loans and forgiveness," he says.
Outstanding CAO, Controller, or Treasurer
What were some of the biggest challenges of 2020, and what did you learn from them?
Outstanding CFO: Health Systems
---
Methodist Health System
Methodist Health System CFO Craig Bjerke led the $2 billion hospital system through the pandemic without laying off a y of its 10,000 employees and while opening a new Midlothian location. "Every week, we had to deal with a new financial situation," Bjerke says.
Baylor Scott & White Health
For CFO Deanne Kindred, 2020's success was marked by her group's ability to support other teams. "We're there, as partners, focusing on solutions," she says. Kindred oversees 117 hospital CFOs, who navigated federal funds and stimulus while supporting frontline workers.
Texas Health Resources
Rick McWhorter, CFO of Texas Health Resources, says 2020 emphasized the importance of supply chain continuity. He worked with other systems to invest in domestic production. "We need to do whatever is necessary to shore up our medical supply chain," McWhorter says.
Texas Health Fort Worth
Texas Health Fort Worth Hospital's Shelly Miland, vice president of finance, says her role in 2020 shifted from focusing on finance to people. "It was crucial to keep all areas functioning and serving our patients; therefore, our staff became y biggest focus," she says
Outstanding CFO: Colleges and Universities
How did your role as CFO change in 2020?
Get the D CEO Newsletter
Stay up to speed on DFW's fast-moving business community with weekly news reports, interviews, and insights.
Author
Kelsey J. Vanderschoot came to Dallas by way of Napa, Los Angeles, and Madrid, Spain. A former teacher, she joined…