From D CEO May 2021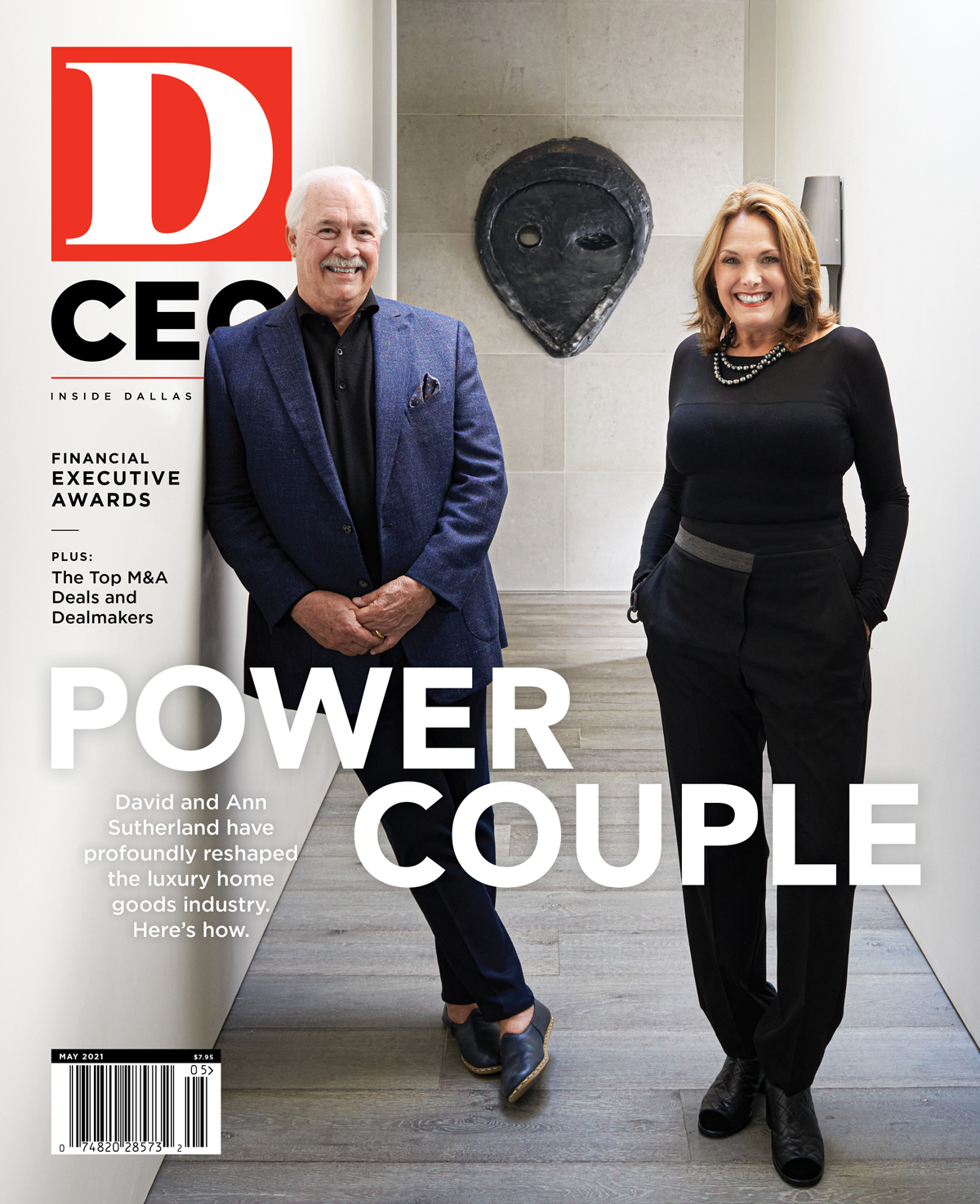 Subscribe
The 1970s and '80s were an unfortunate period for outdoor furniture: curly, cast-iron garden tables and chairs, oversized wicker sectionals, and those webbed aluminum chairs that millennials in Brooklyn now buy to be ironic.
That's why the '90s signaled such an important design refresh. Knoll developed outdoor lines. Classic Adirondack chairs were popular. And in Dallas, David Sutherland was creating sleek and stylish outdoor furniture in teak with John Hutton, the storied designer who built his reputation as design director of the luxury brand Donghia. The same John Hutton whom The New York Times described as a "national treasure."
Sutherland came to Texas by way of Oklahoma, where he graduated from The University of Oklahoma with a degree in marketing and business and petroleum land management. Like no one else in the history of oil and gas ever, he decided he'd rather sell luxury furniture to interior designers. He started out with a stint at E.C. Dicken, a respected showroom in the Dallas Design District, and went on to establish his own showrooms in Houston and then back in Dallas, thereafter the company's international headquarters.
He partnered with Hutton in 1991. Both men wanted to create outdoor furniture that looked like … furniture. But Hutton had a day job. A rather substantial day job, as design director of Donghia. He would need a nod from his employer to embark on the project. Sutherland flew to New York and presented Donghia's president, Michael Sorrentino, with the vision. It was a good meeting. Sorrentino agreed to loan out Hutton, with the single request that the line be sold at Donghia's six prestigious showrooms.
A few years after, with the outdoor furniture line well underway, a self-assured, interior designer from Oklahoma City named Ann Moore walked into the David Sutherland showroom looking for fabric for a client. "I certainly wasn't looking for a guy," she says. "I was done on that front." David's daughter, who was working the front desk, had other ideas. She rushed to her father's office and said, "Dad, you have to meet Ann." In the unlikely event that he had been wearing a tie, David might have straightened it. He strolled into the showroom, made some small talk, and asked Ann to join him for lunch at the Quadrangle.
David also invited Ann to join him for the rest of his life, but that came later. In 1994, the two headed to San Francisco Design Center to meet Hutton for the launch of the outdoor furniture collection. "I wasn't exactly sure what I was supposed to do," Ann recalls. "But I'm not one to just stand there, so I jumped in, talked to clients, and promoted the line. Before I knew it, I was traveling the world with David and John to all of the other market centers, and we were doing business together."
The trio worked on designs, created prototypes in Indonesia, and market-tested their new concepts. "We had so much fun. We called ourselves the three musketeers," David says. Fun was the operative word, an element that Ann insisted should be at the core of all of their enterprises. Fun, but … they were also perfectionists. "John's outdoor designs were really Donghia with no clothes on, so they had to be perfect," David says. "He was the kind of guy who could see a quarter-of-an-inch across a room." The line received rave reviews, and orders flooded in. But the musketeers were not satisfied.  "The cushions were black, and we wanted colors from the garden," Ann says. The only outdoor fabric in the marketplace was the stiff, coated material used for awnings and boats, and the colorways had the range of an eight-pack of Crayolas. Without the right fabrics, outdoor furniture would always be "less than."
As I quickly learned via Zoom interviews, David and Ann Sutherland are not the kind who do "less than." They had to get the right fabric. "Everything we've ever done was out of need," David says. "It helps that we've made moves even when we had no idea what we were doing. We needed beautiful outdoor fabric. It was that simple." Perhaps not that simple. David asked Ann if she would create a new line of high-performance outdoor textiles in a wide range of colors and with a good feel. "Our fabrics should be welcoming," he says. "They have to be beautiful, and high-performance or none of this will work."
Ann, remember, was an interior designer, and knew squat about textile development and manufacturing. But she not only took on the challenge, she doubled down, telling David, "I'll develop it, run it, I'll put up cash, and we'll split things 50/50." (In recalling the moment, she wonders: "Someone explain why I didn't insist on 51 percent.")
Ann sunk her savings into the enterprise and didn't look back. It was Ann who, with David's support, developed the sophisticated, impossible-to-destroy fabric line Perennials, the 100-percent-solution-dyed acrylic fiber outdoor fabric that is now synonymous with outdoor textiles. The fabric was released in March 1997, just a few months after Ann and David married. The first colorways were inspired by a pair of Hutton's pajamas: pistachio, moss-noir, and blue moss.
David and Ann Sutherland's enterprise is composed of three synergistic companies. Here's how the operation has grown through the years.
1978
David Sutherland's first showroom opens in Houston, followed by a showroom in Dallas, which becomes the company's new home base.
1994
Sutherland disrupts the outdoor furniture market, collaborating with John Hutton on a 35-piece line. Ann joins the duo, and the odyssey begins.
1997
Just months after marrying, David and Ann introduce Perennials, another Hutton collaboration; it has a seismic impact on the outdoor fabric market.
1999
The company makes a big push to the West Coast when its Los Angeles showroom opens. It expands in 2004 and grows again 10 years later.
2005
New showrooms open in the prestigious Design & Decoration Building in New York and the Design Center of the Americas in Dania Beach, Florida.
2008
Perennials Textiles de Mexico begins manufacturing in San Luis. The state-of-the-art plant allows for a rapid increase in production.
2013
Building on its furniture textile success, Perennials Rugs is established, expanding the brand and making waves in the luxury performance flooring industry.
2016
To help continue their rapid growth trajectory, the Sutherlands align with Acacia Partners, a private equity firm based in Austin.
2017
Sutherland Perennials Studio opens in London's Chelsea Harbour Design Center, giving it access to UK clientele and the international design community.
2018
With support from the U.S. India Chamber of Commerce, Perennials Textiles India opens for rug production in the village of Manjusar in Gujarat.
2019
Impressed by Sutherland LLC's compelling growth and market position, Bertram Capital acquires Acacia Partners' stake in the company.
2021
Sutherland opens a showroom in Mumbai. Next up is New Delhi, with plans for new showrooms in Germany and Belgium also in the works.
High-performance fabric is now part of the international design lexicon. And the manufacturing chain that Ann developed is, to the uninitiated, a mind-boggle: Perennials fabrics begin as pure liquid, which is made into fibers, at which point color is infused. Then the fibers, sometimes in whole bales, are sent to the spinners, who spin them into yarn, which is then woven into fabrics and, now, rugs. Different suppliers have custody of the product during each step of the process. It's a heavy logistical effort. (I say give Ann 51 percent.)
After several instances of two steps forward, one step back, Perennials was ready for market. Although David describes their approach as "evolutionary, not revolutionary," Perennials created a seismic disruption in the interior design industry, years before there were hundreds of business books on "disruption."
The disruption was not confined to Perennials fabric options. "What Perennials did was essentially give every house an extra room," David says. "It meant your outdoor room could be just as beautiful as anything you might have indoors. It was another room for designers to create, and for their clients to enjoy."
Perennials fabrics are now specified by designers, not just for outdoor furniture, but residential furniture, contract furniture (hotels and commercial spaces), and child-proof furniture—indoors and out. The textiles are as chic as they are resistant to red wine stains and kids with Sharpies. The success has led Ann to segue into manufacturing rug designs in flatweave, Tibetan knot, drop stitch, and chenille flatweave. David believes the rug lines may become the dominant source of revenue going forward.
The trade-only design market has always been for the sturdy of heart, and the people who own and run showrooms and manufacture luxury products, as well as their clientele—interior designers and architects—are design obsessives. Where you and I see a hallway, they see light, space, textures, lines, and colors. They operate at the intersection of art and commerce, where it's arguably twice as hard to make money than other business segments and is certainly not recession-proof. But if you are called to make beautiful things, you don't have a choice.
When David met Ann, they shared that obsession, and 27 years later, they have almost 200 employees working at Sutherland/Perennials showrooms in Dallas, Houston, Los Angeles, San Francisco, Atlanta, Chicago, New York City, Dania Beach, Laguna Beach, Washington, D.C., London, Munich, and Mumbai. Their next showroom opening will be in  New Delhi, and they have eyes on Germany and Belgium. The Sutherlands have manufacturing and storage facilities in Mexico, employing 270 people, and India, with 470 employees. Ann's insistence that the business always contains an element of fun might in part account for their remarkable, relentless growth, and surely it provides a clue to the "why" of their brand reputation. Their in-house marketing team, like the fabrics and the furniture and the people who create and sell them, projects the Sutherland and Perennials brands with a tongue-in-cheek attitude about the design industry in general. "This isn't brain surgery," Ann says. "We like to build stories around our collections and give personality to our fabrics." The crew has ritual naming meetings, which may involve tequila. A recently released collection of soft-to-the-touch fabrics, for example, is called "No Hard Feelings." Under their Luxe for Less category, a shutter pattern is "Shutter to Think;" a fish theme is "Holy Mackerel;" a net repeat is "Nothing but Net;" a leaf theme is "Leaf Me to It;" and a mesh pattern is "Mesh Around." The company's internal and external branding is seamless.
Over the years, the Sutherlands could have walked away with their winnings at various points, but they always chose to keep going. David is now chairman (which means, as he puts it, he gets to "interrupt meetings, lob a grenade, and walk off"), and Ann runs the entire, sprawling international company as CEO.
One of their greatest assets (beyond the manufacturing and storage facilities, inventory, high-level staffers, and creative prowess) is their devotion to their clients: interior designers and architects, and vice versa. When David starts to speak about the interior design community, find a comfortable chair. He adores them. It's that obsession with beauty thing. (Sutherland and Perennials are sold to the trade only, meaning only interior designers and architects can purchase their product lines on behalf of their clients. They also have a partnership with Restoration Hardware, which sells direct to consumer).
The Sutherlands' devotion to their clientele has earned worldwide loyalty and allowed for investor-fueled expansion. The couple is now working with their second PE partner, Bertram Capital, out of California. David and Ann hold a minority position but retain autonomy. They are looking toward succession and eventually securing a strategic partner, as they build a staff of leaders who can continue their pace of illimitable invention and profitability.
How has the pandemic affected their business? "We've been fortunate," David says. "People are stuck at home, looking around, and they want improvements. Our business has been very strong."
Has the business operation changed at all? "Well, we did have one employee move, and I didn't even know it," David says. "People can work from anywhere, but that one caught me off-guard," he chuckles. Another staffer, a rug designer, said she wanted to travel around the country in an Airstream and work remotely. "I thought that was a great idea and saw an opportunity," David says.  "We helped fund her, gave her samples, and asked her to make stops to see clients and drop by market centers with our new collections. It has really worked well."
Sounds like fun. 
Get the D CEO Newsletter
Stay up to speed on DFW's fast-moving business community with weekly news reports, interviews, and insights.
Author
Christine Allison is Editor-in-Chief and CEO of D Magazine Partners. She founded D Home in 2000 and has been leading…