From D CEO May 2021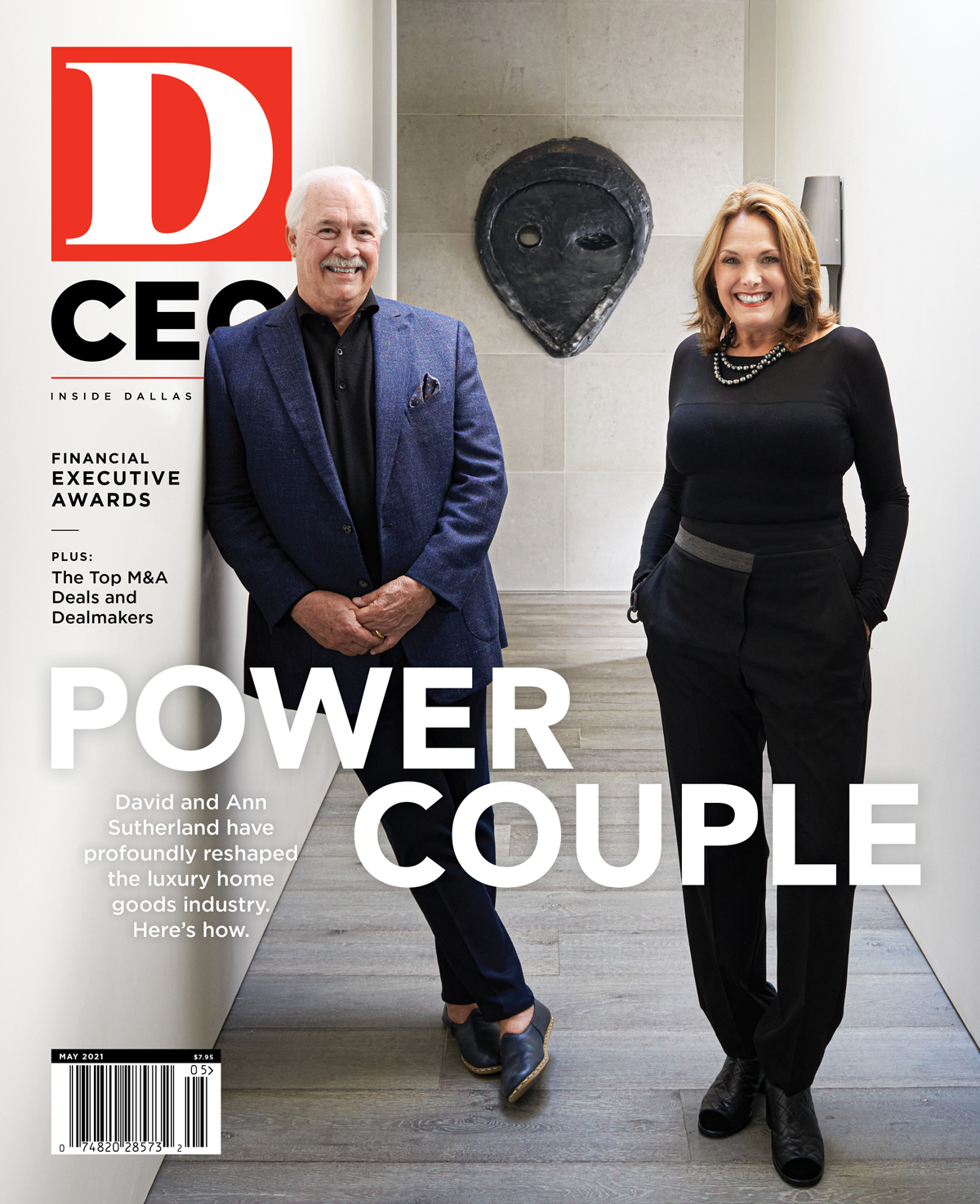 Subscribe
"We met with scores of CEOs while planning this magazine, and their biggest complaint was a feeling of being disconnected, a loss of a sense of place. They wanted to know how the local economy is doing. They wanted to know about the new ideas and innovations percolating around town. Most of all, they wanted to know about each other." Wick Allison, May 2006
2006
---
May 2006. Texas Instruments said no to overseas labor and placed its bet on building a radical, sustainable plant just down the road in Richardson. "TI-ers love a challenge, and this was certainly no exception," said CEO Rich Templeton. "It was a team effort and a team win."
June 2006. Dallas Cowboys owner Jerry Jones and his Blue Star Land real estate firm want Prosper to be the next Frisco—only better. "We're in this for the very long haul. And because of the amount of acreage we have, we can do it right in terms of how we masterplan it," Jones said. "We're well-capitalized, and we have good ideas."
August 2006. Swiss native Gabriel Barbier-Mueller's greatest masterpiece may be his Azure residential tower in Uptown. "I used to complain about Dallas," the developer said. "Then I just decided I was going to do something about it. I am determined to transform the whole of Uptown into walkable space."
2007
---
January 2007. In three years, CEO Michael Jordan and COO Ron Rittenmeyer have led the charge to right the ship at EDS. Here's how they did it. "I wanted to get underneath both the operational aspects in terms of execution, in terms of how flawless that execution was," Rittenmeyer said. "Culture underpins all those things."
June 2007. Comerica's corporate headquarters relocation to Dallas spells big things for the company, the city, and the state of banking. "Thirty percent of the population is projected to be in three states by 2030, and Texas happens to be one of those states," said CEO Ralph Babb Jr. "It's our opinion that population growth is going to dictate economic growth."
December 2007. Can a mild-mannered bean counter take a carrier co-founded by wild man Herb Kelleher to the next level? Gary C. Kelly and Southwest Airlines are banking on it. "Becoming CEO wasn't an aspiration that I had," Kelly said. "But my background has me very well prepared for my management duties. I guess everybody gets lucky once in a while."
2008
---
January 2008. Pro-Line Corp.'s Comer Cottrell achieved success in Dallas and helped change the city. "Buying into the Texas Rangers partnership was a shrewd business move," Cottrell said. "The ownership group made a tidy profit when the team was sold at the end of the 1990s, but that wasn't the main point. This move opened doors—big, heavy sealed doors marked 'Private.'"
February 2008. Mayor Tom Leppert brings a bottom-line perspective and a knack for collaboration to Dallas City Hall. "I don't think we've communicated on the [Trinity River Project] as well as we should have," he said. "The world changes rapidly; we ought to strike while the iron is hot and create a sense of urgency."
June 2008. Straight-shooting oilman Boone Pickens has made billions betting on the future. Now he's turning his attention to alternative energy. "I don't go looking for somewhere to spend my money," Pickens said. "You can step on a tube of toothpaste for a week, if you have to."
July 2008. Banker Elaine Agather is riding high after weathering a string of corporate mergers. "9/11—that you can cry about," said Agather, chair of the Dallas region for JPMorgan Chase. "I want people who can handle the market falling and not fall apart themselves."
2009
---
April 2009. More hotel rooms, more exhibition space. That's what Dallas CVB boss Phillip Jones says Dallas needs to be competitive. But some are questioning whether Jones has the right answers—or if he's even the right man for the job.
July/August 2009. EY's Entrepreneur Of The Year finalists include Lew Kling of Flowserve. "People at the bottom of an organization will tell you what the problems are," he said, "but no one ever asks them."
September/October 2009. In high-dollar fundraising, Super Bowl LXV chief Bill Lively says the right people need to do the asking. And he's the one who picks them.
2010
---
January/February 2010. Dallas' iconic Neiman Marcus is struggling to adjust to retail's new norms. "There is a relationship between luxury and the performance of capital markets," said consultant Howard Davidowitz. "My own forecast is that luxury will be half of what it was. We're simply not a country generating the kind of wealth we used to."
March/April 2010. With the economy less than stellar, creative tenants are striking some great deals in the commercial property market. "Anyone who tells you they have a crystal ball is not being truthful," said Tim Terrell of Stream Realty Partners. "Be prepared for a bumpy ride."
October 2010. Mary Kay CEO David Holl aims to double revenue by revving up his sales force, expanding in international markets, and taking the cosmetics giant online. "When I was in graduate school, not once did I think I would be working for a cosmetics company," Holl said. "It took me until I got here before I realized the opportunity that I stepped into."
2011
---
January/February 2011. Commanding and charismatic, Charlotte Jones is a little-known, but indispensable, factor in the Dallas Cowboys' business success. "A lot of people go into the family business and end up working for their fathers," Jones said. "We all kind of began at the same level. All we had to do was try to do our best not to mess up."
May/June 2011. After buying the Texas Rangers, owners Nolan Ryan, Bob Simpson, and Ray Davis deep-sixed their new CEO, Chuck Greenberg. Ryan was said to have told the ownership group, "I did not sign on for this," referring to management and chemistry clashes with Greenberg.
July/August 2011. EY Entrepreneur Of The Year honorees have been shifting into high gear. "Don't ever think you know everything about leadership," advised finalist Tim Leach of Concho Resources, "because the future always holds surprises."
September 2011. Mike Ullman is on the way out at J.C. Penney and Apple retailing ace Ron Johnson is on his way in. "He was selling iPads, iPods, and iPhones over the last few years," said Rob Wilson of Tiburon Research Group. "I think you and I could have sold those pretty well."
2012
---
March/April 2012. After a medical scare and an exit from a high-profile job, longtime Dallas banker Norm Bagwell bounces back, stronger than ever. "Not many people get a chance to step up and look at the world with fresh eyes," said Bagwell, Bank of Texas CEO. "I got a heavy dose of a new perspective."
September 2012. Thanks to business and charity events, commercial locations, and private parties, valet parking in Dallas is ubiquitous. It's also increasingly competitive. "I'm after Crystal Charity and Cattle Baron's. I'd like to have them both," said R.W. Raabe of Gold Crown Valet. "But not everybody knows us yet."
NOVEMBER 2012. Harlan Crow transformed a run-down, historical hospital campus into a stunning corporate park. "I care much more about what we're building than I do the economics," said Crow. "I don't want to say it's my swan song, but Old Parkland is a very big deal to me."
2013
---
January/February 2013. Dallas' Larry Lacerte runs a successful technology company while fighting for his life. "There are a lot of people who work harder their whole lives than I have and without the success," Lacerte said. "It's a combination of hard work, recognizing good ideas, luck, and timing."
April 2013. AT&T engineered a deal to bring the Byron Nelson golf tournament to Dallas—and left Irving in the rough. "To be a world-class city, you have to win in everything," said Dallas Mayor Mike Rawlings. "If you want to be the very best, you have to build the very best course you can."
November 2013. Craig Hall never wanted to get into business. He didn't think it was noble; he was wrong. "The worst time for me is when things are so good, I get bored," Hall said. "It's not necessarily a good attribute; if you want to go further, you should stay in a straight line. But I really enjoy zig-zagging."
2014
---
January/February 2014. At the forefront of the energy revolution are Texas shale plays—and far-sighted independents like Scott Sheffield's Pioneer Natural Resources Co. "It took our geologists two to three years to analyze the data of thousands of wells before we realized how big the prize was," Sheffield said.
April 2014. Born into dire poverty in Pakistan, Aslam Khan used luck and perseverance to become a wildly successful restaurant entrepreneur. "I believe poverty is a man-made phenomenon," Khan said. "And if it's man-made, you can fix it. I wouldn't have been a success if I didn't have a fear of poverty, fear of failing. Americans can't imagine such poverty."
December 2014. Admired for his focus and foresight, Baylor Scott & White chief Joel Allison is 2014's CEO of the Year. "Everything we're doing, everything we do, has got to make it better for the patient," Allison said. "Because if we're not making it for the patient, we're missing our mission. Bigger isn't better; better is better."
2015
---
January/February 2015. Meet five of the region's hottest young tech entrepreneurs, including Amber Venz Box of rewardStyle. "We will be righting some wrongs we see and continuing to empower the independent content creators," she said.
March 2015. CEO Barclay Berdan had been on the job for less than a month when the Ebola virus struck Texas Health Presbyterian. "It's almost inhumane to expect people who are going through what these people went through to continue to care for people," said Dallas County Judge Clay Jenkins.
September 2015. John Carmack, the video game genius behind both Doom and Quake, is back, this time in the nascent VR space. "I actually like it here in Texas; we appreciate the sense of Southern hospitality," Carmack said. "You don't get the sense that everyone needs to be coddled and taken care of. You get the sense of gumption."
2016
---
March 2016. North American CEO Mandy Ginsberg is back at Match.com, which dominates online dating. Her goal: keeping the company relevant. "The idea of coupling and falling in love is so inherent in who we are; it's not going away," Ginsberg said.
April 2016. Canadian Tom Gaglardi used business savvy and a lifelong love of hockey to turn around the Dallas Stars. "We want to win," he said. "If we do the right things on the ice, then off the ice will take care of itself."
May 2016. The PGA's hottest player, Jordan Spieth, is also becoming the hottest brand in golf. "I'm learning every day different aspects of what it takes to build my brand," Spieth said. "And while I rely heavily on my team, the overall decisions are mine."
September 2016. The American Dream is alive and well in North Texas, where Latino  companies, executives, entrepreneurs, and consumers are playing a bigger role in the economy. "This is something that will not stop," said Javier Velez Bautista of Mission Foods. "Texas, especially Dallas, will be the beneficiary."
2017
---
March 2017. A management shakeup has some questioning the future of Dallas' Tech Wildcatters. "It's unfortunate when people look at something that's just being created and focus on the mess around it," said CEO Gabriella Draney Zielke. "I'm sorry, creation is messy. Have you ever seen a baby being born?"
June 2017. From humble beginnings on a farm, Allie Beth Allman found success as the go-to realtor for Dallas celebrities. "There's plenty of room in this town for everyone to succeed," she said of a life lesson she learned when she was young. "My parents never said, 'You can do anything.' They said, 'You will.'"
October 2017. The unbuttoned style of Varidesk CEO Jason McCann propels a million sales of his company's innovative standing desk. "I gave up drinking and simplified everything, including my wardrobe," McCann said of a key strategy. "It cleanses your headspace and frees you up to think about other stuff."
2018
---
May 2018. North Texas is becoming an esports magnet, attracting big-name investors, stadiums, and gaming's hottest teams. "There aren't any blueprints on how to build an esports team," said Jason Lake of Complexity Gaming. "We are building this plane while we are flying it."
August 2018. Dallas-based Topgolf conquered suburban entertainment—and changed the ancient sport of golf forever. Golfing legend Greg Norman calls the company "a breath of fresh air for the game of golf." Former Dallas Cowboys quarterback Troy Aikman goes further: "They have reinvented golf and driving ranges. Whatever you're looking for, it's offered here."
December 2018. Jim Lentz oversaw Toyota's move to Plano, and he's fundamentally altering the way the company does business. "Back in the old days, you waited to make your decisions until you had 100 percent of the information, because you could afford to do that," Lentz said. "Today, you can't. Today, you've got to be 'roughly right.'"
2019
---
January/February 2019. A triumvirate of women leaders has instituted a forward-thinking culture at JPMorgan Chase. "We have different perspectives and experiences," said Alice Rodriguez, managing director. "When we bring those together and use them to come up with better solutions, it's very powerful."
July 2019. Clark Hunt of FC Dallas and the Kansas City Chiefs balances being the top executive for two pro sports teams. "Nothing prepares you for being the guy who has to make the hard decisions and the person who is in the spotlight when things don't go well," Hunt said.
August 2019. Turnaround guru Andy Mitchell became the unlikely owner of The Weinstein Co. "It was one of the worst managed companies I've ever seen," Mitchell said. "It was an 'inmates ran the asylum' type of scenario."
September  2019. About half of LGBTQ employees still lead closeted lives on the job. "Eventually, the gay, lesbian, and transgender communities will be seen as tightly woven into the fabric of this community," said Dallas restaurateur Monica Greene. "And I absolutely love that."   
2020
---
May 2020. A former small-town anchorman, Nexstar Media Group's Perry Sook owns more television stations than anyone else in the country. "There's a lot going on in the country that just doesn't happen in New York or D.C. or Los Angeles," Sook said. "We're going to represent those who are underrepresented."
June/July 2020. Black women now hold top roles at three of Dallas' most revered civic institutions. "When you look at Dallas' history, there are a lot of people who have stepped out and risked things in order to make a difference," said Cheryl Alston of Dallas Assembly.
December 2020. CEO of the Year Lori Ryerkerk makes social responsibility a priority at the $6.3 billion Celanese Corp. "I was the first female chemical plant manager at Exxon," Ryerkerk said. "I was the second refinery manager. I held so many jobs in my career where I was the first, or maybe the second, and it was hard. When I looked around and saw people doing my job, I didn't see myself." 
2021
---
April 2021. Michael Sorrell has formed innovative partnerships with some of the biggest names in business to remake education at Paul Quinn College. "It has been hard. It has challenged me emotionally and physically," he said. "There is nothing easy about leading people you love, right? You don't have the luxury of not getting it right." 
Get the D CEO Newsletter
Stay up to speed on DFW's fast-moving business community with weekly news reports, interviews, and insights.