From D CEO May 2021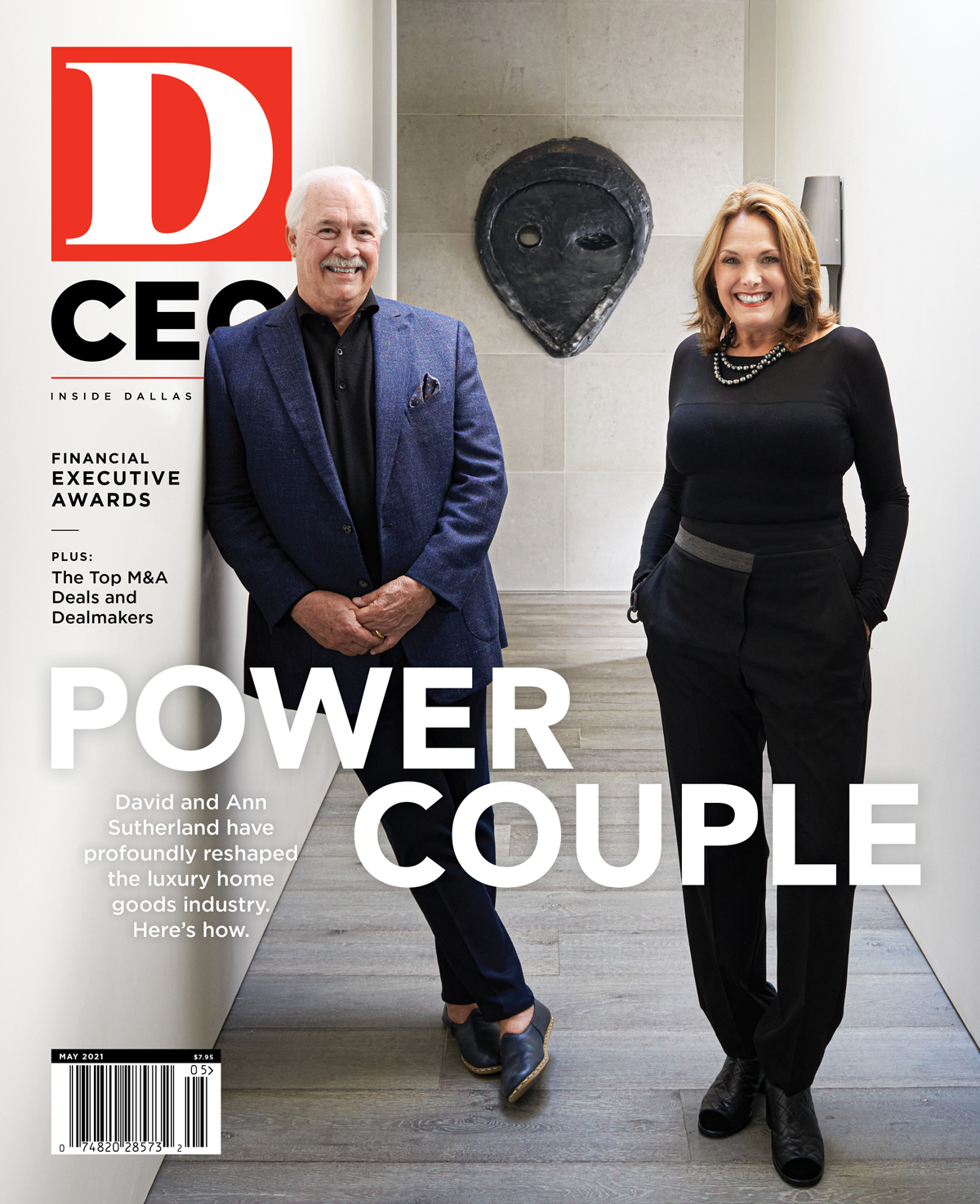 Subscribe
All great companies have an interesting story, and that story is best told by the people behind its success. The following individuals —CEOs, executives, founders, and entrepreneurs—are all leaders in their respective fields. When you are in the market for the services featured on the following pages, these Faces of Dallas Business are the experts to call first.
Face of Big Ranches, Record-Breaking Deals, Legacy & Legend Properties
3466 Gillespie Street Dallas, Texas |  214.855.4000
• The "Go-To, Can-Do Guy" and "Rainmaker of Real Estate"
• International real estate advisor and leading specialist broker of ranch, mega-asset class real estate, and unique, complex property sales
• Acclaimed independent and globally connected brokerage. Icon is nimble, creative, aggressive and an elite specialist marketing machine with a 30-year track record of success—also known as The Seal Team Six of Real Estate
Bernie Uechtritz holds title to the largest-ever ranch sales record in American history.
He is ranked No. 1 out of more than 23,000 agents in 71 countries across a 1,000-office global network.
Icon Global specializes in ranch and luxury ranch properties as well as commercial, industrial, and unique residential sales, with success in everything extraordinary, in-between and beyond. Icon also offers appraisal and consultancy on a range of real estate specialties.
Uechtritz has sold properties all over, many with record-breaking price tags listed from $7 million to $725 million. "No other agent or brokerage firm does quite what we do," Uechtritz says.
Renowned sales include The Waggoner Ranch, the Menendez Estate, Barefoot Ranch, Rio Bonito Ranch, Broseco, The Reserve, Sulphur Bluff, KC7 Ranch, KB Carter, Lonesome Oak, Comanche, Fincastle, Spring Gulch and Dodge Ranches, and many more from Texas and California to Wyoming and Western Australia.
Year after year, Icon Global successfully markets and sells one-of-a-kind real estate of every size. Watch this space in 2021!
Faces of Commercial Banking
Midtown Dallas | 214.526.5843
Park Cities Dallas | 214.350.0198
Plano | 972.378.0200
Denton | 940.565.1807
Richardson | 972.231.6085
Member FDIC
WaFd Bank is a national bank with over 200 branches and, through the years, has earned a reputation much like a reliable next-door neighbor. One of the highest capitalized banks in America, WaFd Bank focuses on loan and banking needs for commercial real estate, commercial and industrial lending, energy banking, treasury management, retail banking, and mortgage lending. Since its founding in 1917, WaFd Bank has helped build thriving communities, all while delivering simple, straightforward banking solutions to its clientele. The company currently reports more than $19.1 billion in assets and has raked in the honors during the past few years. Among the most notable: Best Big Bank (Newsweek, 2021), Best Bank (Money.com 2018-2020), Best Banks in America (Forbes, 2021), and A1/Prime-1 for long-term deposits, Moody's Investment (2021).
And the accolades and achievements don't stop there. "After 104 years in business, we are still considered a top portfolio lender," says Tony Barnard, regional president of WaFd Bank Texas. "Two-thirds of our loan originations are commercial loans, and one-third are residential mortgages. We achieved record deposit growth in transaction accounts during the pandemic—an increase of 38 percent—and we did more than 6,500 PPP loans to both clients and non-clients. In 2020, we also produced record loan growth of $6.2 billion, an increase of 51 percent. Our net promoter score, which is driven from our annual customer surveys, has increased from a 17 to a 51 during the past four years—higher than all major big banks and most regional banks. Our Texas leadership senior management group played a significant role in all of these achievements. For us, it's not the first deal or the first loan we originate with someone—it's the opportunity to help again in the future."
Face of Office Development
16400 North Dallas Parkway, #150, Dallas, Texas 75248  972.759.7700
For those in the real estate industry, the name Bill Cawley is synonymous with Dallas office space. One of the early developers to recognize the potential and appeal of the Dallas North Tollway, he capitalized on land opportunities along what he calls, "the spine of Dallas." DNT landmark developments, such as International Plaza and Tollway Center, came to fruition because of Cawley's keen knowledge of office environments and his ability to predict what users want before they fully understand it themselves.
Cawley Partners, the real estate company founded by Cawley, is uniquely positioned to serve Dallas-Fort Worth brokers and their corporate clients because of his roots as a broker. "I spent years competing with the best tenant rep brokers in Dallas, but along the way, I learned it was much more fun to work with them rather than against them," he says. Following that epiphany, Cawley set out to establish a development company where he could align himself with the broker community and, together, serve the interests of the Dallas business sector.
Since its inception, Cawley Partners has developed everything from one-plus-million-square-foot, Class A office projects to 60,000-square-foot tilt wall value solutions. The company is now wrapping up three build-to-suit developments in Dallas and Arkansas. "It's always about the customer, never about us," he says. "We build what suits the client, and we have the team to do it." With decades of experience in architecture, underwriting, construction management, and deal structuring, Cawley Partners can build the spectrum.
Most recently, the company announced plans to develop three, 500,000-square-foot, 17-story office towers at Grandscape. That announcement was quickly followed by Tate + Toll, another office tower campus planned for Frisco, located just off the Dallas North Tollway at Warren Parkway. "We are confident that companies returning to the office during the next few months will become more interested in providing the latest clean technology, touchless accessibility, and spacious environments," Cawley says.
After decades in development and experiencing firsthand the industry fluctuations, Cawley remains ever the optimist. "While the office market is evolving coming out of the pandemic, I'm certain Dallas will be one of the winners in the long run," he says.
Faces of Accounting
Whitley Penn's primary mission has always been to provide exceptional service far beyond traditional accounting. The firm accomplishes this by investing in a diverse group of professionals who add value to its skillset and culture. Team members possess a vast amount of knowledge and strive to develop, build, and maintain client relationships. These exceptional professionals are at the forefront of Whitley Penn's mission as they serve their respective industries.
Through the uncertain times of COVID-19, Jon. P. Karp, CPA, PFS (tax partner) has led the charge of the Payment Protection Program (PPP) guidance not only in at Whitley Penn but nationally serving on the PPP Task Force for the American Institute of Certified Public Accountants (AICPA). Karla Delgadillo (WP Edge manager) continues to develop and build the firm's outsourced accounting solutions group, WP Edge. Marissa Perry, CPA (audit manager) is a rising leader in the audit practice who is impacting clients throughout North Texas and beyond. Collin Tara (audit intern) has started his career in the firm's audit department as an intern with the goal of achieving his personal and professional goals as a trusted business advisor all the while furthering the firm's mission.
Whitley Penn is not only focused on the accounting industry of today but is dedicated to preparing for the industry of tomorrow. With the future in mind, Whitley Penn continues to focus on expanding specialized services, including business valuation, wealth management, strategic consulting, forensic litigation, risk advisory, transaction advisory, and outsourced accounting.
Whitley Penn's investment in young professionals, commitment to education, continuous growth, and innovation provide a path of preparation for exceptional leaders to deliver an un-matched level of client service. "At Whitley Penn, we strive for nothing less than helping our clients and team members reach their business, professional and personal goals. As we continue to grow as a firm, we look forward to the future and the possibilities we have yet to imagine," Karp says.
Whitley Penn is prepared to support you and your business locally and internationally for years to come.
Faces of Construction
214.979.9900
DPR Construction takes pride in being a top general contractor in Dallas-Fort Worth with a highly specialized, technical approach to healthcare, advanced technology/mission critical, life science/biomanufacturing, higher education, and commercial projects. DPR customers change the world we live in. They invent new technology. They discover and manufacture new medicines. They teach. They help heal the sick and deliver new life.
DPR puts solid stakes in the ground around the customers that they work for based on one key attribute: A focus on what they do best. It's a simple concept but one taken to heart. By sticking to what DPR knows and does best—assisting customers who have technically complex, sustainable needs—the company helps its customers build great things.
This level of technical expertise is provided on projects of all sizes, from equipment replacements, to interior build-outs, to high-rise towers, to greenfield campuses. At their core, DPR is a builder (not a broker), with significant self-perform work capabilities, including concrete structures, drywall interiors, waterproofing, and more—scopes that are crucial for project efficiency and agility. Their Self-Perform Work (SPW) expertise also allows DPR to optimize schedules, budgets, quality, and safety—just a few of the factors that make them a differentiator in the industry.
These faces represent DPR's experienced and specialized leaders who are helping shape what technical and collaborative building looks like on every scale in Dallas-Fort Worth. The team includes Jose Rivera (life sciences, 34 years), Eric Barnes (special services group, 21 years), Brian Phillips (commercial, 25 years), Wes Schreiber (healthcare, 17 years), Kevin Kramer (commercial, 18 years), Brad Barton (advanced technology, 11 years), Andy Kirby (higher education/life sciences, 22 years), and Jeff Hobbs (self-perform work, 27 years).
At DPR, passionate, experienced, forward-thinking builders collaborate in a culture of "shared leadership" which makes it possible for unique strengths, skills, and voices to make an impact on how they approach each project. DPR is a company of builders who exist to build great projects, great teams, great relationships, and great value.
Face of Energy
5310 Harvest Hill Road, Suite 110, Dallas, Texas 75230  806.881.5404
Jonathan Grammer, whose career began as a trial attorney, has defined much of his career as a petroleum landman, handling projects for clients operating the Midcontinent Region of the United States. He is now focused on helping Texas move forward as the world's energy leader.
With a staff of seven landmen at his company, Grammer Land & Exploration Corp., and four attorneys maintaining licensing in Texas, New Mexico, Oklahoma, and Colorado, through Grammer Law Group, P.C., Grammer offers his clients acquisition and legal support in oil and gas developments, acquisitions, and divestitures. However, this is a landscape he views as rapidly changing. With a branch office in North Dallas, and much of his time spent in the air, on the road, or in West Texas, Grammer sees the future as a balance between tradition and progression.
"In the past several years, either through our land group or the law practice, we have had opportunities to be involved not only with oil and gas development and mergers and acquisitions, but also with solar development, wind energy leasing, electrical transmission, and carbon capture—many times within a few miles of each other," Grammer says. "What our experiences have shown us that I think sets us apart, is our understanding that all energy industries–at present–are already interconnected. It gives us a unique ability to assist companies both in land and legal, that are looking to develop in and around each other. The future for energy in Texas won't be dominated by any one energy source over the other, but rather by the ability of each to work together. The successful energy businesses in the generations to come will be the ones that embrace each energy source for its benefits and try and find ways to share the stage for the benefit of the state as a whole. We will never abandon our knowledge nor our affection for traditional oil and gas but also want the state of Texas and the country to succeed globally in the years to come. We're proud to be able to offer our land and legal services to those in the energy industry who share this common goal."
Face of Executive Search Firms
14160 Dallas Parkway, Suite 605, Dallas, Texas 75254 | 469.965.1600
When it comes to professional recruiting firms, often referred to as resumé mills, where everything including the kitchen sink is thrown your way to see what sticks, companies seeking high-quality and transformational talent struggle to find the proverbial needle in the haystack. This is why many companies turn to BLNelson Group to fill key positions. Blaine Nelson, president and founder of BLNelson Group, says this about his company and cites it as the reason for success: "We are not recruiting to help our clients fill a chair. We are in the business of helping our clients find the right people to help achieve greater success."
Innovation. Performance. Reliability. This is the foundation of the business and Nelson's promise to his clients. "Your people are not your greatest asset—the right people are," he says. "I have sat in my clients' chairs. I have made hundreds of hiring decisions. My promise to clients is that I will never send a candidate to them I wouldn't hire myself."
BLNelson Group differs significantly from traditional executive search and placement firms. Nelson's growing company deploys proprietary software using algorithms applied against databases to identify the "right people" who meet their clients' specific requirements. They are most often passive candidates rather than active candidates, meaning they are not actively searching for a new job or role.  They are successful in their current job. BLNelson Group deploys scientifically developed "scripts" to generate a higher response rate from potential candidates. "Roughly six out of nine candidates who respond to us generally express an interest in exploring the opportunity," Nelson says.
A former managing partner for Deloitte, Nelson has an eye for talent that his clients appreciate. His most famous recruit, when Nelson was chairman of the board for the Dallas Symphony, is Jaap van Zweden, now the conductor for the New York Phil. He also helps nearly every candidate reformat their resumé to capture all their relevant experience and background. "It is not uncommon for our clients to struggle to choose which candidate we refer," Nelson says. "They want them all."
Face of Family Law
2919 Welborn, Dallas, Texas 75219 | 214.306.8441
The attorneys at Connatser Family Law, led by founder and managing member, Aubrey Meachum Connatser, are committed to achieving desired results on behalf of you and your family. Their focus is on you and how to best serve your needs in each divorce, child custody case, pre- and post-marital agreement, custody modification, and collaborative law matters.
They are highly sought-after experts who are as strategic about settling cases as they are gifted at trying cases in court. They understand that divorce looks different for each family and offer sage counsel and proactive planning based on each client's individual needs and goals for their family. The attorneys at Connatser Family Law bring more than 140 collective years of experience to the family law arena. Each attorney at Connatser Family Law is widely known and respected throughout the state, is a leader in his or her own right, and has received awards and recognition for their excellent client service, impressive results, and commitment to the community. Couples who are divorcing often describe the experience as turbulent and filled with extreme emotions, financial upheaval, and intense pain. Connatser says, "At Connatser Family Law, our primary goal is to shepherd clients through the tumultuous divorce process efficiently and effectively with a clear, well-thought-out game plan and path to resolution."
It is the attorneys' experience, tenacity, and intuition that help keep their clients focused on a better future. They regularly represent high-profile clients, those with successful family businesses, sizeable estates, and complex custody situations. In a divorce, you want someone who will listen, advance your goals, use creative problem-solving skills, and negotiate shrewdly and strategically on your behalf. This is why you want the attorneys at Connatser Family Law on your side.
Connatser Family Law is a Tier 1 divorce firm. With a new location in uptown Dallas, the firm continues to receive awards and recognition for its impressive results. Connatser, Board Certified in Family Law by the Texas Board of Legal Specialization, has been named among The Best Lawyers in America (Woodward White), Best Lawyers in Dallas in D Magazine, Top 100 Attorneys in Texas, Top 50 Women Attorneys in Texas, and Super Lawyers (Thomson Reuters).
Face of Family Office/Direct Investments
5001 Spring Valley Road, Suite 825W, Dallas, Texas 75244 214.517.7726
As a former family office executive, Pat Noonan brings unique experience to East West Bank, one of the 25 largest publicly traded commercial banks in the U.S. He previously was an advisor who led the direct investment initiatives for single family offices and was head of capital markets for a multinational company. With this background, his perspective is closely aligned with the bank's family office clients.   
Noonan's Family Office Practice team assists clients across the U.S., offering creative financing solutions for investments in operating companies and assets of various types. They also facilitate capital introductions through the company's broker dealer East West Markets, connecting family offices with business owners seeking growth capital or a buyer for their business. East West Bank is a trusted referral source to family office relationships developed over three decades, and has access to many of the largest family offices in the U.S.
"There's a common misperception that our family office practice involves wealth management," Noonan says. "It doesn't. Our focus is on private investing, in companies or assets held for investment purposes. Our clients have established initiatives aimed at direct investments and appreciate our calls when we are introducing a new opportunity. And we are a potential partner for any situation where they are using bank financing."
East West Bank appreciates the approach family offices bring to direct investing – flexible, patient capital and investment strategies unaffected by fundraising cycles. As investors of family capital, there is a keen focus on alignment of interests. The Family Office Practice brings owners and family offices together in a discreet manner that fosters these objectives, and this often leads to financing opportunities for the bank.            
"Our goal is to understand a client's business better than anyone. When we put the effort in upfront, we find solutions that work for both parties – delivering outcomes that our clients appreciate. Since opening our Dallas office, our success has been a direct result of this approach. Our greatest achievements are measured by the retention of our clients and the referral opportunities they bring to the bank," Noonan says.
Faces of Philanthropy
5500 Caruth Haven Lane, Dallas, Texas 75225 | 214.750.4229
As the largest community foundation in Texas and one of the largest in the nation, Communities Foundation of Texas (CFT) has a vision of thriving communities for all. CFT works with individuals, families, businesses, and nonprofits to strengthen our community through charitable funds and strategic grantmaking steeped in equity and connectedness across the areas of health, wealth, living, and learning. During the COVID-19 pandemic, CFT's leadership of community relief efforts, such as North Texas Cares, North Texas Giving Day, the creation of 10 different relief funds, and the generosity of CFT's donor-advised fund holders has helped mobilize and invest more than $200 million in the community through local nonprofits.
CFT has awarded over $2 billion in grants to nonprofits since its founding in 1953 and professionally manages more than 1,200 charitable funds. CFT is committed to serving and understanding donor needs, expertly handling complex gifts, providing giving guidance, and leveraging community knowledge to increase charitable impact. CFT works with companies of all sizes to spark or grow a culture of generosity, manage employee giving, and increase employee engagement. Through programs such as Be In Good Company, CFT for Business, Educate Texas, Emerging Leaders in Philanthropy, GiveWisely, the Live Oak Society, and North Texas Giving Day, CFT helps individuals, families, and businesses maximize their generosity and impact.
Helping donors create a legacy of giving is critical to creating sustainable, thriving communities. CFT's Live Oak Society recognizes hundreds of individuals and families who are building that legacy today by including CFT in their will or estate plans. Partnering with CFT ensures that your passion for philanthropy can be passed down to the next generation, while also ensuring that the nonprofits and causes important to you will continue receiving assistance beyond your lifetime. CFT staff experts are always available to help you think through what matters most to you and how that can align with your giving strategy and support of nonprofits.
Faces of Private Cubs
1601 Elm Street, 48th Floor Dallas, Texas 75201 | 214.220.0403
Discover where Dallas' leaders and change makers engage, entertain, connect, work, play, and stay. Tower Club Dallas is the city's leading community for purpose, connection, and entertainment in the heart of the downtown business district. From the Clubhouse on the 48th floor of Santander Tower, members and guests enjoy unforgettable experiences overlooking breathtaking views.
For Tower Club Dallas members, true community is created through engagement in unique, high-quality programming that includes mentorship programs, VIP speakers, mastermind classes with scholarship opportunities, Boozy Brunch and Spirits education led by director of member experience,  Jeremy Jones. Membership in this premier city club ensures an ideal place to make meaningful connections, entertain friends and associates, work on your swing in the BigShots Golf Lounge, and have a home-away-from-home remote office. In addition, you'll enjoy benefits beyond the Club as part of the ClubCorp family nationwide. Interested in what it takes to secure an invitation to become a member? Jennifer Miller is your go-to for all things access and members-only invite to this exclusive, but not exclusionary, city club.
Tower Club Dallas also enjoys award-winning style, perfect for hosting any event with a sophisticated vibe paired with high-end Texas style with bold, modernized design. Whether you need an intimate boardroom for your next power meeting or the Cedars Ballroom for your charity gala, Tower Club Dallas is sure to exceed all your expectations with best-in-class culinary, service, and personal touches led by director of private events, Staci Chambers.
"There are few places where you can go to work, relax, or have a nice romantic dinner," says Jhubin Moghaddamfar, a Tower Club member since 2019. "Over the course of the last year, Tower Club Dallas has transformed into one of the best places in Dallas to dine and connect with like-minded professionals. Whether it's planning an event with some of the best views in Dallas or just meeting with a client over sushi, Tower Club is equipped to handle and execute on every level."
Face of Residential Real Estate
4144 N. Central Expressway, Suite 530 Dallas, Texas 75204 | 972.374.9994
When it comes to Residential Real Estate in Texas, Chase Bray, Broker/owner of Bray Real Estate Group, is the name to know. In the business for more than a decade, Bray began his real estate career early on as an MBA student at Texas Tech University when he purchased his first rental property. After graduating with a B.A. from the Rawls College of Business at Texas Tech in 2012, he continued his passion of buying and leasing rental properties while completing his Master's in Business Administration in 2014. He quickly learned that a passion for real estate, combined with a knack for sales, could lead him to a successful career as a REALTOR® and broker. By 2018, Bray opened his own brokerage, Bray Real Estate Group. Today, his brokerage employs more than 40 agents who assist buyers and sellers across Texas with most any real estate need. In 2020, Bray's personal sales were $42 million, and he is on track to sell more than $75 million in 2021. The brokerage collectively reached $115 million in 2020 and expects to sell more than $300 million in 2021.
The Texas native has grown his business to include offices in Dallas, Houston, Austin, Lubbock, and San Antonio. He says the excitement he felt purchasing his first rental home in Lubbock more than a decade ago continues with each real estate transaction he completes today as he guides his clients in buying, selling, or leasing. "I love being a part of this incredibly innovative team," he says. "It's a young, hungry team with a strong drive to help our clients. I still show homes to clients myself just because I love that feeling of helping people find their dream homes."
Bray and his family live in the Park Cities and frequently help clients buy and sell multi-million-dollar properties here, as well as Lakewood/East Dallas and other coveted Dallas area neighborhoods. "I know this area well and feel it's important for everyone on our team to support the communities where we live and work," he says. "Our team represents the best and brightest in the industry, and we're always striving to lead the field in research, innovation, and consumer education. We have become the trusted resource to guide them through the complex world of real estate."
Face of Smart Home Security
2020 was a year of transformation for Brinks Home. as people put more effort and thought into their homes, the smart home security industry grew. As customers worked with Brinks Home to improve their smart security systems, internally, Brinks Home embarked on a search for new key executives, making critical hires who will propel the company even further. "We are thrilled with the group," says William Niles, chief executive officer of Brinks Home. "We had a vision for what we could be—what we could achieve and accomplish. When you focus on the people, you can change the company culture and its trajectory."
This focus on people includes an emphasis on diversity and inclusion across the organization. For example, the new chief people officer has a background outside of HR, which has enabled holistic insights and ideas on recruiting and retaining the best employees. "We are in the business of serving, and serving includes safety and security," Niles says. "Our new leadership team is in line with our brand philosophy of delivering platinum-grade protection and a terrific customer experience. Providing 24/7 peace of mind starts with our people. Premium, platinum service is paramount to us, and we are starting with the people."
The second part of the company's transformation involves data analytics and big data. The goal is to become a progressive, data-consuming organization where machine learning and aggregated business analytics combine to offer real-time insights. "People, culture, technology, and brand—it's a powerful combination," Niles says. "Our third pillar was to establish a brand strategy. Our brand is a premium brand predicated on a best-in-class customer experience. It drives everything we do."
Brinks Home's customers will have a higher-touch experience from the company because of these changes, which include improving customer interactions through the user experience in the Brinks Home app, and other updates. "We are better at anticipating our customers' needs," Niles says. "We are asking ourselves how to make our products easier to use and more intuitive. These things don't happen overnight, and we still have work to do, but our goal is to continue to make it easier to do business with us."
Faces of Wealth Management/Financial Planning
5950 Sherry Lane, #600, Dallas, Texas 75225 | 214.360.7000
In the competitive space of RIAS and wealth management, RGT believes the most under-asked question by prospective clients is, "Can you tell me about your succession plan and your next-gen talent?"
RGT Wealth Advisors was founded over 35 years ago. The firm's leaders have steered the firm through a myriad of economic and business environments during the last several decades. Most people who come into the wealth management business as registered investment advisors (RIA) begin as practitioners. RGT believes to truly fulfill their roles as fiduciaries and support their clients' long-term goals, they need to be sure they are a firm that can serve them long-term. That means a robust and comprehensive approach to succession planning. It takes a mindset akin to planting trees founders will never sit beneath the shade of, but generations of their clients and colleagues will.
RGT's leaders work on the business of the future as much as they work in the business today. They have disciplined themselves to look far down the road and plan for the future of the firm, whether they are a part of it or not.
In an industry that is constantly evolving, it is incumbent upon business owners to continually adapt by helping clients be secure in the knowledge of who will serve them and their families – not just today or tomorrow, but 20 or 30 years from now.
With this in mind, RGT has focused deeply on optimizing talent acquisition with a focus on succession and maximizing the careers of the firm's people. The firm has already begun to transition much of the day-to-day responsibility for managing the firm's business and its clients to Gen2 owners. The cool thing is, this has happened while RGT's founders and Gen1 leaders are still an active part of the business. This is unique in the RIA space, where often founders sell and leave, or in some cases, hold on too tight, stunting careers of their next gen…or worse, causing them to leave for better career paths.
RGT has focused on a robust and healthy apprentice-style transition that has helped further careers and prepare for the future of client service.
So, here they are. Meet RGT's Gen3!
Get the D CEO Newsletter
Stay up to speed on DFW's fast-moving business community with weekly news reports, interviews, and insights.