Although the covid pandemic tempered deal-making activity in 2020, North Texas remained a hotbed for transactions. It led the country in investment property sales—knocking Manhattan right out of the top spot with large deals such as the $400 million sale of the Galleria office towers and the $370 million sale of The Union development in Uptown. Relocation activity continued, with two Fortune 500 companies among those moving into the region. The state's largest-ever historic renovation lit up the Dallas skyline for the first time in a decade, and the Texas Rangers were welcomed into a new $1.2 billion, HKS-designed stadium. These stories were among those that generated the most traffic on our D CEO Real Estate site in 2020. We also talked with a number of market experts who shared their opinions on projects and deals that stood out.
Here are our picks for the industry's 10 most notable news stories of the year.
---
The COVID-19 crisis forever changed how we work.
Stay-at-home orders threw a wrench into bustling office and retail markets, causing companies to reevaluate their office space needs. Net leasing dropped by nearly 4 million square feet, and merchants pivoted to online models during the most significant disruption to hit the retail industry in three decades. It wasn't all bad news in 2020, though. DFW saw major industrial sector gains, thanks to an e-commerce boom. And in the true Texas spirit, the region saw innovation, with companies such as VARI renovating the former IBM Southlake campus to host short-term renters and restaurateurs shifting to ghost kitchen models.
---
PGA of America broke ground on its new Frisco headquarters.
Designed by architect Page Southerland Page, the 106,622-square-foot office building is expected to open in early 2022, just south of U.S. Highway 380. The headquarters will anchor the 660-acre PGA Frisco campus, which will also feature two championship golf courses and an Omni Hotel and Resort. PGA of America announced it was moving its base from Florida to Frisco back in 2018. The PGA Frisco development will have an initial public-private investment of about $520 million and is anticipated to have an economic impact of more than $2.5 billion over the next two decades.
---
Execs on the Move
Some of the region's largest commercial real estate firms got new leaders as 2020 came to a close.
Ran Holman
One of the most significant executive changes to make headlines last year came when Ran Holman, a 30-year industry veteran, left his leadership role at Cushman & Wakefield to take a statewide post at Newmark. Once a minor player in the local market, 2020 was a big year for Newmark, which also welcomed Gary Carr, John Alvarado, and Robert Hill of CBRE and Chris Murphy of JLL.
Mike L

afitte
CBRE, the world's largest commercial real estate firm, shuffled its C-Suite deck at the end of 2020. It put Mike Lafitte, global chief of the firm's investment business, also in charge of its development arm, Trammell Crow Co. He replaces Matt Khourie, who is moving into a Chief Investment Officer role at CBRE and, in April, at Trammell Crow Co., when CIO Craig Cheney retires.
Daniel Taylor
The sudden departure of Colliers International's Steve Everbach was followed by the news that the firm had hired Daniel Taylor, a divisional managing director of retail at CBRE, to run its North Texas office. As executive managing director and market leader, he will oversee all brokerage operations and service lines, focusing on new business development, recruitment and retention.
---
Leading the Pack
COVID-19 couldn't slow down DFW's industrial boom. Instead, it pushed it years ahead.
CBRE reports that Q4 2020 marked the 41st consecutive quarter of positive net absorption for DFW industrial, and five years of annual absorption topping 20 million square feet.
Developers responded by building nearly 32 million square feet of industrial space in 2020, according to Cushman & Wakefield. Build-to-suits accounted for 14 percent of the total.
A shift in how we shop led to major deals to advance last-mile delivery. Last year, North Texas saw seven 1 million-square-foot industrial leases signed.
Supply-chain shortfalls have highlighted a need to up the game on industrial's most significant challenge: transportation. Work in autonomous trucking is already happening at
AllianceTexas.
---
Dallas led the nation in investment property transactions in 2020.
Commercial property sales volume took a roughly 40 percent dip last year, but DFW still managed to emerge as the national leader for commercial real estate deals, according to Real Capital Analytics. The pre-pandemic sale of the Galleria Office Towers, a three-building asset, for $396 million started the year off well. At $730 per square foot, the $370 million sale of The Union set a record for the market. Other notable deals included the former American Airlines headquarters, Centura Tower, Douglas Center, and Creekview Corporate Center I & II in Richardson.
---
Booming Housing Market
[img-credit align="alignnone" id=" 843223″ width="1800″]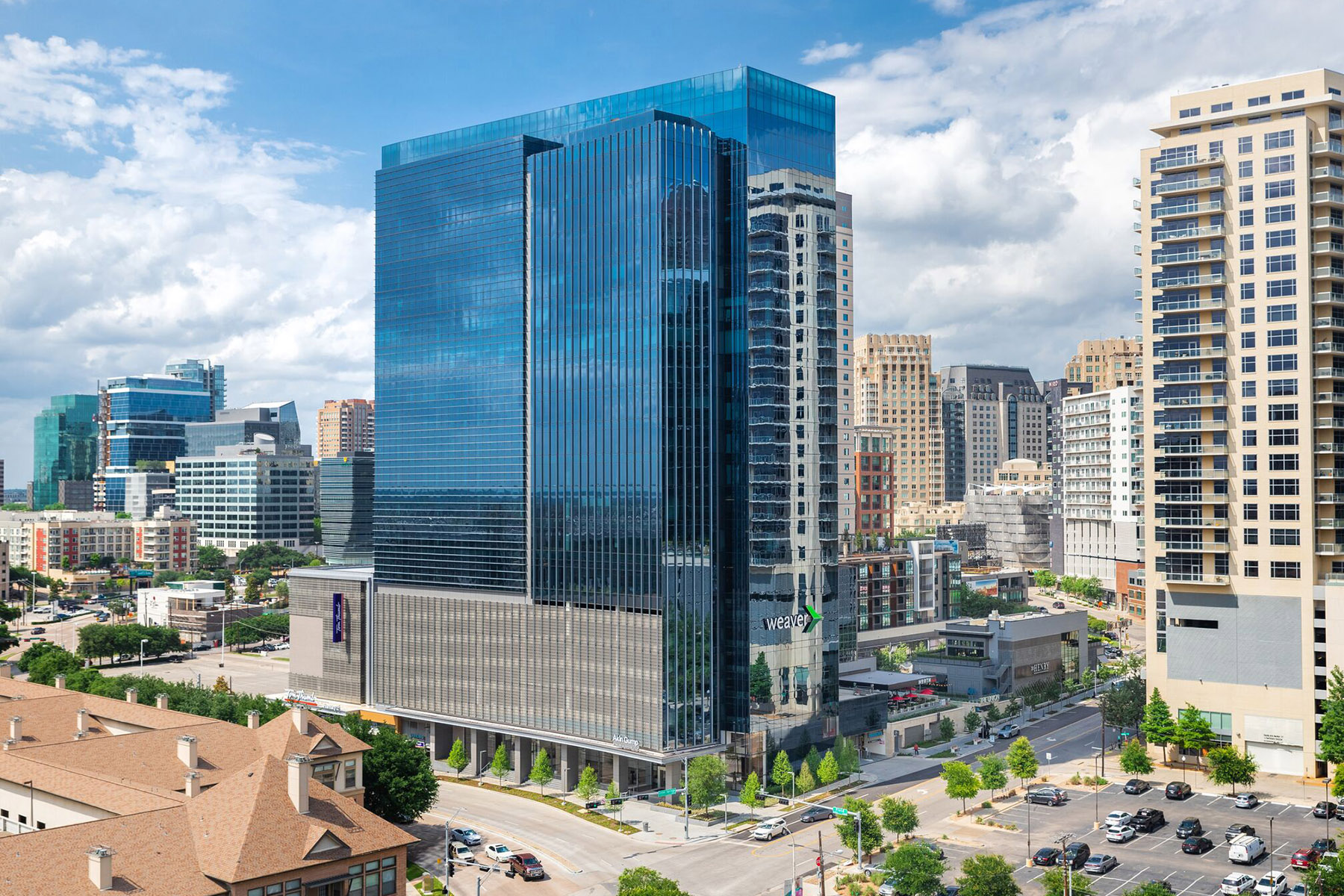 [/img-credit]
When COVID hit, residential developers planned for the worst. But as stay-at-home orders eased up, the market took off—extending the buying season well into the fall. Why? To start, buyers got comfortable working from home and traded in tight quarters in dense urban Dallas for large floor plans in the suburbs. Out-of-town dwellers also continued to buy as job relocations stalled by the pandemic picked back up. Interest rates, at or near historic lows, were a factor in driving deals, too. All of these trends have 2021 poised to be an even better year, with sales forecasted to be 5 to 10 percent higher than 2020.
---
Texas Rangers moved into their new $1.2 billion ballpark
The 2020 Major League Baseball season didn't go the way anyone imagined, but the Rangers ultimately began play at their new home. Designed by HKS, Globe Life Field received national attention when it hosted post-season and World Series games. Although not everyone is a fan of the facility's exterior, its design makes it ideal for watching baseball under the hot Texas sun. The 40,300-seat stadium comes with a massive, 24 million-pound retractable roof that opens in less than 12 minutes.
---
Center F
or
Growth
Texas continues to draw corporate relocations and expansions. Here are two significant 2020 moves.
CBRE
Brokerage giant CBRE finally made its North Texas relationship official, announcing plans to relocate its corporate headquarters to Dallas after calling California home for more than 100 years. The move was inevitable; North Texas has been the company's de facto headquarters for nearly a decade as its largest operating center and home to several senior executives.
Charles Schwab
Another Fortune 500 company deciding to call DFW home was Charles Schwab, which said goodbye to pricey San Francisco and hello to Hillwood's Circle T Ranch in Westlake. The move was primarily spurred by its $26 billion merger with TD Ameritrade, which housed about 2,000 employees in Southlake.
---
The former First National Bank tower lit up for the first time in a decade
Led by Dallas-based Todd Interests, in partnership with Moriah Capital, the $460 million redo of the 52-story, George Dahl-designed building marks the state's biggest adaptive reuse project. The 1.5 million-square-foot tower, now known as The National and bounded by Pacific Avenue and Akard, Field, and Elm streets in the heart of the central business district, had been vacant for more than a decade. Last year, Downtown Dallas Inc. leased 23,000 square feet in the building, which houses a vibrant combination of office space, luxury apartments, a 219-room Thompson Hotel, and retail and restaurant space—including the new Catbird restaurant, shown here.
---
A Reinvented Fair Park
Dallas City Council members approved an extensive plan to revitalize Fair Park in October. The intention is to make it more of a year-round destination, rather than just the home of the State Fair of Texas. Plans for the 277-acre complex include 52 acres of new or expanded parks and open spaces and the removal of concrete and blacktop, which will be replaced with things like a 2.3-acre Music Green. Funding will be a huge part of renovations as the first phase alone—the parks—is estimated to cost $85 million. The six- to 10-year second phase will focus on a parking deck, hotel, and other growth stimulators for the neighborhood. 
---
North Texas is expected to be a big winner in the post-coronavirus recovery. Here are some projects and trends to keep an eye on. Check out our 2021 Outlook to see which five trends you should be following. (Click here)
Get the D CEO Newsletter
Stay up to speed on DFW's fast-moving business community with weekly news reports, interviews, and insights.