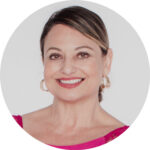 I turn my head to take in the display of foliage-clad mannequins as Margie Aguilar and I take our seats at Hugo's Invitados in Las Colinas. The executive producer and co-founder of ISP Studios has been at the restaurant all morning, conducting meetings in a nearby booth. She recommends "everything" on the menu, which features modern Mexican fare. We settle on two of Hugo's (deliciously fresh) bowls, and both order in Spanish.
Aguilar tells me that she launched ISP Studios roughly 23 years ago after a tenure as production manager at Spanish broadcasting network Univision in Dallas. She had been hired at 19 after a brief internship and quickly worked her way up the ranks. Aguilar has struggled with dyslexia throughout her life but says the condition has also helped drive her success.
"I think that's my superpower," she says. "I look at things differently, and visually is where I make my money, right?"
When I ask what led her to launch ISP, she tells me to imagine I was in Spain (where I mentioned I had lived for a year) and that its media portrayed American holidays and culture differently from what I felt fully encapsulated who we are. This void of holistic representation, she says, exists in the United States surrounding Latinx cultures; she co-founded ISP Studios in 1998 to help change perceptions.
Aguilar launched the company alongside her partner, Dan Craig. Their first gig? An 11-month contract for a monthly Spanish-syndicated show for the Dallas Cowboys. Roughly five years later, Aguilar purchased the Irving studio where she had once worked for Univision. ISP has since become the production company for Sephora, Ulta Beauty, JC Penney, Chili's Restaurants, and other clients, providing bilingual branding and marketing and social media production. "We make sure that Spanish is not an afterthought," Aguilar says.
In March 2020, ISP pitched a new concept to a client. "We sold this really neat show, kind of like a Kelly Ripa show," Aguilar says. From there, business took off, with ISP seeing a quick 25 percent growth in its client base. Aguilar got to thinking—maybe it was time for her to make her next move. 
"It gave us the opportunity as a company to pause," she says, and that led to an epiphany: "We are just so smart with ideas and solutions, why are we not an agency?" Aguilar wanted to build on—and be compensated for—the concepts her team provided, not just the production services for the execution of those ideas.
So, just a few weeks ago, ISP Studios became ISP Creative, a bilingual creative agency that continues to provide production services. The most challenging shift for Aguilar? Letting her newly hired marketing experts handle a portion of the business.
"I have my eyes on everything," she says, "but it's more like giving the keys to somebody who is going to market, and now they're pitching to me."
D CEO Newsletter
Stay up to speed on DFW's fast-moving business community with weekly news reports, interviews, and insights.