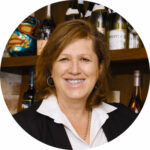 Veteran restaurateur Monica Greene came out of retirement in 2018 to take over and revamp the former Cedars Social through her company, Brown Eyed Girls.
A native of Mexico City, she initially moved to the United States to attend college. Instead, by chance, she got a job working at a restaurant—and never looked back.
Greene says a quote from Albert Schweitzer helps her remember what's important in life and business: "Success is not the key to happiness; happiness is the key to success."
Birthplace: Mexico City, Mexico
Education: "My 'culinary degrees' were earned behind the kitchen line or at the front line by managing restaurants for some of the best restaurateurs in this city."
Who I Admire: "Many people have been a great source of inspiration. But in the business and culinary world, the person who made a lasting impression in my life was Julia Child."
Lessons Learned: "I've learned that it's important to succeed or fail on your own terms and that your focus determines your reality."
Book Club: "I recommend reading Infinite Possibilities—The Art of Living Your Dreams, by Mike Dooley. It provides wisdom for living an abundant, joyous life. It helps you understand that we can create our own fate and the positive powers we all possess."
Proud Moment: "Two years after opening my business, our concept finally became an integral part of the fabric of the emerging community in The Cedars."
2020 Taught Me: "There were so many lessons learned. But in a nutshell, I've learned to practice self-discipline and to surrender with grace to the reality in which we live. I learned that I have to continue to fight harder for equality and freedom from persecution for all. I've learned new ways to adapt my business model to continue to succeed in this very hungry business. And I've also learned that I miss hugging people."
Fun Fact: "I like motorcycles. I'd love to travel for months on one—without a set plan."
A Better Dallas: "We need to bring to reality the expansion and redevelopment of South Dallas and its residential neighborhoods to help create more business opportunities in that sector. We also need to finish the Trinity River Project of recreation, environmental restoration, wildlife habitat, and economic development in The Cedars and the area south of downtown."
Hobbies/Passions: "I love to cook, and I like to paint; I also enjoy writing poetry."
Looking Ahead: "My hope is that the social awakening happening in our country will help us accept and understand what is needed in order to help bring about the necessary positive changes in society."
---
This Q&A is extended content from Dallas 500, a special edition produced by D CEO that profiles the region's most influential business leaders. Visit www.dallas500.com for details.
Get the D CEO Newsletter
Stay up to speed on DFW's fast-moving business community with weekly news reports, interviews, and insights.