It's about 10 a.m. on a Wednesday, and I'm meeting restaurateur Afifa Nayeb at her upscale concept
Âme
(pronounced Ah-mmh) in the Bishop Arts District.
Before we settle into some dark green velvet couches in the restaurant's Parisian-inspired Elephant Bar, she drags me into the kitchen "for a quick second" so she can start the base of her pistachio kulfi. The rich smell of turmeric, cumin, and garlic is already in the air as black dal simmers on the stove, a process that can take up to 72 hours to complete.
It had been about three weeks since I attended the restaurant's grand opening, and Nayeb tells me that the excitement has not waned—it's still tough to get a prime-time reservation at the intimate eatery, which used to house Hattie's. Opening night was a blur for Nayeb and her daughter, Sabrina, who helped design and launch the space.
While Afifa has already seen great success with her other Nayeb Hospitality concepts, 8 Cloves and Laili, the realization of her first full-service restaurant is pinnacle for the woman who waited most of her life to follow her dreams.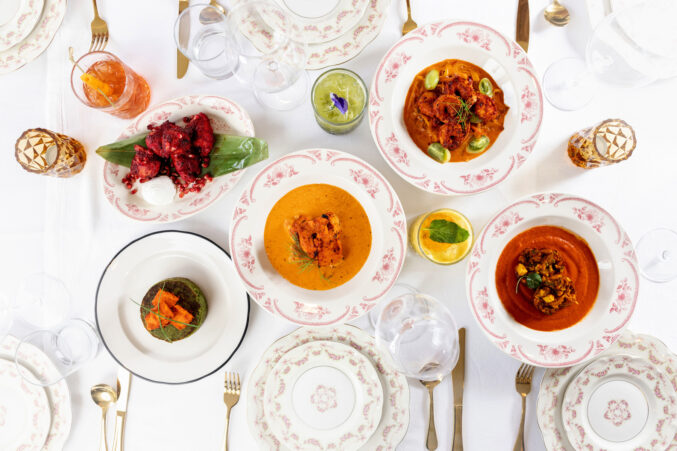 Having a deep-rooted passion for cooking, Nayeb always envisioned herself running a kitchen. But for the single mother, who vividly remembers losing everything when her family emigrated from war-torn Afghanistan in 1985, providing financial stability for Sabrina took precedence.
Instead, the single mother built a small empire of check-cashing stores. It wasn't until her daughter graduated from high school that she dared to enroll in Le Cordon Bleu.
At first, she told her family it was just for fun. When she later shared her goal of opening a restaurant, she got a lot of push-back; even an instructor warned her against it, saying that it was too much work for someone of her generation and more for people his age.
Still, she pushed forward. "I call myself a salmon; I swim against the water," Nayeb says. "For me, if a woman believes in herself, she should not wait for people to tap on her shoulder and say, 'you can do it.'"
It's fitting that this apex in Nayeb's career includes her daughter, who she raised to be an unabashed, strong woman.
If you ask me, one of the most beautiful moments in the restaurant is a wall full of framed pictures of powerful women near the restroom that hints at both women's feminist beliefs.
"For me, if a woman believes in herself, she should not wait for people to tap on her shoulder and say, 'you can do it.'"

Afifa Nayeb
"My upbringing involved a lot of females taking care of me and raising me – that's including my grandmother, my mother, and my aunts," Sabrina says. "When my mother was out working, my grandma and aunts were the ones who were taking care of me. Having her come home from work and watching how hard one must work in order to make their dreams come true, I wanted to make sure that I did anything I could to help her out, even if that was having a hot plate of food ready when she got home. That has shaped me into making it my mission to always be accessible and always be helpful in helping other women pursue their dreams in business, even if it's just as little as connecting them with someone I know."
Originally, Sabrina's involvement in Âme started with just designing the space and brand creation.
"I got more heavily involved in the operation side naturally as we progressed into the project," she says. "I felt very comfortable with building our team as I was emotionally committed to this project, especially as I was wrapping up my last few semesters of my MBA."
[img-credit align="alignnone" id=" 854688″ width="677″]
[/img-credit]
In terms of space, you see many Sabrina in the European decor and bold wallpaper choices. The restaurant itself is broken up into three spaces that stand on their own and marry under one umbrella. Elephant Bar, being more of a Parisian speakeasy escape with a champagne heavy menu and French craft cocktails, leaves you feeling royal yet comfortable, Sabrina says. The main dining room follows, in which the wallpaper, funky colors, and schemes reflect the colors of the palette and plates seen on your table. Lastly, the back horseshoe bar has Indian craft cocktails and an extensive biodynamic organic wine list reflecting the natural greenery bright room that also inhabits the original Hatties tiles and ceiling.
Sabrina also left her mark on the menu, pushing her classically trained mother to incorporate more French techniques into the Indian flavors. Afifa, who accelerates at marrying flavors, got right to work testing out dishes in her kitchen. In fact, it was a tasting of such dishes that helped the duo land the lease at the highly desirable location (where 11 others had put in offers, Afifa says.)
Building out the space during the height of the COVID pandemic was no easy task for Afifa or Sabrina. From going back and forth on what wallpaper to chose to finalizing the menu mere weeks before opening, it was a "roller coaster of emotions, "Sabrina says. "We've been through it all in terms of disagreements, celebrations, hugs, tears, and communication issues. I feel like this project was one big therapy session for my mother and me."
Nayeb agrees. "It has been a very challenging journey," she says, "but a beautiful destination."
Get the D CEO Newsletter
Stay up to speed on DFW's fast-moving business community with weekly news reports, interviews, and insights.