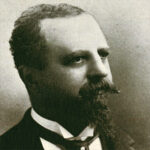 After opening its doors to the public in 1912, The Adolphus hotel quickly became the pinnacle of luxury in Dallas. Built on Commerce Street in the heart of downtown by St. Louis beer magnate Adolphus Busch, it's designed in a Parisian Beaux-Arts style, complete with exterior gargoyles flanked by the heads of Greek gods.
Busch saw Dallas as the city of the future and began investing in the growing town in the early 1900s. The 22-story hotel was modeled on a German castle and was the tallest building in town for a decade.
On the National Register of Historic Places since 1983, The Adolphus also is known as a hotbed for paranormal activity. A number of unsettling events began happening just two weeks after the opening, when an Italian waiter died after falling three floors down an elevator shaft.
During the hotel's first decade, a cement company employee drank from a bottle labeled "poison," an insurance man from New Hampshire "sank into the sidewalk" nearby and died in the hotel, and an elevator attendant fell 100 feet to his death while trying to hop from one elevator to another.
Guests have reported hearing the wails of a jilted bride who, according to legend, took her life on the 19th floor after being stood up on her wedding day in the 1930s.
The haunting moments are not just ancient history, as seen in this YouTube from 2009, where elevator doors are mysteriously opening and closing while phones begin ringing in front of giggling onlookers.
During the 1920s, the Century Room on the 19th floor opened, bringing in prominent band musicians such as the Andrews Sisters, Glen Miller, and Benny Goodman. They performed for packed rooms of patrons indulging in bootlegged whiskey. In 1930, The Adolphus was home to a retractable ice rink in the Century Room, which hosted touring shows for 35 years.
Royal guests have included Queen Elizabeth II and Prince Phillip and the king of baseball, Babe Ruth. During the Queen's visit in 1991, every staff member who personally served them was formally introduced, and she gifted an official portrait to the hotel for the lobby. Presidents Jimmy Carter, Ronald Reagan, and George H.W. Bush have also been guests at The Adolphus.
In 2016, Swoon, the Studio was tapped to give the hotel a multimillion-dollar makeover, which included restoration work. Despite its ghostly past, The Adolphus, which now operates as part of Marriott's Autograph Collection, remains a pillar of grandeur for the city of Dallas.
Get the D CEO Newsletter
Stay up to speed on DFW's fast-moving business community with weekly news reports, interviews, and insights.