Maybe it's best to start with Dan Flaherty's back. The idea to create a standing desk—the Varidesk—started with the burning pain that shot up from the entrepreneur's hip whenever he sat down at his desk. Respite came only after standing to work, with his computer sitting atop a cardboard box.
Or perhaps it's more appropriate to start with Vari CEO Jason McCann growing up in Galveston in the late 1970s, sweeping hair at his mother's salons and spending evenings talking about appointments around the dinner table. Business was an essential part of life, as normal as telling his folks about his school day. Homework meant class assignments but also riding his bike to the bank before it closed to deposit a green bag of cash.
With those sorts of lessons and behaviors coming at such a young age, they became part of McCann, so much so that decades later,  when something novel comes along—like a standing desk that takes minutes to assemble—he could quickly see its potential. 
Both Flaherty's back and McCann's business upbringing are foundational to Vari. But foundations are meant to be built upon, to sustain whatever vision the people in charge have for the structure. And so, what started as a desktop converter that allowed employees to stand while they worked has now morphed into something much bigger: a customer base comprising the entirety of the Fortune 500 list, a full suite of office furniture, real estate holdings, partnerships with brokers and landlords, investments in co-working, and an ambition to transform office space on a grand scale.
For his innovations and success at building Vari into a global force, D CEO has selected McCann as its CEO of the Year for 2021. To understand his story, it may be best to start in the margins. That's where McCann keeps spotting things that few others see.
But first, let's get back to Flaherty's back. He and McCann co-founded Vari, partly because of how ridiculous Flaherty looked working with his laptop perched on a box. Flaherty was McCann's boss at Coppell-based Gemmy, which manufactures and distributes holiday lights and inflatables and other such ephemera to some of the largest retail chains in America. (Gemmy's most popular item over the years is the singing Big Mouth Billy Bass, all the rage in the late 1990s.) McCann, now a cherub-faced 52-year-old, was the company's president at the time.
Flaherty had taken up cycling and, during a 60-mile ride, the cyclist in front of him slammed on her brakes. Flaherty couldn't unclip from his pedals in time, which sent him tumbling. His seat broke off. He spent the next 35 miles riding with no seat and spent the next few years paying for it. It hurt to sit for long periods. Workdays could be excruciating—until he stood up.
[img-credit align="alignnone" id=" 872014″ width="1200″]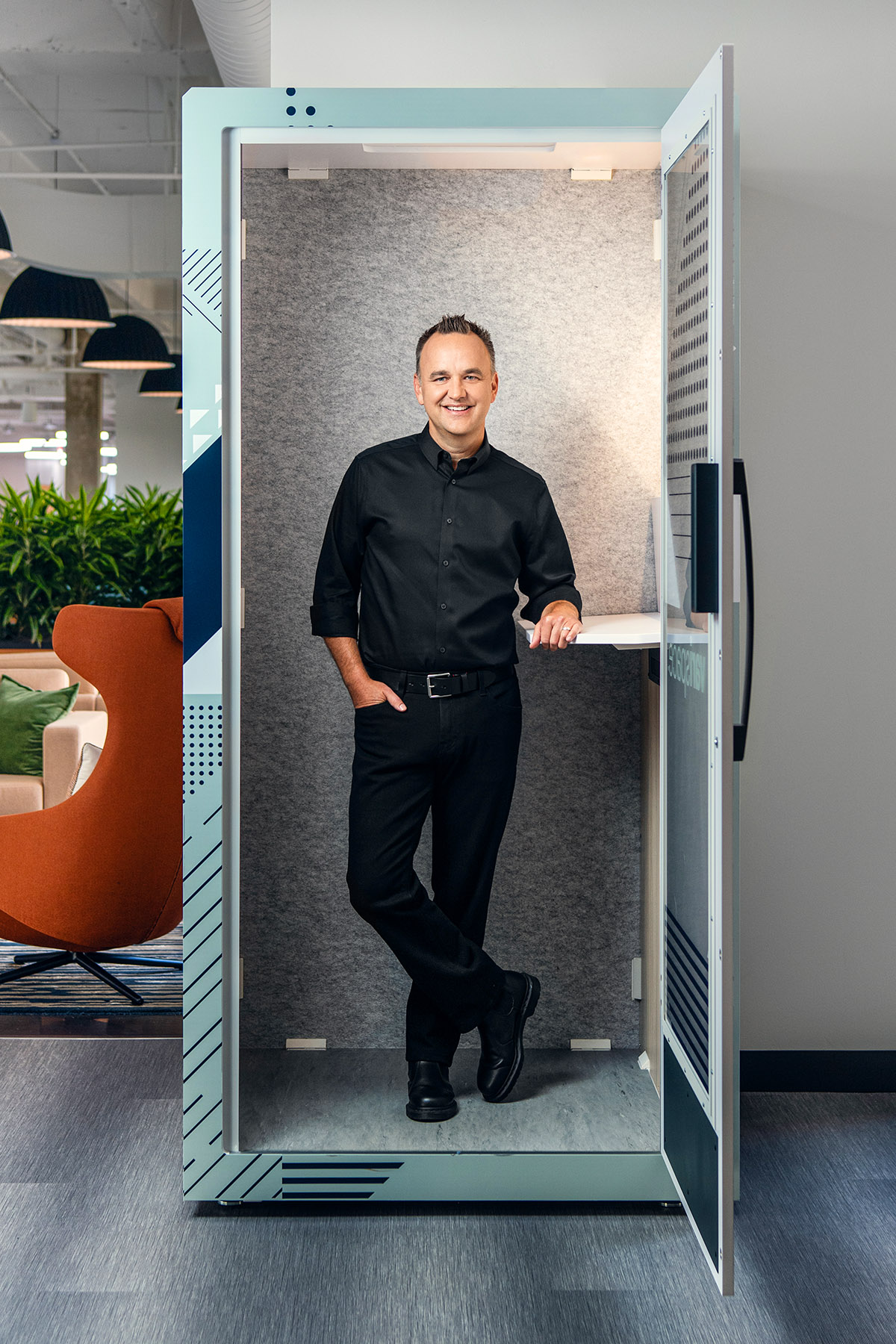 [/img-credit]
The few standing desks that were available at the time were hulking and took hours to assemble. Flaherty, as he often does, saw an opportunity to innovate. What if he could design a product that would rest on an existing desk and be put together in minutes? Flaherty couldn't find anything like it on the market. 
Surely, he wasn't alone, he thought. Others must want—or need—relief from sitting while working. Doctors told Flaherty his pain likely was related to the sciatic nerve and piriformis muscle, which looks like a squash blossom near the pelvis and serves as one of the hip's rotators. Standing, he discovered, made the pain go away. Beyond that, it added health benefits for those who didn't have that pain.
"The key to living longer is movement and activity," McCann says. "We started to encourage it and started to provide the tools."
At first, the duo tried selling their innovative VariDesk like a traditional piece of office furniture, getting it to distributors for resale to other companies. McCann and Flaherty took the concept to folks like Steelcase and Herman Miller, but nobody seemed to know what to do with it. Flaherty remembers one distributor incentivizing salespeople with donuts and small bonuses.
"Jason and I looked at each other like, 'OK, this office furniture industry is so antiquated,'" Flaherty recalls.  
Instead of slinking away, McCann asked what has become a guiding principle for Vari: "How can we do this better?" And so, they zagged, reaching out directly to consumers through e-commerce and cutting out the middlemen that govern the vast majority of this country's office furniture distribution.
Around this time, in 2012, the two men were on a flight when they saw a Wall Street Journal article on the negative health and life-expectancy impact of sitting for long periods. Sitting was called "the new smoking." McCann and Flaherty passed the newspaper back and forth, their eyes growing wider at each new fact, realizing how their new product could help. 
They couldn't have picked a better time to create a standing desk. Nothing like it existed—at least nothing so easy to configure and store and use—and now studies were preaching the gospel of verticality. Shortly thereafter, Gemmy spun off VariDesk into its own company with McCann at the helm.
The direct-to-consumer model created a new community that began informing an expansion in VariDesk's portfolio of products. First came a floor mat to stand on, chairs that would raise or depress, and full-on standing desks that could be used as conference or worktables. Then it released an electric version of its original product, which still lived on the desk employers provided.
This is where Flaherty and McCann diverged. Flaherty considers himself an idea man, more entrepreneur than CEO—even though he literally is still CEO of Gemmy—who "sees a problem and knows there's an easy solution."
Office furniture is a notoriously difficult business segment to break into, partly because of the entrenched relationships between distributors and purchasers. VariDesk delivered something that was missing from the market, but would the same appetite exist for a full suite of office furniture? Soft seating for lounge areas? Lights? Partitions?
"We could have taken it two ways," McCann says. "We could have said, 'Oh, we're done,' or we could challenge ourselves to grow. We've got VariDesk; we're now pushing into what Vari is. Could we innovate entire workspaces?"
In 2014, the company began branching out into other segments based on the idea that businesses wanted more versatility in their offices. It expanded its B2C approach to include B2B. McCann believed there was an appetite for flexing, that a tenant with a 10-year lease might need something different in terms of furniture about halfway through. Why did they have to tear out walls as staffing levels changed? 
By 2017, about 2 million people worldwide were using some sort of VariDesk product. Businesses were pushing McCann's design teams to do more and help them transform their offices with the company's products. They proved McCann's hunch; they were buying walls that could be moved around and full-sized standing desks. VariDesk was selling lounge seating, lighting, and more. The "desk" part of the company's name was beginning to feel self-limiting and quite inaccurate. So, McCann engaged Landor Associates, the firm responsible for the rebrand of FedEx, to give it a refresh. With the direct-to-consumer approach, people knew the VariDesk brand. McCann likens it to the Kleenex of office furniture.
"If you ask someone what desk they use, they'll say, 'I don't know,'" McCann says. "But they know a VariDesk." Landor Associates built on that awareness, and the modified Vari brand was born. By this time, McCann already had his eye on another industry to disrupt—commercial real estate.
The former Zales Corp. headquarters in Las Colinas was a real time-warp of a building, so specifically designed for its jewelry tenant that most prospective buyers balked at the substantial retrofit that would be needed. There was a secure vault in the basement for jewelry deliveries, and the rows upon rows of wavy glass bricks placed it squarely in the 1980s. Its centerpiece was an escalator.
The property near State Highway 114 sat empty for five or six years before Vari bought the distressed asset in 2018. McCann saw an opportunity that was grounded in his past—an ambitious proof of concept. Back when he was at Gemmy, representatives from the company's large retail partners—think Home Depot, Walmart—would often travel to China and Hong Kong to view the manufacturer's new offerings for upcoming holiday seasons. McCann had the idea to make the showrooms luxurious with the kind of amenities you'd find at a nice hotel. Its competitors didn't provide an experience like that. Visits to Gemmy calmed buyers after long flights and the stressful navigation of dense city streets. It gave them something to look forward to instead of something to have to do.
By 2020, VariDesk was Vari and had a full catalog of office furniture and other products. It also had gotten into the education market by acquiring a company called Stand2Learn. The Las Colinas building was close enough to Dallas-Fort Worth International Airport to make day trips doable to pretty much any market in the country. Potential clients could come to see how flexible the space was and look at the company's furniture in action. Conference rooms could collapse or expand in less than an hour; pods could be recalibrated to accommodate new project teams; an R&D lab could expand or contract.
When a guest walked into the revamped building, there was now an enormous, beautiful staircase where the escalator had been, right behind the reception desk, which was also a coffee shop. Eyeing the beautiful space, McCann had a thought: Why not start renting it out?
And, so, Vari became a landlord, offering tenants fully furnished spaces with shorter leases, usually three to five years. McCann called the new platform VariSpace. It filled a hole in commercial real estate. Traditionally, landlords want longer-term commitments from their tenants to make the cost of redesigning their space worth it. VariSpace didn't need to take down walls. It could redesign its open floorplan in tandem with the tenant, using its own furniture that it would keep once users left.
Flaherty had for years been a passive investor in commercial real estate and was aware of how costly tenant improvements could be. Before he sold off his investments, one of his buildings leased to a large insurance company for three years with no finish-out while the business waited to move into a new corporate headquarters that was being built. Another tenant moved in right afterward. McCann had another epiphany, like Flaherty standing in front of a cardboard box on his desk.
"If you talk to CEOs, they'll say, 'I don't know what my real estate needs are going to be five or 10 years from now,'" McCann says. "Business goes up and down, ebbs and flows."
Space in the Las Colinas building got snapped up by RumbleOn, Akili, and Verizon, which took 200,000 square feet. McCann replicated his success with VariSpace Southlake, leasing 82,000 square feet to Microsoft during the pandemic. He then made his most ambitious bet yet: doing ground-up development of a new office building in Coppell, one that wouldn't require the major rehab the others did. Just a few years ago, the company just had a desktop converter; today, it is leasing nearly 1 million square feet of commercial real estate.
Vari hired Dallas-based Corgan to design the interiors of the three buildings. These weren't typical jobs, says Lindsay Wilson, one of the architecture firm's two presidents and head of its interiors practice. "It was so fun for our team because it made us ask, 'Maybe it's not a problem?'" she says. "The conventional wisdom of real estate is you market it to what tenants are looking for. No one had really disrupted it this way. People use the word 'disruptor' so flagrantly … but Jason was constantly saying, 'Why does it have to be that way? Why can't we do it better?'"
Wilson says VariSpace dared to provide Class A amenities—a lounge, a café, a gym, places to work outside (which would prove prescient)—to smaller companies that likely wouldn't be able to afford it otherwise. Larger companies looking for interim space also didn't have to slum it in an outdated cubicle farm. McCann bent a bit on his insistence that everything be flexible. "They had clients saying, 'We love 98 percent of this, but we have to have an enclosed conference room for private meetings and confidentiality,'" Wilson says.
But in March of 2020, Vari, like the rest of the world, had to send everyone home. The company had been experiencing such momentum. It had closed on the Southlake property, hired about 50 new salespeople, and had plans to open showrooms in a dozen other cities.
McCann went into "over-communication mode," sending daily emails to the whole company, holding weekly Zooms that shared updates but also offered meditation and yoga classes. He leaned on what a friend told him when SARS and H1N1 threatened Gemmy's Asian operations a decade before: "We've got to keep rowing until the wind catches our sails," McCann says. "That became our mantra."
And so, he zagged again. He opened a new distribution center in Atlanta, getting the products closer to more companies in the middle of the country. Sales reps began coordinating with business clients to get Vari products to their employees at home. Before March 2020, about 70 percent of the company's products went to corporate offices, and 30 percent went to residences. After the pandemic hit, online sales skyrocketed, and Vari was shipping about 90 percent to homes.
McCann won't reveal annual revenue numbers or financials for the private company. He'll only allow that Vari has done about $2 billion in total sales since it was launched in 2013. The dozen showrooms have opened, from Phoenix to Washington, D.C. And, as the country emerges from the pandemic, Vari, which beyond its own innovative real estate maneuvers took a stake in co-working company Common Desk in 2019, has found a very interesting office market. According to Cushman & Wakefield, the availability of sublease space is up 76 percent year over year and 99 percent since the start of 2020. That's about 147 million square feet of office space sitting empty across the country.
McCann is betting that landlords will be looking for a way to reconfigure that space to appeal to tenants that are still trying to figure out their space needs. He's betting that the three VariSpace locations are proof that, as tenants grapple with work-from-home and in-office strategies, they need flexible lease terms and spaces.
The CEO—who's so focused on growth that years ago he switched to an all-black wardrobe to eliminate at least that daily decision—is betting that this is the next iteration of Vari, where its products give companies the tools they need to innovate and operate in a way no other furniture company has.
He's betting that, just as Dan Flaherty believed when putting his laptop on that cardboard box, there has to be a better way.
Outfitting the Office
Vari has moved beyond its original desktop converter to build a portfolio of more than 300 products. Here are a few of the mainstays:
Get the D CEO Newsletter
Stay up to speed on DFW's fast-moving business community with weekly news reports, interviews, and insights.