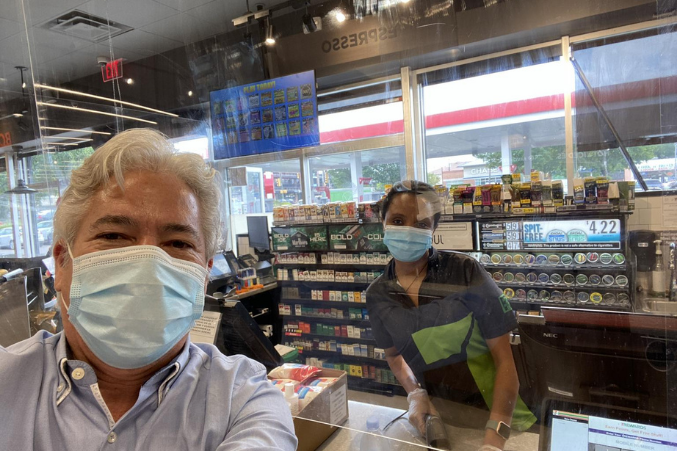 On the Table: Chris Tanco Leads From the Frontlines
The 7-Eleven COO's efforts to meet franchisees where they are has paid off for the convenience store giant.
Chris Tanco first caught my eye on LinkedIn.
At the height of the COVID-19 pandemic, the 7-Eleven chief operating officer was doing something out of the ordinary. He was on the ground, visiting stores across the country and sharing the plights of franchisees and store operators, as well as their inspirational stories—like a Florida franchisee who worked with 800 other stores in the state to feed healthcare workers. 
"It was heart-wrenching at times because they were very fearful—not just themselves from a health standpoint, but for their employees," Tanco explained as we settled in for lunch at Taco Laredo inside 7-Eleven's West Dallas evolution store.
In the early days of COVID-19, Tanco put together a command center to assess the situation. The focus was on stabilization—keep everyone safe, make sure the supply chain was solid, and maintain financial stability.
Financial needs were easy to identify, and by June, the company had delivered nearly $135 million in support to stores through credits, Plexiglas sneeze guards, cleaning supplies, and other necessities—early moves that prevented a financial meltdown. Tanco says that although there are many ways to gather information from afar, there's no substitute for being on the front line.
"The input that you get in real-time … you don't see that when you're sitting at the support center. When you're out, you're touching things; you're looking at things, you're analyzing things, you're talking to people, you're showing them that, 'Hey, you're out here as essential workers and I'm going to be out here supporting you.'" 
Tanco's approach reflects his long tenure in the hospitality industry, which began decades ago when he operated three restaurants in the Philippines.
"Being an entrepreneur, you feel it. It's your money; it's your livelihood," he says. "A lot of corporate people don't understand that because they haven't been a franchisee or haven't been entrepreneurs; they haven't put their own money at stake—their own blood, sweat, and tears. So sometimes, they don't realize what a franchisee is going through. I fully understand, and I can put myself in their shoes." 
After moving to the United States to pursue an MBA at the University of Virginia's Darden Graduate School of Business Administration, Tanco spent nearly 20 years with PepsiCo's Pizza Hut division and later its Yum! Brands spinoff before joining 7-Eleven to overhaul its international business. He moved into the COO role about four years ago.
"Ever since then, I've been maniacal about supporting stores, supporting franchisees, and supporting our team members," he says. Looking ahead, Tanco says he's excited to be a part of the company's bullish plan to double its 9,300 U.S. stores by 2027.
"It has been such a thrilling time because of the growth. No day is the same as the next. They're always different challenges; it takes a lot of energy to run a convenience business, but I love it."