Sometimes, the conviction in an idea can be so strong, one is willing to risk everything to make it happen. Such is the case for Greg Bird, who, despite having a family to support and no capital backing, left a partner position at an oil and gas business to launch Jetta Operating Co. And for Bryan Perkins, who put 100 percent of his net worth into Novaria Group, making it an all-or-nothing gamble.
Startup CEOs must dispel the notion that entrepreneurship is sexy, says Matthew Gabriel of XRI Fountain Quail. "If your idea is not something that you are prepared to sell your car or liquidate your savings for, then it's not enough," he says. These are just a few of the innovators you'll read about on the following pages as we recognize those honored in EY's 2020 Entrepreneur Of The Year program.
For a 13th straight year, D CEO is proud to profile all of the finalists in the program's Southwest region. To select the finalists, EY assembled a panel of independent judges: Alex Danza, founder and CEO of Vonlane; Dan Flaherty, co-founder and chairman of VARI, Chris MacFarland, Chairman and CEO of Masergy Communications; Teresa Mackintosh, CEO of Trintech; Raj Malik, founder and CEO of Bioworld Merchandising; Jamie O'Banion, CEO and co-founder of BeautyBio; Vanessa Ogle, CEO and founder of Enseo; and Blake Walker, CEO of Arcis Golf.
All regional finalists will be honored at a virtual EY event on Oct. 7, when winners will be revealed. Those winners will go on to compete for national recognition in November.
Nepris
Sabari Raja
CEO and Co-Founder
Sabari Raja grew up on a coconut farm in southern India. Although neither of her parents had college degrees, they sent her to boarding school when she was 5 because they wanted her to have a quality education. Raja's love for learning was born. She co-founded ed-tech firm Nepris because she wanted to help create greater equity of access. The entrepreneur's cloud-based software platform connects industry professionals with K-12 and college students in a virtual environment that offers mentoring, tours, and mock interviews. Today, Nepris serves 540,000 students—with more than 60 percent of them coming from rural and underserved communities. "We have always believed that technology can be the great equalizer—especially in education," Raja says.
Twisted X
Prasad Reddy
CEO
About a decade ago, handcrafted footwear brand Twisted X was about $9 million in debt and in desperate need of a strong leader. Taking the helm, Prasad Reddy had the vision to take the company into new markets. His first big move was to go beyond boots, developing a casual line for the traditional cowboy. The next was working to better the planet with sustainable products, aiming to become carbon-neutral. The turnaround strategy yielded an annual growth rate of 25 percent to 30 percent for the past seven years and an EBITDA of 10 percent to 15 percent. Still, Reddy isn't satisfied. "A true entrepreneur doesn't believe that they have ever made it," he says. "Once you feel that you have, you aren't an entrepreneur anymore, but instead, a businessman wanting to make money."
On The Rocks Premium Cocktails
Within a year of launch, CEO Patrick Halbert's innovative brand caught the attention of one of the world's largest whiskey companies. Sales were up 500 percent in 2019, with clients such as United Airlines, Whole Foods, and the Dallas Cowboys selling the premium cocktail line, Beam Suntory purchased the brand in early September for an undisclosed sum.  "I have worked very hard in building a brand that I believe will be an innovative way of consuming cocktails, and I hope to see it have more of a presence in retail for years to come," he says.
Elevate Credit
Jason Harvison CEO
By providing funds to people who cannot secure a loan from a traditional financial institution, such as a bank or credit union, Elevate Credit has carved out a niche in finance. The Fort Worth-based online lender is more than a payday loan company, offering online installment of loans and lines of credit to non-prime consumers—or individuals with credit scores lower than 700. In the past six years, the company has served more than 2.4 million customers in the U.S. and U.K. with $8.1 billion in capital by utilizing technology to underwrite non-prime borrowers in new ways. "Technology is already critical to what we do, but we are only in the early innings of really powerful applications of artificial intelligence and machine learning," says CEO Jason Harvison.  "I'm excited about continuing to leverage these tools to push the boundaries of the underwriting process because, as it exists today, the system of obtaining consumer financing fails millions of Americans."
Presidium
John Griggs, CEO, jokes that his firm has been an overnight success—17 years in the making.
Growth Founded in 2003, Dallas-based Presidium has grown to almost 300 team members and 70 assets under management, valued in excess of $2 billion.
Strategy From 2005 to 2015, the company renovated multifamily assets on a large scale, redeveloping more than 10,000 units to retain a portfolio of 13,000 units.
New Plan The multifamily real estate firm recently added development to its focus, with 2,500 units either under construction or delivered in Texas and Florida.
Advice "Stay engaged in your industry," Griggs says. "Information and market intelligence is critical. Stay abreast of the big picture, but also hone in on the ground game."
RevUnit
Michael Paladino
Co-Founder |
Joe Saumweber
Co-Founder
Based in Bentonville, Arkansas, RevUnit creates workforce technologies that unlock the potential company employees. Founded in 2012 by Michael Paladino and Joe Saumweber, it integrates technology with cross-functional teams. The duo initially focused on consumer products but pivoted after building an application for Virgin Hotels. "When we started RevUnit, I knew leaving my comfortable job to start something new was a leap of faith," Paladino says. "What I didn't realize was that those leaps of faith never end. Hiring that first employee means that you now have someone else relying on your company to feed their family. Taking on outside investment means you now have others financially vested in your success. Each of those decisions, and many more just like them, are required to grow."
HYLA Mobile
Biju Nair President and CEO
Since its founding in 2009, Farmers Branch-based HYLA Mobile has worked to develop a platform that extends the lifecycle of mobile devices while also protecting the planet. Throughout its 11-year history, the company has repurposed more than 60 million devices, all while putting $6 billion in consumers' pockets. "This created a win-win business model for everyone," says president and CEO Biju Nair. "And ultimately, the environment wins as fewer devices end up in landfills, adding to the already severe problem of e-waste." The entrepreneur says he knew his company had made it when major customers like AT&T, Verizon, Best Buy, Apple, Samsung, and Google began to adopt its solution. It was even better when it spread to international customers like NTT DoCoMo. He advises other startup CEOs to "build your products and services like air and water—easy to consume and hard to live without. That is how you build a unique value proposition."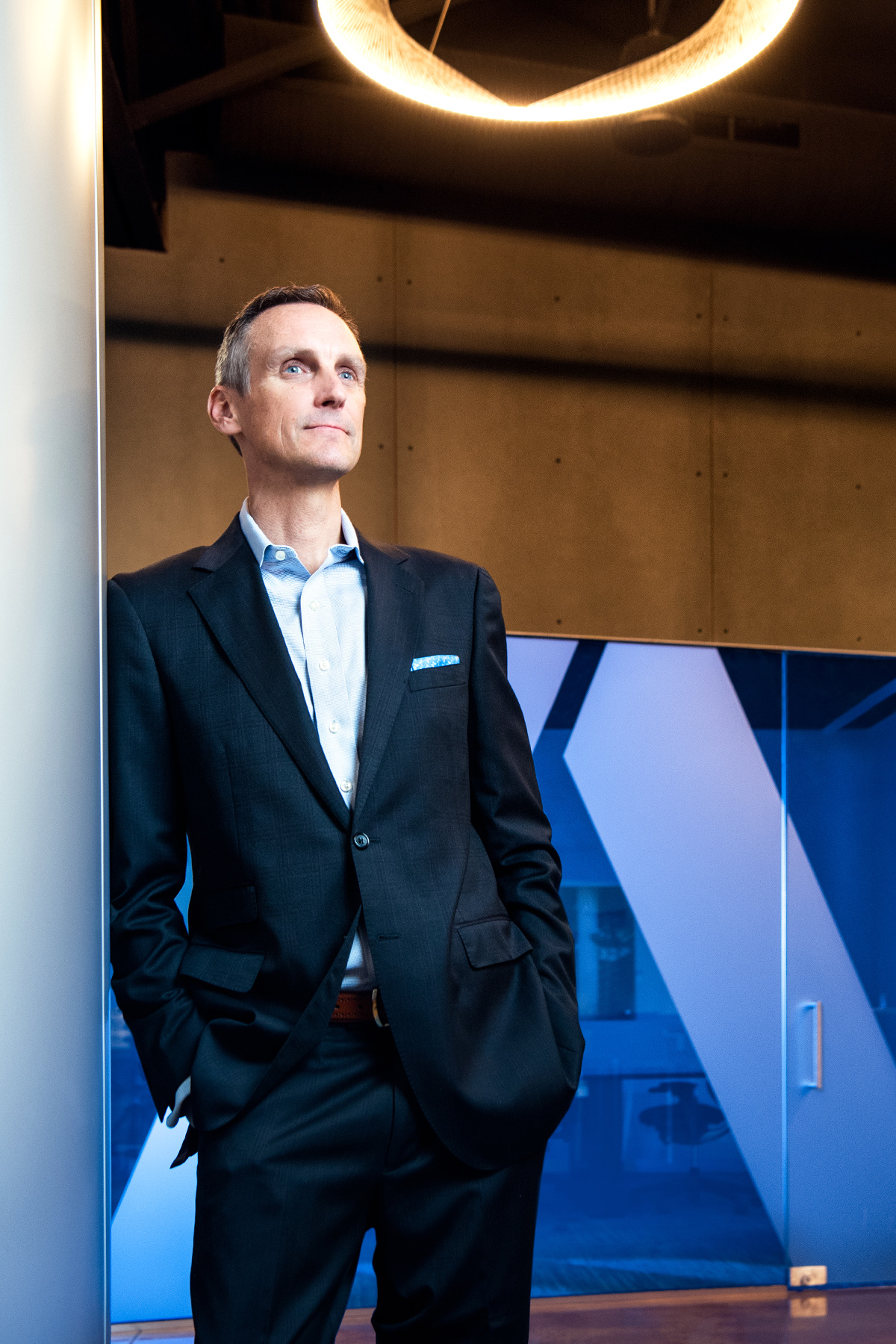 Aligned
Andrew Schaap was tapped in 2017 to take the helm of Plano-based data center provider.
Growth Under his leadership, Aligned significantly increased sales, attracted investors in a very competitive market and added regional and global companies as clients.
Expansion Aligned also grew data center capacity in nearly all of its markets, including two new builds, with about 70 percent of its customers choosing to expand with it.
Green Reducing the energy, water, and space needed to operate, plus leveraging its patented cooling technology, helps improve sustainability and reliability.
Future "Now more than ever, hyperscalers and large enterprises are demanding highly dynamic, scalable, and future-proof data center solutions," Schaap says.
Catalyst Health Network
Christopher Crow

President and Co-Founder | L

ance Spivey
CFO
Plano-based Catalyst Health Network was founded to reduce healthcare spending by giving independent physicians the chance to stay independent and deliver more choices to patients. The network supports administrative and business solutions for physicians, sharing best practices, and providing clinical care teams to help assist patients. The company has grown 1,000 percent in the last five years. It now serves about 1,000 physicians and 1.25 million patients in Texas and Oklahoma. Dr. Christopher Crow, co-founder and president, says that entrepreneurship is not always about the end goal. "The journey is what it is all about … there isn't an actual destination. Keep an open mind to others' perspectives and appreciate the learning opportunity that comes with it," he says.
Omnitracs
A Dallas-based company providing fleet management software for transportation and logistics companies across the globe.
Mission Omnitracs improves productivity, reliability, routing, safety, and compliance of transportation assets utilizing Software as a Service (Saas) technologies.
Numbers With more than 1,100 employees, the Dallas-based company helps its 14,000 customers manage more than 1 million assets in 70 countries around the world.
Pioneer Thirty-five years ago, Omnitracs was a pioneer in the trucking industry for its use of telematics, providing real-time GPS, traffic conditions, and more.
Advice Chief executive Ray Greer offers this guidance for emerging entrepreneurs: "Don't ever let anyone tell you that you can't; surround yourself with people who can."
D-Bat Sports
Cade Griffis
CEO and Founder
Like many young boys, Cade Griffis grew up dreaming of playing Major League Baseball. He was a standout All-American baseball player at Dallas Baptist University before being drafted by the Kansas City Royals in 1997. Griffis played professionally for two-and-a-half years before a knee injury forced him out of the game. But that didn't quench his love for the sport. His baseball backup plan was to open indoor training academies—and, with his brother, Kyle, he did just that. In 2009, the brothers began franchising their successful training facilities. Today, D-Bat Academies has grown to 95 locations in the United States and nine international locations. The company also sells sporting goods and apparel. "I have to say that what I do for a living is the most fun job in America," Griffis says.
UWorld
Chandra Pemmasani
Founder and CEO
When Dr. Chandra Pemmasani was preparing to take his medical licensing exams, he found the test prep materials expensive and ineffective. So, he created case-based scenarios to guide future physicians through the process. Finding immediate success, UWorld expanded into nursing curriculum, too. The products achieved 90 percent market penetration in the medical test prep field and nearly 80 percent in nursing. Pemmasani knows that putting together a quality team with a critical eye is essential. "You can build your vision of success yourself, but you'll get to your intended destination sooner if you surround yourself with good, intellectually honest people—both personally and professionally—who can check your blind spots and help you fill skills gaps you may not know you have."
Novaria Group
Bryan Perkins Founder, CEO, and President
Made of several aerospace and defense component companies, Novaria Group was founded in 2011 with the mission of improving the industry's supply chain. Founder Bryan Perkins saw that small parts suppliers were fragmented, and felt he could add value by bringing a sense of order and efficiency to it all. He rolled the dice, putting his entire net worth into the venture. Each of its acquisitions more than doubled sales within the first three years. And today, Novaria's EBITDA margins are over 20 percent on $200 million in sales. Perkins says specialization is critical in today's economy. "You must become a master of your craft," he says. And despite the disruptions in 2020, he sees a silver lining. "This will create an abundance of opportunities for us to take the company into a variety of new areas," he says. "The market will be challenging for a bit, but our discipline in operations and ability to acquire and scale will create a sustainable machine."
Solo Stove
The idea for Solo Stove was born in 2010 as a simple and unique way of cooking. Under the direction of CEO John Merris, who joined the team in 2018, the Southlake-based company has seen revenue double and EBITDA nearly triple. Mostly a direct-to-consumer e-commerce brand, Solo Stove does work with a few brick-and-mortar retailers. "It was a special day when our phone rang and the REI team was on the other end of the line, calling to tell us that they had seen our product and wanted to carry our entire line in every REI across the country," Merris says.
Linear Labs Inc.
Brad Hunstable CEO | F

red Hunstable
CTO
Don't underestimate the potential impact of Fort Worth-based Linear Labs. Innovators Brad Hunstable and his father, Fred, were looking for a way to help developing countries. "It was thought to be impossible to generate usable electricity from the slow-moving, high-torque application of a windmill," Brad says. "But if we could, we could give these countries clean water, LED lighting, and maybe even power a water heater for villages." After years of research and experiments, they discovered their first linear generator that would create electricity in such applications. It ultimately led to a breakthrough in motor and generator technology. "Many energy experts around the world are calling our motors and generator the most important discovery in energy in 100 years," Brad says.
CriticalStart
Rob Davis, a self-confessed security geek, founded the cybersecurity company in 2012 in response to 2011 nation-state breaches.
Early On When he was in middle school, Davis' family had a computer that needed more storage, so he took it upon himself to create a cassette tape back-up system.
Solutions Davis launched CriticalStart because he felt those seeking cybersecurity solutions were focused on products only, not people, processes, and configurations.
Talent In an industry with a low unemployment rate, CriticalStart focuses on cross-team collaboration and other ways to create meaningful work experiences.
Culture Davis has built his company's culture around three core principals: Do what's right for the customer, don't do things that suck, and do what's right for employees.
NOWDiagnostics
Kevin Clark CEO and President
NOWDiagnostics is remaking the world of health testing, with the ability to test for several diseases and illnesses in minutes with just a single drop of blood. Based in Springdale, Arkansas, the company eliminates the need to send tests off to labs and brings sophisticated medical testing to at-home consumers. Its products range from tests for pregnancy and food allergies to chronic illnesses and infectious diseases. Additional tests are in the development pipeline. CEO and President Kevin Clark, who has ushered more than 125 products through the FDA approval process, says success hasn't blinded him to the truth that failing is part of the process. "The fact is much of what we try will fail—it's simply the nature of the work we do as scientists," he says. "The process of learning and discovery never stops. The trick to success? Don't make the same mistake twice, and build your team with individuals of diverse backgrounds, experiences, and viewpoints."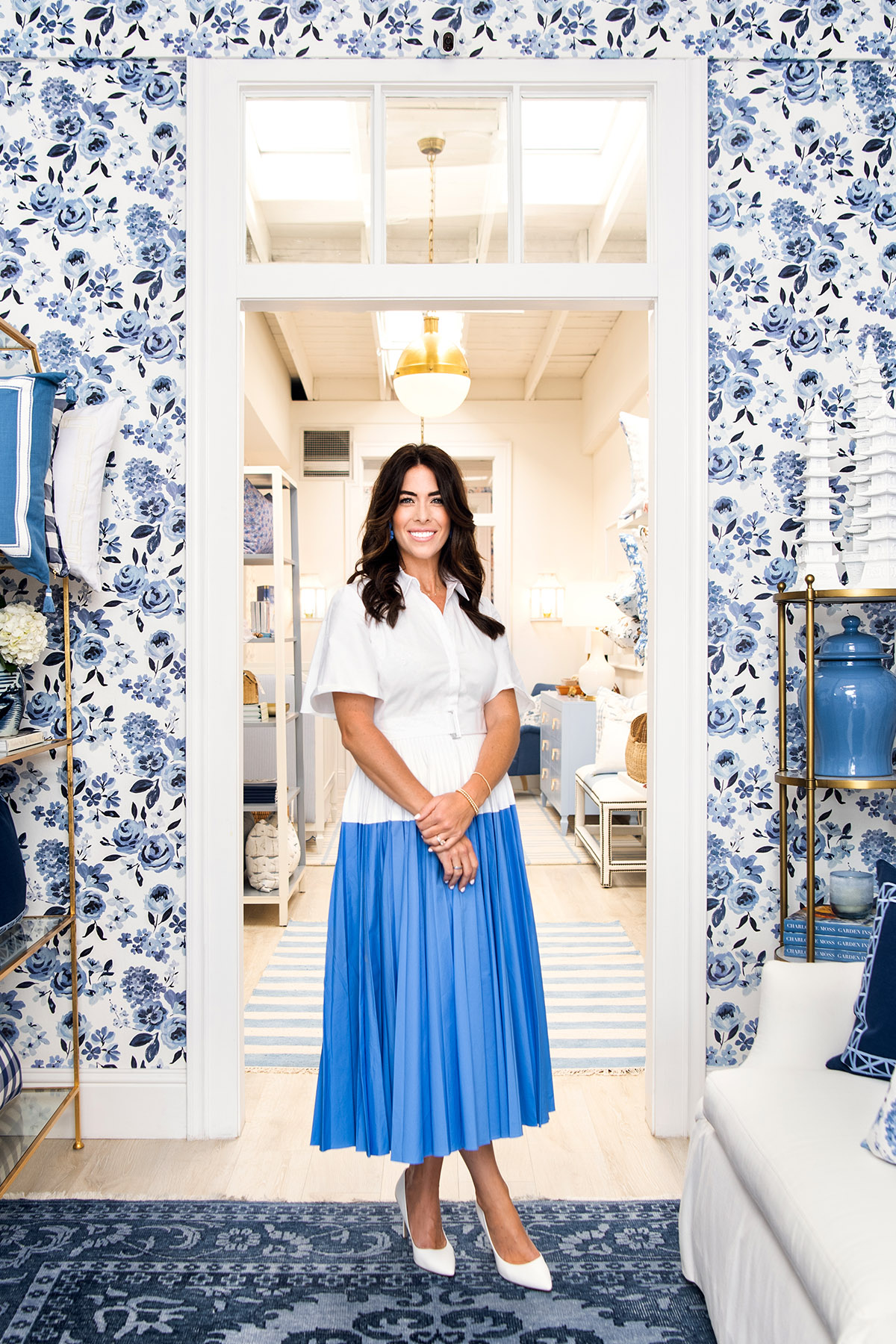 Caitlin Wilson Design
Caitlin Wilson
Founder
True grit often separates those with a good idea from those who take that concept and build it into a multimillion-dollar brand and business. Not classically trained, Caitlin Wilson put pen to paper while she was living overseas and unable to find great pillows anywhere online. "I wanted to create designer pillows that would be easy to mix and match and more accessible to [consumers]," she says about what has become. Her highly regarded lifestyle brand offers rugs, wallpaper, pillows, furniture, and a recently launched children's line. Pattern and color are her forte and the foundation on which she designs her signature interiors and home décor products. Wilson has future plans to expand stores into more states. "I love collaborating with other like-minded brands," she says.
GIACT Systems
Melissa Townsley-Solis
CEO and Co-Founder |
Merlin Bise
CTO and Co-Founder
Founded in 2004, Allen-based fintech firm GIACT Systems helps businesses detect fraud. Its proprietary software triangulates customer data against a variety of sources and combats multiple types of payment and identity fraud. CEO and co-founder Melissa Townsley-Solis has led GIACT Systems since its inception. Before that, she had a 17-year career in the insurance industry.
Co-founder and CTO Merlin Bise led a healthcare technology team behind the first fully encrypted, peer-to-peer video conferencing platform. Today, the duo's products are used by 1,200 companies, ranging from sole proprietors to Fortune 500 enterprises. "We have an incredible roadmap that will include several innovations, new products, and developments that we believe will be industry-changing," Townsley-Solis says.
Get the D CEO Newsletter
Stay up to speed on DFW's fast-moving business community with weekly news reports, interviews, and insights.