Martina McIsaac can still remember a call she made to her husband after a first round of interviews with toolmaker Hilti in 2013. She had been out of the business world for nearly five years, stepping away after the birth of her second child. Now, she was exploring several opportunities. "I really, really like this place; I think it might be my first choice," she remembers telling him. "And he said, 'Do they know you've only been in Home Depot twice in your life?'"
McIsaac may not have been a master of construction, but she knew business.
Born in Tennessee but raised mainly in Ontario, Canada, she had started at manufacturing giant Avery Dennison as an intern while finishing up her MBA. She moved to South America for seven years for the company and sped up the corporate ladder. She was VP in charge of its polymers division when she left in 2008, a difficult decision that once brought her to tears while filling out the "mother's occupation" portion of her then-5-year-old's school forms.
Her story now serves as proof that you can take time off in the middle of a successful career and not suffer for it. But coming back was not all smooth sailing; a recruiter asked her what kind of "discounts" she would accept.
"I go from being a corporate officer at a Fortune 200 company running hundreds of millions of dollars of business, and now you're saying my experience is invalid because I haven't worked for a few years?" she says. "It was challenging."
Avi Kahn, who at the time was Hilti's general manager of Canada, gave his best sales pitch. After all, the role Hilti had to offer was a step down for McIsaac. But Khan framed the discussion in terms of what they could each bring to the table and how they could learn from each other, and McIsaac saw the upward mobility potential laid out in front of her.
By 2017, she had been promoted to Kahn's position in Canada. Then in September 2019, the company announced that Kahn, who by then was CEO of Hilti North America, would progress into a global role with Hilti Group—and McIsaac would once more follow him up the chain of command.
"It's one of the things I consider as my greatest accomplishment in my almost 16 years with Hilti," Khan says. "Convincing her to join us … and playing a part in her successful integration and growth here."
This past summer, her progressive leadership would be on full display as the pandemic continued to disrupt the lives of employees. In August, McIsaac helped lead a Hilti initiative to support parents with school-aged children, shaping leave, vacation, and work-from-home plans to help families adjust. She also led a team that developed working safe playbooks for every job in the company, information that was shared with other organizations.
McIsaac also wants to continue Kahn's work in making the industry a more inclusive place, and she wants to be a role model so women know the vastness of available opportunities—everything from engineering and supply chain to project management and architecture and design.
"That rough and tumble, hard-hat, sort of not-so-welcoming impression that I had of the industry," she says, "is absolutely not true."
Get the D CEO Newsletter
Stay up to speed on DFW's fast-moving business community with weekly news reports, interviews, and insights.
Author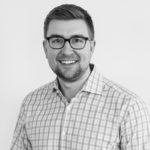 Shawn Shinneman was an Online Managing Editor at D Magazine. He's covered protests, written about old people who kill, and…