Gary Kelly, April Anthony, and John Gates on Leading in Uncertain Times
The three CEOs share strategies for pulling their companies through crises.
The word "unprecedented" has been used a lot this year. But it aptly conveys the unusual challenges we've all had to confront. For those at the top of the organization chart, the pressure has been particularly strong.
D CEO recently checked in with three North Texas chief execs and asked them what strategies they've been using to lead their businesses through uncertain times. Participating were Gary Kelly, CEO of Southwest Airlines; April Anthony, CEO of Encompass Health and Hospice; and John Gates, CEO, Markets, U.S. and Canada, for JLL.
Here's what they had to say:
Gary Kelly
CEO, Southwest Airlines
"Preserving the health and safety of employees and customers is our top priority. We also have to make sure we have plenty of liquidity, cut all non-essential spending, raise supplemental capital, secure federal assistance, and restructure routes to adjust to dramatically reduced demand. We are extraordinarily well-prepared, with a strong, resilient culture, modest debt, plenty of cash, low operating costs, and loyal fans of Southwest."
April Anthony
CEO, Encompass Home Health and Hospice
"I believe maintaining a people-first attitude is particularly important in times like these.  The reality is our people are still the keys to our success, and they, like our bottom line, are under a great amount of stress. As leaders, it's important to make sure that you are putting people first and trying to make accommodations for them that show you truly care. I believe if we care for our people, they will care for us."
John Gates
CEO Markets, U.S. and Canada, JLL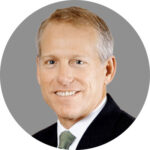 "In uncertain times, you double down on connectivity with leadership teams and your people through frequent, clear messaging and communication. It's crucial to convey optimism broadly—'Things are getting better daily,' for example. I ask people all the time for their favorite silver lining to help them focus on the positive. Downturns take their human toll, so leading with empathy really matters."