From D CEO May 2020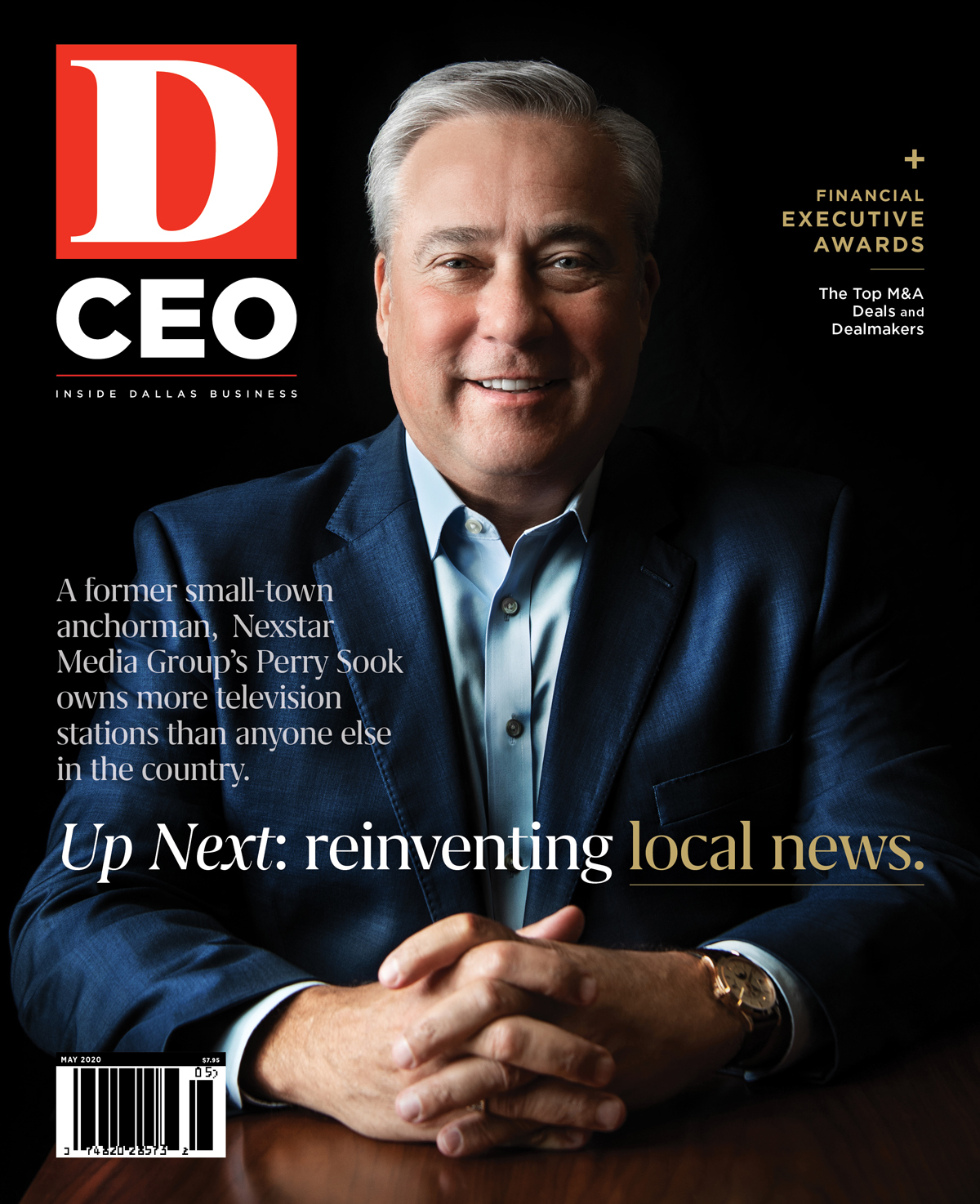 Subscribe
Perry Sook has a really good story to tell. It starts back in 1996 when he bought WYOU, a little pissant TV station in Scranton, Pennsylvania. In the 24 ensuing years, the founder and CEO of Nexstar Media Group added 195 stations to his corporate quiver to become the nation's largest owner of television stations. It's a good tale of battles, bargains, and bold strategies. Sook tells it best.
"We've made three dozen separate acquisitions—some small, some very large," he begins. "Most recently we closed on the acquisition of Tribune Media, a $7.1 billion transaction that doubled the size of the company. And, prior to that, in January of 2017, we closed on the acquisition of Media General, a $4.6 billion transaction. We doubled the size of the company and then doubled it again in the space of about two years." The last double-down made Nexstar worth $13.8 billion.
Expansion through acquisitions is a great way to grow, but Nexstar didn't always have that kind of dough. So, Sook began by figuring out how to benefit financially by operating or managing stations. He is largely credited with forging in 1998 what was the first "shared services" agreement among American television stations. He found the perfect candidate for such an arrangement just down the road in Wilkes-Barre, in the form of WBRE-TV. "It was basically like running two newspapers off of a single printing press," Sook says. "We shared back-office functions and engineering, business, and traffic. We had two separate studios for local news, two different on-air staffs, and two separate sales forces. But all of the behind-the-scenes pieces were consolidated into a single, fixed-cost structure."
In retrospect, Sook admits there was, perhaps, some chance Nexstar might have raised enough money to buy WBRE. But at the time, Nexstar couldn't own outright two television stations in the marketplace due to Federal Trade Commission and Federal Communications Commission regulations. "But we could develop sharing arrangements so we could get an economic benefit from a second station," Sook says,  "even if we weren't allowed to own the license."
Battling Goliath
In 2003, Sook took Nexstar public after aquiring Quorum Broadcasting. He subsequently convinced satellite companies to pay for his stations' content; the cable companies, though, balked at the idea. That led to a classic fight of the local station David versus a Fortune 500 cable Goliath. Many of the big cigars in media management will tell you that the Sook-led revolt—a high-stakes game of chicken against Cox Cable—was a definitive moment for the CEO, Nexstar, and the entire media industry. In trade jargon, it's referred to as a retransmission consent dispute. The lawyerly name belies the bare-knuckled drama involving Cox and 21 television stations in Texas, Arkansas, Louisiana, Kansas, and Missouri. Things got nasty—and personal.
The cable company put Sook's home phone number on ads pushing its side of the argument. "So, in our ads, we put the general manager of the cable company's home phone number so people could express their opinion," Sook says. Nexstar staffers handed out rabbit-ear antennas so customers could circumvent the cable company and still get the station's on-air broadcasts. Sook recalls running commercials "with us holding up a penny and asking, 'Don't you think we're worth a penny a day on your cable bill?'"
The Nexstar CEO felt he was on the right side of things and that cable customers would be willing to pay to get their local news content. He was right. After nearly a year-long clash, the cable company agreed to pay for carrying the signals. "We went from that penny a day to now in 2020 what will mean approximately $2 billion of revenue to our company and about $18 billion in revenue to local television stations across the country," Sook says. "And I would tell you, without it, we'd be in worse shape than the newspaper business."
Compensation Squabbles
In 2009, with the recession underway, Nexstar found itself trying to work with another media group. It was financed by a big capital investment firm that bought some stations from CBS but, Sook says, was "without a management team or any business thesis as to how to operate." With no money to make acquisitions on his own, Sook got creative. He approached the media group's execs and said, "Listen, I will manage these stations for you for a fee and improve them for you so that you recover some of your investment." It worked.
By 2012, Sook was ready to refocus on growing Nexstar's portfolio. "The linear television business is a fairly mature industry, and we wanted to be one of the leading consolidators," he explains. He's a serious, hands-on leader who earned executive-level platinum points last year in just five months while still managing to maintain a golf handicap of 15. Sook spends a great deal of time sorting through financial matters in New York and meeting with regulators in Washington, D.C. But not all of his travel is to major metros. Sook believes it's important to spend time visiting all of the company's 114 markets. "Some of my most fun days, my best days, are when I go visit one of our local TV stations. It's important to stay active and connected to the folks who do the work in the business, representing Nexstar in their local communities every day. It's important that we never lose sight of that," he says.
Under Sook's watch, both employee morale and the company's stock have remained high. Over the last 10 years, Nexstar has managed a jaw-dropping return of nearly 3,000 percent. The Nexstar CEO is proud to say, "I want my commission salespeople to be the highest-paid people in town." He'd like to be paid more, too. In the last two years, shareholders have, by the slimmest of margins, rejected multimillion-dollar compensation packages for the CEO. "I guess if they felt they wanted to vote with their feet, they wouldn't own the shares. But that doesn't seem to be what's happening," Sook says. "So, yeah, it's a point of frustration for me, because the performance has been there."
It's not that his work has gone totally unappreciated. Sook's salary and bonus averages out to $7.5 million a year for 2017 and 2018. Not bad for a guy who first got into the television business as a small-town anchorman.
Always a Big Thinker
Sook, who was born in DuBois, Pennsylvania, and earned a degree from the Scripps College of Communication at Ohio University, certainly looks the part. His shoulders are big and broad and more befitting an NFL tight end than a 62-year-old CEO. When the president of the National Association of Broadcasters introduced Sook to banqueters as, "more than just a broadcaster with a handsome face and a great tan," it was an inside joke.
It started at a small station in Clarksburg, West Virginia. The station had just one camera guy, and he was responsible for filming all commercials. That didn't leave time for much else. "The only time we had video of what was going on in town was if there was a car wreck or a house fire," Sook says. Even if the "rip 'n' read" world fit him, the environment at the station did not. The studio consisted of a large metal building at the base of the transmitter. If it rained, staffers had to send a Jeep down the road to retrieve Sook. Regular cars couldn't climb the muddy, steep hill.
"I want my commission salespeople to be the highest-paid people in town."
Sook did double-duty as both anchorman and weatherman. "During commercial breaks, I'd have to get up and adjust my own camera," he says. "Our weatherboard was a map of the United States that you literally put color forms on—you know, like the rubber things that stick. I had one for a cloud, one for the sun." The experience didn't endear him to journalism. "I realized that there were 10,000 guys like me for every Walter Cronkite," Sook says. "I didn't have his journalistic chops or the talent, so I decided to go to the business side. I knew the quickest road to management, and management to ownership, was through sales."
His first sales job took him to a small radio station with a daytime-only signal in Kissimmee, Florida. The format had just changed from big-band to country. So, there were challenges. "They had no audience, no advertisers, and no followers," Sook says. Undeterred, in his first week on the job, he made the biggest sale in station history. "It was to a mobile home dealer," says Sook, still a bit proud. "But when it came time for the owner of the station to pay me my commission, he said, 'Well, we had a problem at the transmitter, and I had to buy a part.' After a few weeks of excuses, I realized I was never going to get paid my commission. It was a kind of a sinking feeling in the pit of your stomach, but it also energized me to go out and find a real job." That meant television sales, which led to the purchase of WYOU in Scranton, taking us back to the beginning of Sook's story.
Bias-Free Local News
Nexstar's $7.1 billion purchase of Tribune Media changed everything. The company is now the nation's biggest player in local television. Outside of the huge Chicago-based cable network WGN America, most of its 196 stations are ABC, CBS, Fox, CW, and NBC  affiliates in small and midsize markets. Nexstar has access to nearly two-thirds of the homes in America. It all got Sook to thinking.
"We have 5,400 journalists around the country who produce local news—more than any other organization. We have 1,800 salespeople that call on small and midsize businesses in 63 percent of the country," he says. "So we're launching this year, a three-hour, live, primetime newscast, seven nights a week, on WGN America. It will be based in Chicago and run out of Chicago, drawing on the backbone of those 5,400 journalists sprinkled around the country." And it will be absent of bias.
"It will be facts, no opinion, no people shouting at each other," Sook says. "It will be done from the heartland for the heartland, which is where WGN is primarily distributed." Sook is so serious about delivering straight news, he's hiring journalism professors and rhetoricians to review scripts. He wants to tell stories that are happening outside the beltways. "There's a lot going on in the country that just doesn't happen in New York or D.C. or Los Angeles," he says. "We're going to represent those who are underrepresented."
The target launch date is July 2020—just ahead of the political conventions and the elections. Nexstar is creating a state-of-the-art studio in Chicago and expanding teams both in front of and behind the camera. Sook believes in the notion that if a national story breaks in one of Nexstar's locales, his gang of reporters will be first on the scene and report it through an impartial lens—and America will love it.
If Sook can pull that off, he will have one hell of a story to tell. 
Get the D CEO Newsletter
Stay up to speed on DFW's fast-moving business community with weekly news reports, interviews, and insights.