From D CEO May 2020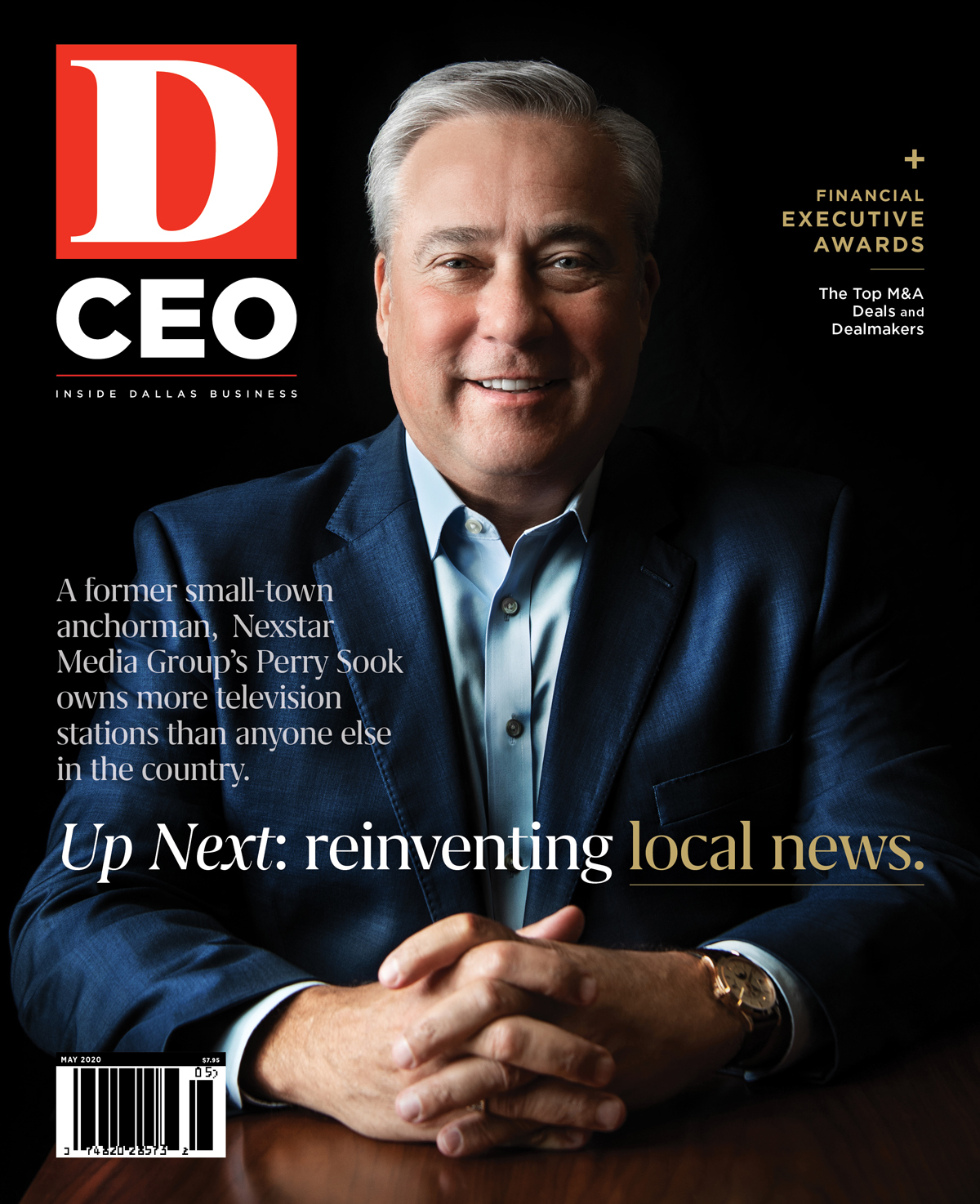 Subscribe
It's hard to grasp just how much has changed in a few short weeks. The global pandemic we're all experiencing is unprecedented in its scope and severity.
There are no past crises that match the unique experience we're all living through. But people in Dallas- Fort Worth don't shy away from a challenge. And that's especially true of the North Texas business community.  
D CEO
editors asked experts and executives from across the region to share their advice and strategies for weathering the COVID-19 storm. Read on and be informed—and inspired.
A Sudden Change of Plans
In short order, companies across the region pivoted in response to COVID-19.
With several plants on pause, Toyota Motor North America quickly shifted gears to use its 3D printing capabilities to provide much-needed face shields to medical workers on the front lines of the global pandemic.
The Plano-based auto manufacturer also collaborated with medical device companies to expedite the manufacturing of ventilators and respirators, and it made a $500,000 donation to the United Way's relief efforts during the pandemic.
"Toyota's core value has always been to contribute to society in meaningful ways beyond providing mobility for our customers," said Ted Ogawa, Toyota's incoming CEO. "With our plants idled and our dealers focused on servicing customers, we are eager to contribute our expertise and know-how in order to help quickly bring to market the medical supplies and equipment needed to combat the COVID crisis."
Other local companies, large and small, also changed course to help with supply shortages.
Unique Software Development started producing as many as 400 respirators a day with its 3D printers.
To help protect first responders closest to home, the Rosewood Corporation and the Caroline Rose Hunt family donated 6,000 face protectors to Dallas Fire and Rescue.
Dallas-based luxury retailer Neiman Marcus partnered with JOANN to make masks, gowns, and scrubs. And West Dallas nail salon Pink Pedi, an eco-friendly, toxin-free salon run by Lucy Dang and Brandon Lyon, used ingredients and packaging they had on hand to create sanitizers and face masks.
In the span of just two weeks, plans were made to convert hotels, high schools, convention centers, sports facilities into hospitals. HKS also is looking into turning hotel rooms into hospital rooms and ballrooms into wards and establish command centers in facilities that lack such infrastructure in case they are needed. The firm has been working with the USACE to develop such plans.
Dallas-based AT&T has a long track record of corporate responsibility; this time, it's helping with education following the shutdown of area schools. The tech, telecom, and entertainment conglomerate set up a $10 million fund to provide resources to educators, parents, and students continuing their studies online.
The United Way of Metropolitan Dallas quickly launched a Coronavirus Response and Recovery Fund to help with both the urgent and long-term needs of North Texans.
As of early April, corporations like Texas Instruments, Bank of America, McKesson Corp., Texas Capital Bank, and others had made more than $2.6 million in donations. United Way also joined with Communities Foundation of Texas, the Dallas Foundation, and about two dozen North Texas fundraisers to help embattled Texas nonprofits. Together they launched North Texas Cares, which allows nonprofits to ask for emergency financial help by filling out a single online form.
Communities Foundation of Texas and United Way of Metropolitan Dallas also teamed up with the Dallas Cowboys to spearhead a special local version of the Giving Tuesday movement. Dubbed North Texas Giving Tuesday Now, it will be what organizers call a "one-day emergency giving blitz" on May 5, hosted on the traditional North Texas Giving Day platform.
Senior executives and board members at Dallas-based Jacobs contributed 10 percent of their salaries to help the global engineering firm reach a donation of $1 million toward coronavirus mitigation. The company also set up an employee matching program for local efforts.
"This is a very unsettling time in the world," says Steve Demetriou, the company's CEO and chair. We are all "grappling with feelings of concern and uncertainty. And although this is uncharted territory for all of us, the safety and wellbeing of our people and communities remain our top priority."
Executive Perspectives
Few business continuity plans had specifics for dealing with the current global pandemic that has emerged with incredible speed and force. So, how are North Texas executives—and the companies they lead—faring?
As part of a 
new interview series called Executive Perspectives
,
D CEO
 editors talked with more than 40 top business leaders across various industries to find out. Along with business leadership, industry categories include banking and finance, food and beverage, manufacturing, real estate, retail, technology.
Here's a quick sampling.
Get the D CEO Newsletter
Stay up to speed on DFW's fast-moving business community with weekly news reports, interviews, and insights.