Seven-year-old Veronica Londoño was fast asleep when she was awakened by a ferocious blast that blew out her bedroom windows. She would later learn that the Medellín Cartel, led by the notorious Pablo Escobar, had bombed the house of a government official who lived nearby. Escobar's drug war was heating up in Colombia—and hitting close to home. From that moment on, everything changed.
"It was extremely dangerous," says Veronica, who tacked on her married name of Schnitzius in 2012. "We could play outside during the day but we couldn't leave the house after it got dark. It was a different world at night.
"There were bombs and kidnappings and other violence. No one in my close family was ever hurt, but there were people I knew—neighbors—who weren't so lucky."
The drug war hit close to home in another way, too. When Schnitzius was young, her father became addicted to cocaine, and her parents divorced. When she was about 8 years old, she recalls riding in a car with a friend when they came to a stoplight and encountered a man who was begging on the street. It was her father. "I still have those memories," she says. "It gave me the determination that I never wanted to struggle."
Her parents eventually remarried, after her father spent four years in rehab. He went on to graduate from college and become a CPA. Schnitzius says she learned a great deal from her childhood experiences. "I just started talking about all of this not too long ago, but this is my past—it's who I am," she says. "My experiences gave me that grit."
That grit has taken Schnitzius from the violent streets of Medellín to the rolling hills of southern Dallas, where she serves as president of luxury furniture maker American Leather. Her appointment in October 2017 was the latest in a string of promotions she has received since joining the company 15 years ago as a mechanical engineer.
Engineering was a career she picked at an early age. She had dyslexia and struggled to read but had no problems memorizing math tables and was a whiz with numbers. A school friend mentioned that engineers do a lot of math. "Anything that didn't require a lot of reading and writing, that's what I wanted to be," she says. "And that's what I did."
Her parents scraped up enough money to send Schnitzius to study in a foreign country so she could learn another language. She chose Canada. While there, she secured an internship at The Leather Center in Dallas. It led to a full-time job in August 2001. But just seven months later, the company filed for bankruptcy. Schnitzius was desperate to find work that would fulfill the obligations of her H-1B visa, but few companies were hiring in the aftermath of 9/11. A friend suggested that she reach out to the competition, so she gave American Leather a call.
Keeping it Lean
Bob Duncan had done some consulting work for The Leather Center before deciding in the early 1990s to launch a furniture company of his own. The young engineer saw an industry that was rife with inefficiencies. Incorporating Japanese-style lean manufacturing concepts would give his new American Leather an edge, he believed, by enabling it to deliver custom furniture to consumers within 30 days instead of the typical wait times of two to four months. And that's exactly the way it has played out.
American Leather made its first sale in 1992, operating out of borrowed space. It generated $150 million in sales last year and produces between 400 and 500 pieces of furniture a day from its 350,000-square-foot headquarters and manufacturing facility near Mountain Creek Lake. Despite the company's name, about half of its sofas, sofa-sleepers, and chairs are clad in fabric, including high-performance brands like Crypton and Sunbrella.
Duncan wasn't looking to add to his team, but Schnitzius was connected to a friend from his Leather Center days, so he agreed to meet with her. "She was very impressive," he recalls. "There are some people that you interview and you just go, 'Wow.'" Like Duncan, Schnitzius was an engineer and a fan of operational efficiencies. And she knew the furniture business. Duncan decided to have her take a personality test American Leather was using to screen potential new hires. "It came back that she would be a terrible fit," Duncan says. "I had her retake it in Spanish, and it came back with the exact same results. I hired her anyway, and that was the last time we used that test."
Schnitzius started out in engineering, but it didn't take long before her drive and natural curiosity led her to other areas. A turning point came when she was working on a factory project and got into a quarrel with a maintenance chief. She went to the plant manager for advice. He told her: "You have to leave the nice lady home tomorrow and bring the real you. Are we clear?" Not long after, at 24 years old, she was put in charge of the cutting department.
"Some on the team were not happy, but you just have to learn to work in different situations," Schnitzius says. "One advantage I had was that I loved soccer, and they did, too. So that became our bond. I had to find a way to connect with the guys, and sports was an easy way to do it."
American Leather workers handcraft each piece of furniture. Thread colors are carefully selected to match every hide and fabric.
From there she was named assistant plant manufacturer, which put her in a customer role with the product development group. One day, Duncan called her into his office. "I hear you don't like the way things are going in product development." She said, "Nope." He said, "OK. Now you're in charge."
The shift gave Schnitzius a chance to learn about the sales side of the business and interact with customers like Crate & Barrel and RH (formerly Restoration Hardware). Engineers aren't always able to easily make that shift. "As it turns out, Veronica was extremely capable," Duncan says. "She began working with all of our major accounts, and they loved her. It also gave her the opportunity to grow as a leader."
Success led to her being named vice president of operations, then chief operating officer, and, most recently, president. Schnitzius says hands-on experience in all areas of the business has helped her understand the needs and perspectives of the different departments. And this, in turn, has given her credibility with workers. "At the end of the day, we work for the employees in the factory," she says of her servant leadership style. "If I'm not here, it really doesn't matter; we're still going to ship everything. But if the sewers aren't here, nothing gets out the door."
Robust Base of Business
Schnitzius calls Duncan one of her "two angels." The other is American Leather CEO Bruce Birnbach. He joined the company in 2013 after 20 years with Rowe Furniture, including six as president. "Bob is an engineer, so we think very similarly," Schnitzius says of Duncan. "We see things in Excel spreadsheets. Bruce is more sales, merchandising, and marketing; he hates being in a box. I get the processes from Bob and the no processes from Bruce. I'm very lucky."
Duncan, who now lives in his native South Texas, handed off day-to-day operations to Birnbach and Schnitzius a few years back. Their jobs have gotten much bigger, with American Leather, backed by private equity firm Capital Partners, recently acquiring three furniture companies. In October 2016, it bought Lee Industries. Lee also caters to high-end retailers, but its furniture is more traditional, versus the modern and contemporary lines of American Leather. Both will continue to operate under their well-known brands. "It would be like if Chanel bought Gucci," Birnbach says.
In December 2017, it acquired Brookline Furniture, which primarily serves the hospitality industry. And in April 2019, it bought BenchMade Modern, an online retailer. Combined, the four entities generated $320 million in revenue last year.
"It has allowed all three companies to be better versions of themselves," Duncan says. "We have done a lot to create this robust base of a business, and I'm excited to see the team distraction-free to focus on all of the opportunities there."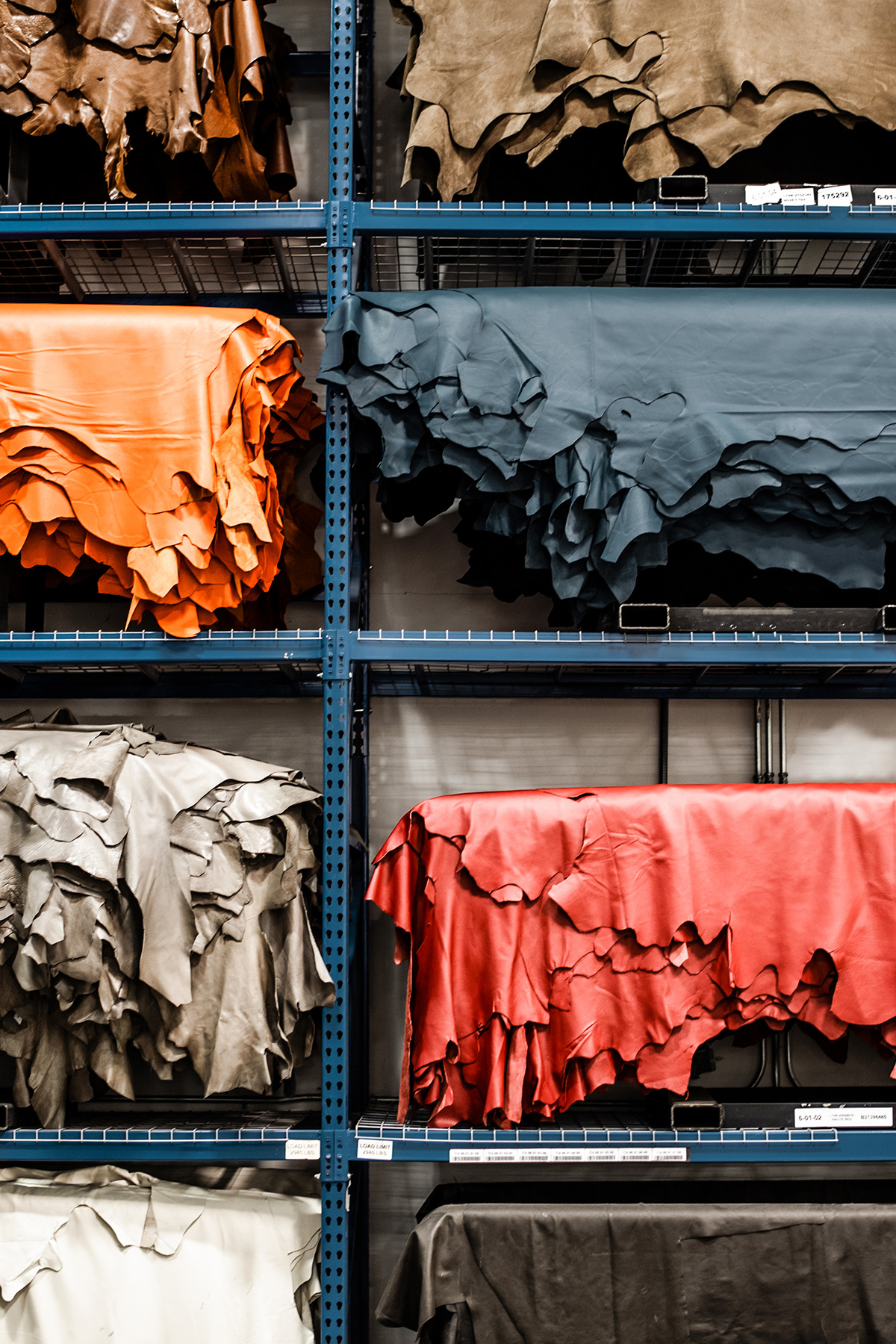 The 'Apple' of Furniture
Among the greatest opportunities: a focus on innovation. Birnbach says American Leather wants to create unique products and be "the Apple of furniture." The innovation lab within its Dallas headquarters is deliberately situated away from the product testing area. "It's about using technology to create the furniture of the future," he says.
Schnitzius, whom he calls "V," is an ideal partner for driving the company forward, Birnbach says. American Leather recently moved to a matrix organizational structure, where reporting relationships are set up as a grid, versus the traditional hierarchy.
The move allows Schnitzius to focus on her true passion: operations. Since being named president, she has worked to incorporate processes in all areas of the business and find data points for everything that can be measured. "I always say, 'In God I trust; everyone else, bring me data,'" she jokes. Schnitzius also added more reporting, going from monthly updates to weekly and sometimes daily reports and doing more in-depth tracking of things like sales by category. Data helps identify what needs more attention and reveal where opportunities lie, she says.
Among her proudest achievements is initiating a robust health initiative that culminated in the opening of a new wellness center, where employees can work out, attend nutrition classes, and get free personal training. An avid runner and triathlete, Schnitzius also launched a company-wide 5k event and helped develop a Biggest Loser-style program.
World of Opportunity
As an immigrant at American Leather, Schnitzius is hardly alone. Her direct reports come from four countries—India, Denmark, Mexico, and the United States. All told, American Leather's 600 employees hail from 23 countries, and their national flags proudly hang from the ceiling of the company cafeteria. "Other companies ask how we're able to have all this diversity," Schnitzius says. "It's like asking how you ride a bike. You just get on and pedal."
Duncan, whose wife's family came to the United States from Taiwan, says he has always admired the determination of immigrants. "It's a controversial topic, but people who are willing to leave everything behind and start a new life are very motivated," he says. "Our amazing first-generation immigrants, in both manufacturing and management, have been a big part of the company and culture we've built."
With Schnitzius, he says, that drive has played out in her career at American Leather and the way she has fearlessly gone into different areas of the company.
Schnitzius says she is grateful for the opportunities she has been given—and hopeful about what the future holds, particularly for her daughter, Hannah: "She thinks she can be anything she wants to be, and I'm going to support that. I want her to know as a girl and as a Hispanic and American woman, she has a place in the world."
Get the D CEO Newsletter
Stay up to speed on DFW's fast-moving business community with weekly news reports, interviews, and insights.