Meet the 500: Klyde Warren Park's Kit Sawers
The fundraising and events guru has been a driving force behind the success of the city center's public greenspace.
By D CEO
Published in D CEO March 2020
Illustration by Jake Meyers | Photography by Thomas McConnell
Fundraising veteran Kit Sawers left the chief development officer role with United Way of Metropolitan Dallas in 2018 to help Dallas' Klyde Warren Park bloom. Since taking the helm, she has increased attendance and created several new events, such as the Memorial Day Music Fest. Up next: an expansion of the urban greenspace. About 1.5 acres are planned to the west, with construction starting in 2021.
Education:
Southern Methodist University (JD), University of Virginia (BA)
First Job:
"I was a junior counselor and instructor at the Hockaday School's tennis camp. I learned that a tennis tan does not go well with a bathing suit."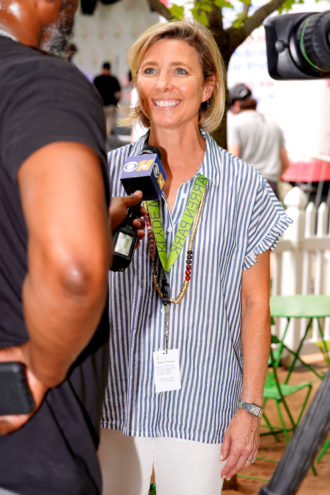 Whom I Admire:
"My stepmother, Midge Richardson, was the editor-in-chief of Seventeen magazine from 1975 to 1993, after being a nun in California for 20 years and appearing in both Little Rascals and Shirley Temple movies as a child. She taught me that work can be incredibly interesting and finding a job that you are passionate about makes it much more fun."
Proud Moment:
"I am thrilled with the increased attendance the park has seen over this past year."
Fun Fact:
"My dad, Ham Richardson, was a Rhodes scholar and also the No. 1-ranked tennis player in the United States in the 1950s. He played on the U.S. Davis Cup team and won the U.S. Open (doubles) in 1958 before it was called the U.S. Open. He also reached the finals of the Australian Open with his mixed doubles partner, Maureen Connolly, 'Little Mo.'"
Favorite Pet:
"I have a golden retriever named Max, after the dog belonging to Dr. Seuss' Grinch. He is the most loving dog on the planet, but he hates other dogs."
Nonprofit Cause:
"Obviously, I am passionate about Klyde Warren Park. What it has done in six years to unite this city and create a town square with free activities and visitors from all neighborhoods, all ethnicities, all ages, and all socio-economic levels, has been game-changing."
Beverages of Choice:
"Water, Diet Coke, and rosé or Chardonnay"
Bucket List:
"I have always been fascinated by Russian literature and history and really want to visit St. Petersburg and Moscow. I loved the movie Dr. Zhivago when I was a little girl, have read a lot about the Romanov dynasty, and studied Dostoevsky, Pushkin, and Tolstoy in college."
Looking Ahead:
"I am excited to see what life looks like in four years. Klyde Warren Park's expansion will be complete, my older daughter, Annie, will have just graduated from college, and my younger daughter, Elizabeth, will have just graduated from high school."