Dallas-Fort Worth is home to some of the best medical care in the world. Specialists cure rare conditions, experimental surgeries extend patients' lives, and innovators find new ways to identify and fight cancer and brain disorders. But access to that care, for many, is often reflective of the dystopian movie Elysium.
In the film, the rich and powerful live in a space habitat in the Earth's orbit, benefitting from medical technology that can instantly cure all diseases, regenerate body parts, and reverse the aging process. The people of Earth can see the spacecraft and their salvation, but have no access to it and are left to suffer in what remains of the planet.
In many ways, this serves as an analogy to the state of healthcare in the region. Fort Worth is home to the ZIP code with the lowest life expectancy in the state–66.7 years, a full 12 years below the national average.
Texas' worst-in-the-nation insurance rate means that many will never have access to advanced, life-saving practices at the area's highest-performing hospitals. Dallas is second only to Houston among large cities when it comes to uninsured residents, and Fort Worth is not much better, which means safety net hospitals must pick up the slack.
"We know that you can have the highest quality care out there, but if the population can't get access to it, then it doesn't help."

Dr. Frederick P. Cerise | President and CEO, Parkland Health & Hospital System
Why should businesses care about the status of the region's public health systems? If a health system can positively impact a community's health, it can reduce costs for everyone. Hospitals in North Texas deliver millions in charity care to uninsured residents in their emergency departments, and much of those costs are not recouped. In 2016, Texas hospitals gave out $26 billion in uncompensated care, according to the State of Texas. Those costs get passed on to consumers and employers when hospitals increase their rates.
According to the Bureau of Labor and Statistics, hospital costs increased more than 200 percent between 1998 and 2018, far outpacing inflation. The National Council of State Legislatures reports that an individual's yearly insurance premium increased from around $2,000 in 1999 to more than $6,000 in 2018. For a family, premiums skyrocketed from approximately $6,000 in 1999 to nearly $20,000 in 2018. Employers, employees, and health systems are picking up the tab for an unhealthy population.
Taxes paid by individuals and businesses also fund safety-net hospitals, so more efficient care that addresses problems before they become expensive means savings for everyone. But fortunately for North Texas, the region is home to two of the most accessible and valuable hospitals in the nation, according to the "Best Hospitals for America" list published by Washington Monthly. The publication partnered with the nonpartisan healthcare think tank Lown Institute to evaluate 3,200 hospitals, ranking those that "save lives, save money, and serve social justice." John Peter Smith (JPS) Health Network was ranked No. 1 hospital in the nation in the ranking, and Parkland Health and Hospital System came in at No. 9.
The study didn't just look at patient care, as many others do; it also analyzed the impact on the greater community. The region and country are home to some of the most skilled physicians and cutting-edge technology in the world, but the health of North Texas and the U.S. lag behind many others who are not at the apex of patient care and performance. This evaluation system seeks to analyze the overall contribution to the health of society into account. It analyzed patient outcomes (mortality, safety, satisfaction), civic leadership (access, community benefit, charity care), and value (overuse of low-value tests and procedures).
The Full Picture of Care
It takes a generous spirit to join the healthcare field. There are probably easier ways to make a living, but those who choose to take their talents to a safety net hospital bring an attitude of service. "We have a lot of people who are genuinely mission-driven when they come through the door, and that helps when you're trying to enhance your culture," says Robert Earley, president and CEO of JPS. The recognition helped solidify and encourage their efforts to take care of the most vulnerable in society. "There is a reason that I come in at 3 o'clock in the morning," Earley says, explaining the mindset of his employees. "I deal with the tears, and I deal with the sadness because I also deal with the greatness of knowing how many people walk out of here in better shape."
At Parkland, Dr. Frederick P. Cerise, president and CEO, says the rankings provide the full picture of care and community impact. "We know that you can have the highest quality care out there," he says. "But if the population can't get access to it, then it doesn't help. To have rankings that look at hospital systems investment in ensuring that everyone has access to care is critically important."
"If we could give everybody care and everybody was healthy, and they didn't need our system here, that would be wonderful for us."

Robert Earley | President and CEO, JPS Health Network.
An essential part of what makes these facilities so valuable is how they provide healthcare access to the community as a whole. A health system's impact has never been more critical than during a pandemic—one that disproportionately impacts communities of color and more impoverished populations. Although private healthcare systems avoid certain areas because there are no profits to be made, these hospitals target underserved regions. "Does the population we serve reflect the demographics or the public catchment area?" Cerise asks. "We invest heavily in free clinics or reduced fee clinics and other access points in the community." Parkland targets both brick-and-mortar primary care clinics in high need areas, school-based clinics in Dallas' public schools, and has expanded its telehealth and home-based care options to allow those with transportation issues to better access care. There are 12 community-based health clinics around Dallas and 12 school-based clinics that serve patients for no or reduced cost.
Because of transportation, employment, financial, childcare, or other obstacles, many patients cannot see the physician, so bringing care to the patients can help improve health and eventually reduce costs down the line. "And when they see medical care, it's because they can't perform their job," Earley says. The acuity levels become elevated. We are often not dealing with somebody that we're helping at the beginning. Oftentimes, we're helping mid-crisis or at the tail end of the crisis." This situation results in poor outcomes. "We're trying to figure out better access models," Earley says. "How do you get clinics that are closer, how do you get care, how do you do virtual medical care, so that people don't have to leave their house?" The push for expanding access to those in need is what separates JPS and Parkland from hospitals around the country.
Efficient Care
Even though the U.S. has poorer health outcomes than many other wealthy nations, the country spends more on healthcare than any other country. Part of that issue is the citizens' poor health, but another problem is the overutilization of expensive treatments and tests. The highly-ranked hospitals in Washington Monthly's list place a premium on efficient care and avoiding overtreatment. "We have a genuine sensitivity to the community, Earley says. "We have community partners that no one else has. We have four elected county commissioners and a county judge that ultimately vote on our budget." Being held accountable to elected officials and the voters adds pressure to provide the most efficient care. "There's not an incentive to do more. You don't have a financial incentive to over-utilize," says Cerise. "The incentive for us is to be as efficient as possible with those dollars to serve a large population."
LEFT TO RIGHT A patient receives treatment at Parkland, which was recognized for balancing quality with efficiency while improving access.; Safety net hospitals like JPS care for Fort Worth's diverse population, regardless of the ability to pay.
Although it might sound counter-intuitive, these public health systems are incentivized to eliminate the need for high-cost hospital operations, saving their system and society at large money along the way. "We're one of the few health networks in the world that want no patients," Earley says. "We would be happy not to have any patients. If we could give everybody care and everybody was healthy, and they didn't need our system here, that would be wonderful for us."
Innovation for Everyone
Hitting the Streets
The street medicine program from JPS Health Network in Fort Worth has a brick-and-mortar clinic as well as a mobile unit that treats those experiencing homelessness in Tarrant County. "The core principle is taking healthcare directly to our patients and meeting them in their reality," says Joel Hunt, director of the system's Acclaim Street Medicine. "Wherever that is, both literally and figurative: We go under bridges, parks, sidewalks, in the woods, and the camps." The program is part of the humanitarian and community work the health system does, but it also improves efficiency and reduces costs. Many of those experiencing homelessness are high utilizers of the costly emergency department, or they end up with expensive inpatient treatment. "Being able to connect people to other kinds of specialists and working on preventing exacerbations of chronic diseases is another big thing that we do," Hunt says.
Addressing Disparities
Safety-net hospitals and networks have to deal with the downstream effects of the social determinants of health like a lack of housing, education, employment opportunities, and healthy food. When those factors aren't present in a community, they negatively impact the health of a population. The system wants to decrease expensive treatment or uncompensated care, so there is an incentive to work with organizations that address those needs and keep people healthy and away from the hospital. "We're trying to figure out how to address the disparities that people are having, particularly in the area of food," says JPS CEO Robert Earley. "Is it smart to say, we're going to link a food program to your prescription? Because if I only provide a prescription, then it's a one-generation answer. If we can get people in a different situation from an eating standpoint, we create a second and a third-generation solution."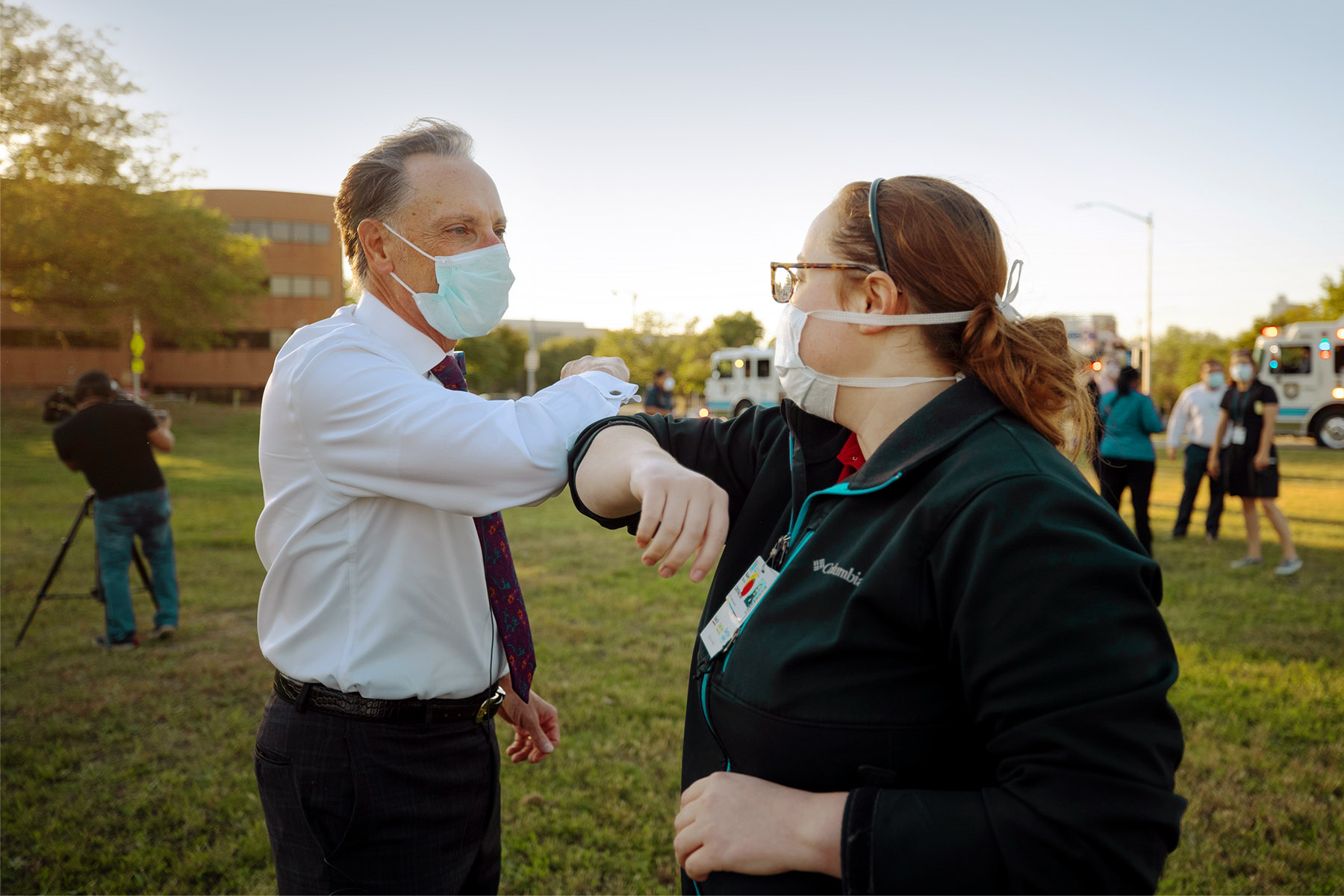 Putting Care in Patients' Hands
Although health systems were already looking to meet patients where they are to reduce barriers to care, the COVID-19 pandemic accentuated the need to keep patients away from hospitals. Not only have JPS and Parkland improved telehealth capabilities, they are also working to help patients to receive treatment at home or even do it themselves. The hospitals have several programs for patients to treat themselves at home, including administering their antibiotic infusions and dialysis. Not only is this more convenient for the patients, it also saves costs by reducing lapses in treatment and keeps the patient out of the hospital, Cerise says. "That's going to take some of the pressure off the system and let us serve the more severely ill people at the hospital," he says. "It's going to be more convenient for patients and cheaper overall."
Better Access to Care
With transportation a significant hurdle to accessing care, Parkland is adding two health clinics in vulnerable areas, as part of its community primary care practices network. The first is in the former Red Bird Mall in southern Dallas; a second is at the Jubilee Park Community Center in southeast Dallas. The 43,000-square-foot clinic at Red Bird will offer a full range of services, including geriatrics, pharmacy, behavioral health, radiology, nutrition, and more. The Jubilee clinic is part of a center that offers other services like education, housing, and workforce development. "It's just a very holistic approach because we know that there are a lot of many non-health factors that impact the health of an individual in the community," says Christina Mintner, senior vice president of population health and Homeless Outreach Medical Services at Parkland.
Get the D CEO Healthcare Newsletter
Stay informed with a detailed weekly report on DFW's evolving healthcare industry.