Advertising icon Stan Richards says he's confident about two things: One, he will never retire, and, two, The Richards Group will never be sold—even after he dies. "You have to understand that I love what I do. It's the most fun that I have. Why would I want to give that up?" he asks me, in between bites of a Jason's Deli sandwich at his West Village office.
Since 1953, Richards has gone from an East Coast transplant who nobody would hire to the owner of a billion-dollar powerhouse.
He spent his early years in Philadelphia, where his father worked two jobs to provide for his family. To entertain himself, the young Richards would draw—a talent his mother fostered by enrolling him in a Saturday art class at a nearby college and one that he further developed at the prestigious Pratt Institute in Brooklyn. Eager to work for the best in the industry, Richards headed to Los Angeles after graduating in 1953, with his mind set on working for Saul Bass—the man behind logos for Bell, Kleenex, and AT&T. A stop in Dallas to sharpen his interviewing skills changed everything.
 "I'm just a genuinely nice person; I don't really work hard at being likable.
"I had grown up in the East where there is a certain abrasiveness in all your relationships; when I got to Dallas, I found it was very different," Richards says. "People here were warm and welcoming and supporting. … I decided that I was going to stay in Dallas because I loved the people."
While Richards found himself making friends and receiving invites to church services and dinners, no one was willing to hire him. "I had a very advanced portfolio from Pratt, and Dallas was not the place where the work was very advanced," he says. "It was a backward type of city … the work was dated, old fashion, and not very effective. It wasn't ready for the type of work I was prepared to do."
So, he decided to freelance.
"There weren't good things that happened as a freelancer, but it worked out," he says. "I made enough money to live and eat."
His unconventional work began to attract attention, though. And after a frustrating year as the creative director of the Bloom Agency, Stan Richards & Associates was born in 1955.
And while it was a whole lot of steps along the way—like when the writer of
Butch Cassidy and The Sundance Kid
asked the firm to help devise an opening title sequence—things really came to a turning point in 1976 when an executive from Mercantile Bank asked him to pitch an ad campaign. That campaign, Richards said, was the big step that solidified his firm. "They were interested in doing something adventurous and fun and different, and we did a campaign that rang all those bells—and people paid a lot of attention."
But, the campaign also came with a tough decision. Almost overnight, The Richards Group went from being a design firm to a full-service advertising agency.
"It was one of those big decisions that one makes during the course of a career," Richards says. "When the bank came to us and said, 'would you like to serve us as a full-service agency,' it raised an interesting point because if I raised my hand and said, 'we are now an agency,' I would have to say goodbye to all of those other clients.
"It was the right time for us to do it. You just have sometimes to make difficult calls, and your instincts tell you when it's the right thing to do, and so you do it, and you make it work."
The campaign, which was focused on the word "momentum," was a raving success and ran for 11 years, propelling the bank from an institution with $800 million in assets and a single location to $23 billion in assets with 125 branches.
Work began to pour in for the firm—so much so that they actually had to turn down an offer to bid on the broadcast account of TG&Y stores. The next big step, though, came when an old acquaintance called. It was Joe McCarthy, who had gone from working with the luxury Lincoln Hotels to the CEO of a struggling Motel 6 brand. "It was a tough time because the company was near bankruptcy," Richards says. "The first counsel that we gave him was, don't advertise.
"The reason we said that was because the product was so bad that if we invited people in and they found the product was poor, they would never come back."
After improving the chain, The Richards Group rolled out the "We'll leave the light on for you" campaign. The cornerstone of the campaign was its spokesperson, Tom Bodett, and Alaskan carpenter, who told "really great stories" on 
All Things Considered
for public radio. "Here we are 34 years later, and Tom is still the spokesperson, and the key line is still the campaign." (Fun fact, the one-liner also echos when you exit the elevator at The Richards Group.)
The campaign propelled The Richards Group from a regional to a national agency—delivering memorable campaigns like a high-impact rollout for Corona beer, Home Depot, and the renegade Holstein cows that put Chick-fil-A on the map. The Chick-fil-A campaign is also a sore spot, as the firm was eventually let go when the chain's CMO retired. "The guy that moved into the role was never a fan of the cow campaign," Richards says. "If you look at their work currently, you can understand that we no longer do it. It really hurt when they decided they didn't want us anymore."
At 87, Richards still runs his agency alongside his successor, Glenn Dady. And, although he's a regimented man—he starts every day with a bowl of oatmeal with blueberries and grabs dinner at Central Market every night—Richards was surprised when I said he'd been described as a charismatic drill sergeant. "The drill sergeant part is valid because I am very demanding of myself and the people who are part of this organization," he says. "The charismatic part, I don't understand that. I'm just a genuinely nice person; I don't really work hard at being likable."
At the end of the day, he says it is all about his employees and company culture—both he plans to protect "long after [he] croaks."
Looking ahead, Richards has ensured that his more than 650 employees never wake up one morning and find out that they're working for a holding company. He has donated all of his company's stock to a nonprofit—no, he would not say which one—with the understanding that they can never sell it. "This place is worth a lot of money," Richards says. "I am perfectly willing to walk away from whatever amount to see to it that it keeps getting better and better, even long after I am gone."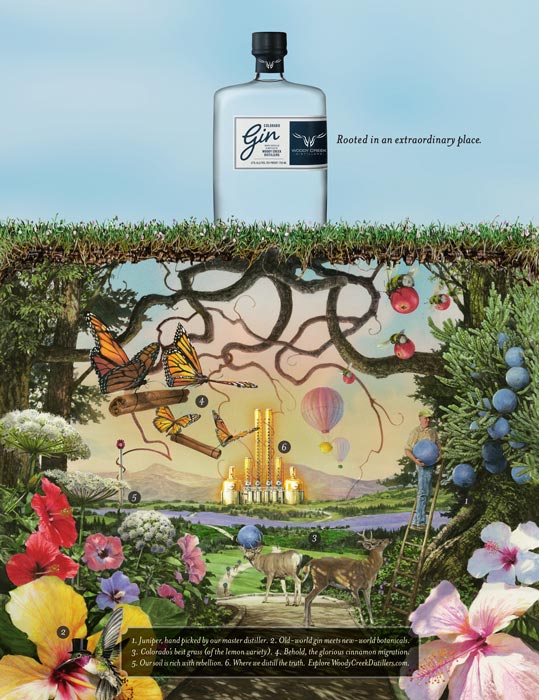 Chick-Fil-A advertisement; Woody Creek Gin advertisement
TIMELINE
1953: 
Stan Richards begins doing freelance design work in Dallas.
1955: 
Stan Richards & Associates forms as a boutique design shop.
1975: 
The Richards Group is incorporated.
1976: 
The company becomes a full-service advertising agency.
1985: 
Motel 6 signs on as a client.
1995:
 Chick-fil-A signs as a client.
1999:
Richards receives his highest honor with his election to the Art Directors Hall of Fame.
2001: 
Richards announces a succession plan.
2014:
 The University of Texas names its advertising and public relations school after Richards.
2017:
  The American Advertising Federation Advertising inducts Richards into its Hall of Fame.
2020:
  Longtime employee Glenn Dady takes over daily operations.
Get the D CEO Newsletter
Stay up to speed on DFW's fast-moving business community with weekly news reports, interviews, and insights.