Meet the 500: Gensler's Cindy Simpson
She may have started her career in the financial industry, but today she leads the Dallas office of a global architecture firm.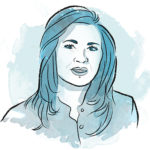 Gensler employs more than 6,000 people around the globe, a fact not lost on Cindy Simpson, who has helped lead the architecture firm's Dallas office since 2013 and was recently promoted to co-regional managing principal of its South Central Region. "Our greatest investment is our people," Simpson says. "If we grow our people, we will grow our firm." Gensler generated $1.2 billion in revenue in 2018.
Education: Mississippi State University (BS-Interior Design)
Proud Moment: "We focus on how our work makes a positive impact on the planet, through the materials we use and the choices we make, in terms of building and energy systems in our projects. Our research indicates that the projects we worked on last year will keep 11 million metric tons of CO2 out of the atmosphere every year, which is huge. We are striving for an even greater impact this year."
Toughest Challenge: "Our biggest challenge is the war on talent. We are seeing this across our organization but especially in North Texas, due to our healthy economy and business climate. At Gensler, this has been eased through a people-first philosophy. It focuses on the career development and purposeful concentration on professional development of each individual, to capitalize on their strengths and provide meaningful opportunities to work on projects that stir their passions."
My Pet: "I have an adorable Shih Tzu named Simba that has been in our family for 10 years."
Favorite Thing: "I am a true Southern gal, and a porch swing draws me like a magnet. It feeds my soul."
Sports Team: "I love SEC football and the Mississippi State Bulldogs!"
Beverage of Choice: "Sweet iced tea."
Nonprofit Cause: "I'm on the North Texas Board for HopeKids. Its mission is to provide ongoing activities and events that foster a supportive community for families who have a child with cancer or other life-threatening medical conditions. The events provide an embracing community of families going through the same trials, providing a message of hope—the most powerful medicine of all."
Last Meal: "I'd request my mom's pork roast … and a chance to have another meal with her."
Looking Ahead: "Our mission is to create a better world through the power of design. This year, we are very focused on how our work will make a positive impact in our cities. The goal is to use design to shape the future of cities, and that starts with shaping the individual human experience within those cities."