Hilti CEO Avi Kahn Is Building His Legend
He came from the bottom of the $5.7 billion manufacturer of construction products to drive growth as its North American head. And he's never tired.
Avi Kahn is singing the praises of a new vacuum cleaner, and somehow I'm humming along. He has just returned from a corporate meeting in Switzerland, where he and other executives got a hands-on look at some of the new tools and services his company has in development. "Dust control on job sites is a really important topic, and the level of innovation into the sensors in those vacuum cleaners that ensure they don't get clogged up—we spent an hour on that," Kahn says. "It will have a real impact on people working on job sites that get exposed today to silica dust, which is extremely harmful."
The 42-year-old CEO of North American operations for Hilti, a multinational manufacturer and direct sales provider of products and services for the construction industry, gestures with his hands and arms throughout our conversation. He has a born salesman's talent for communicating his passion and for infecting the listener with a little bit of it in turn. The construction business comes alive, in his telling, as a field ripe with dynamic opportunities.
"Probably if you're outside of the construction industry, you have the traditional view of somebody swinging a hammer, of a very male-dominant, traditional-type industry," he says. "Technology's taking more and more over to where the tool is doing a lot of the work, and you actually interact with that tool in a very digital way, with a digital interface. It's becoming more diverse, not just culturally but also gender-wise. It's becoming more advanced."
Kahn has worked for Hilti since he moved to the United States from his native Israel in 2004 to take an entry-level sales job in San Francisco (and to live much closer to his Canadian girlfriend, now his wife). Just about a dozen years later, in January 2017, he was appointed North American CEO for the private company that's based in the tiny European country of Liechtenstein.
"He's sort of a legend within Hilti because he literally started at the bottom and worked his way up," says Martina McIsaac, who now has a job Kahn held for six years, general manager of Hilti Canada. "He's an incredible advocate for Hilti, and he's the hardest-working, highest-energy guy. I have never seen him tired or sick."
McIsaac first met Kahn during her Hilti interview process in 2013. Knowing that her boss would be this younger man who had not run an enterprise even one-third the size of the global business that she previously had, she was unsure about accepting the job. But Kahn soon put her at ease.
"He said 'So you know things that I don't know, but I know a lot about Hilti that you don't know, so if you'll be open to learn from me, then I will learn whatever you want to teach me,'" McIsaac recalls. "He's not intimidated by saying 'This I don't know anything about, so let me go and learn what I need to know.'"
Working with him as her boss for the past five years has proven a pleasure. "I've never seen anyone more prepared. If you send him an 80-page pre-brief, he'll have read it inside and out before you sit down and talk to him," she says. "You can spend your time actually in quality discussion instead of bringing him up to speed. And you make a quick decision and move on."
Mike McGowan, an executive vice president with Hilti in Washington, D.C., echoes the idea that Kahn's engagement is one of his strengths. "He's in the moment. When he's with you, he's with you," McGowan says. "He's also an inclusive leader. He seeks input from everyone. If someone is being quiet or hasn't had the opportunity to voice their opinion, he will make a point to ask. He takes the time to make sure everyone has a voice."
American Ambitions
Kahn knew from an early age that he wanted to live in the United States someday. His father grew up in New York, and Kahn would visit his paternal grandparents on the East Coast every few years. The second of seven children, the first inkling he had about a possible career path came from a job selling newspaper subscriptions as a teenager. Sitting at a sales booth outside a grocery store, he quickly realized that waiting for potential customers to approach him wasn't going to work.
"So I just started talking to people: 'Do you read the newspaper every day?' 'Would you like to get it delivered to your door every morning?' A couple of pretty basic questions, and I just started asking that again and again and again hundreds of times," Kahn remembers. At the end of the day—his first on the job—Kahn's supervisor told him he'd sold more than anyone ever had in a single day. That was the first time that a career in sales seemed to him like a real, appealing possibility.
After mandatory service in the military that Israel requires of its young men and women, Kahn got a sales job for a small chemical distributor. He was promoted to a managerial role before he'd even finished earning his bachelor's degree.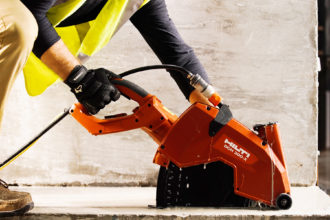 Then at a summer "global village" program at Lehigh University, in Bethlehem, Pennsylvania, Kahn met his future wife, a Canadian woman named Maryann. Their budding relationship spurred him to pursue his long-held American dream, and an old boss who had gone to work for Hilti in Israel recommended that he apply to work for the company in the U.S. At the time, Kahn knew nothing about Hilti and little about construction.
Founded in 1941 by a two brothers, Martin and Eugen Hilti, the company has grown from a small mechanical engineering firm and tool-maker to a global corporation employing about 29,000 people worldwide (3,700 in North America) and selling premium products and services directly to the construction industry in Europe, Asia, and the Americas.
Last year Hilti claimed worldwide sales of roughly $5.7 billion, with North America accounting for roughly one quarter of that, at $1.3 billion.
Kahn hopes the 3,700 employees he leads (nearly half of them salespeople) can net sales of $1.5 billion in 2019, which would represent the third straight year of double-digit growth, riding the wave of a strong American economy. At the same time, however, he wants the company to be ready for an inevitable slowdown. "We have to be prepared for tighter times. When exactly they will come and what it would look like, I don't know," he says. "But my main objective with my team is to build an organization that's strong and able to thrive also in times where our customers are not as busy as they are today."
"We have to be prepared for tighter times," Kahn says. "When exactly they will come and what it would look like, I don't know."
Much of this preparation involves further diversifying Hilti's business, which has already moved far beyond tools, into construction consulting services and software to aid an industry that has lagged behind many others when it comes to digitalization.
Still, McIsaac and McGowan say that the most significant impact Kahn has had so far stems from his commitment to greater diversity in the Hilti workforce. "He is investing in hard dollars and time to change the face of the industry for females," McIsaac says. "When I started, I was the only female division manager. We're about to make an offer to our fifth now."
Kahn says this concerted effort isn't merely about righting the inherit imbalance in seeing women (50 percent of the population) comprise only about one-fourth of Hilti's worldwide employees. Increasing the percentage of female candidates, hires, and executives—as Kahn says they have done during the last two years—is about making the company stronger. "When you build a great place to work for women, it also becomes a great place to work for men," he says. "We didn't pursue any quotas. We just wanted to make sure everybody had a fair chance and a seat at the table. And then let's select the best candidates."
Kahn was recognized last fall by the Girl Scouts of Northeast Texas with its annual "Man Enough to Be a Girl Scout" award. "We need more men like Avi stepping up and advocating for women, encouraging them, hiring women into positions of leadership, and fighting against gender bias," says Jennifer Bartkowski, the organization's CEO.
Setting The Tone
Transitioning from the cold winters of Toronto to hot North Texas summers wasn't much of a shock for Kahn, who grew up accustomed to warm climes in Israel. But his 11- and 9-year-old sons, who had only ever known life in Canada, and Chicago before that, required a period of adjustment. As Kahn tells me this, we're seated at a small table in a corner of his office overlooking the Dallas North Tollway on the 11th floor of an office tower adjacent to Plano's Shops at Legacy. We're just a short commute from his home in Frisco, though he spends about 50 percent of his time traveling, including internationally to Hilti's global operations hubs in Europe.
The company first established a U.S. presence 40 years ago with a North American headquarters in Tulsa, Oklahoma. In 2015, the corporate office moved to Plano and a research and development center was opened in Irving. Hilti hoped to capitalize on better access to customers and workforce talent in the more populous North Texas region.
The brand remains much better known in Europe (which accounts for half its global sales) than in North America, so when Kahn took the reins from retiring CEO Cary Evert, he set out to increase awareness via greater community involvement in Dallas-Fort Worth. He has dedicated some of his personal time, as well as Hilti resources, to a number of area organizations in this effort.
Through the Dallas Regional Chamber, Kahn served as "principal for a day" at Dallas ISD's Marsh Middle School, where 90 percent of the student body qualifies as economically disadvantaged. Marsh Principal Martha Bujanda says that ever since then, Kahn has offered sustained assistance in her efforts. "He is actually the one setting the tone for the Dallas community and the Dallas business community of what they should be doing in order to contribute to our city and our schools," Bujanda says. "He's a real visionary."
Hilti employees and some of Kahn's connections from the Dallas sports world (Hilti is the preferred tool provider of the American Airlines Center and the Texas Rangers' new ballpark) have spoken to Marsh students about future career opportunities. Former Dallas Stars goaltender Marty Turco, who now serves as president of the Dallas Stars Foundation, was among those Kahn recruited.
"I just love watching him," Turco says of seeing Kahn address Marsh students. "He will say all that needs to be said to get the message home and also in a very humble and sincere way that resonates with almost everybody. You know, you can just tell that he is a great servant kind of leader and puts his money where his mouth is and often his time too."
That time includes Kahn's service on the boards of the Dallas Stars Foundation and the Children's Medical Center Foundation. Though he initially engaged in community involvement as a means of promoting the Hilti brand, he says it has paid off for him personally as well as professionally.
"All these organizations are doing really good work,"Kahn says. "The benefit of also getting involved in those activities is just realizing how fortunate you are, what a great life you have. And it's not a bad way to end or start a day, right? By feeling fortunate?"