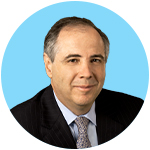 "I was born in Costa Rica, into a politically active family. Civics in Costa Rica was a national sport—people took it very seriously. My grandmother on my mother's side was from the conservative party; my dad was from the democratic party. In 1966, when I was 8 years old, my grandmother was running for the senate, and my father was running for the vice presidency. I'd go from being dropped off from a campaign trip with my grandmother and then get in a car with my dad for another campaign trip. It was a great learning experience; I grew up appreciating both sides, because I had to.
"I attended Lincoln School in Costa Rica. Abraham Lincoln has been a hero of mine since first grade. We stood guard next to his bust every April 15 [the day he died] to commemorate his life. Overall, I had a happy childhood. Costa Rica was a paradise.
Left: Aguilar's grandmother, Graciela Morales F. de Echeverría, in 1946. She was a founding member of the UN Commission on the Status of Women. Right: Aguilar attended Costa Rica's Lincoln School.
"I began my life outside of Costa Rica at age 14, going around the world with my dad. He was interested in the origins of Western civilization, and he took me out of school to visit Egypt, Turkey, Greece, France, and the United Kingdom.
"College brought me to the United States.  At the age of 17, I was at Duke University, beginning my mechanical engineering training. I've worked in many places across the globe and in the United States. I was recruited to be the CEO of Texas Central [the company that's developing the high-speed train between North Texas and Houston] in 2016.
"Throughout my life, pragmatism has always been important. Understanding other points of view and ways of looking at the world was a great learning experience early in my life, and it has helped me since the very beginning." 
D CEO Newsletter
Stay up to speed on DFW's fast-moving business community with weekly news reports, interviews, and insights.