From D CEO May 2019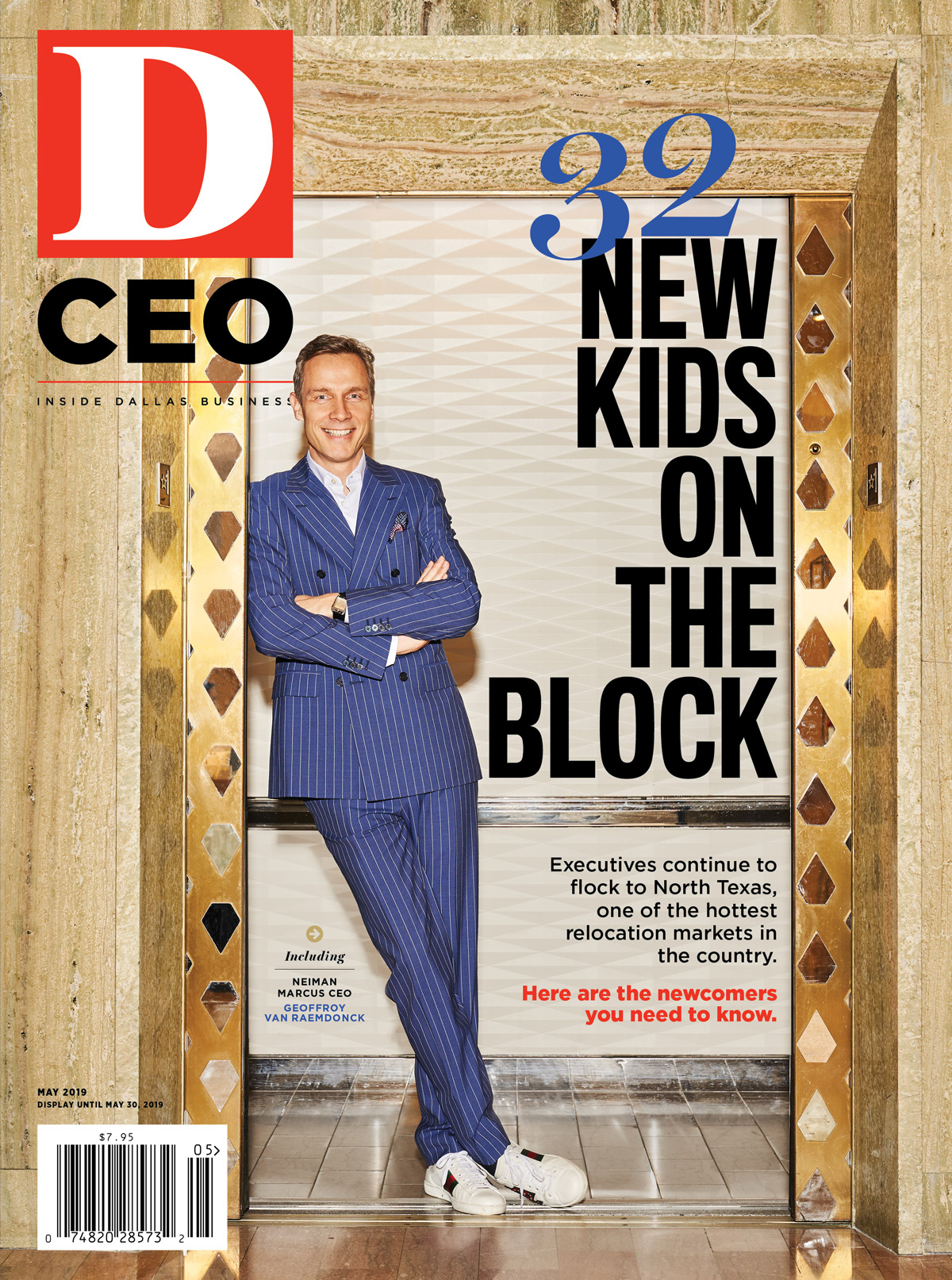 Subscribe
When you buy a house, the seller typically buys the title insurance policy to insure that no one has a hidden claim on the property. When you acquire a business today, chances are you will be buying the insurance—in this case, a type of mergers and acquisitions insurance covering the various representations and warranties detailed in the sales contract.
Investment bankers and M&A lawyers say a strong mergers and acquisitions market in Dallas and beyond has ushered in increasing use of the so-called reps and warranties insurance, with buyers rather than sellers paying the premiums to sweeten their offers and protect their ever-more-expensive investment, should they land the deal.
The backdrop is an M&A market that has seen five years of strength. Last year came in a bit below 2017 in total transactions, but still solid with 11,208 deals in North America and a median sales price of $60 million. The median deal size hit an all-time record, according to Pitchbook Data Inc., which covers private capital markets.
Oliver Cone, senior vice president of Bulkley Capital in Dallas, sees the expansion of reps and warranties insurance as a symptom of "how competitive it is to buy good businesses and how many buyers there are out there." Bulkley helps owners of middle market businesses—valued at roughly $20 million to $500 million—sell their companies or make acquisitions.
The product is relatively straight forward, he explains. "In the purchase agreement you have representations and warranties the seller is making to buyer: 'These are my financial results, and I promise they are correct: I have 10 trucks, and they all work.' It's a whole list of things you are attesting to about the business you are selling." With the insurance, the buyer recovers directly from the insurer for losses growing out of breaches of those representations.
The shifting of the risk from the seller to the insurer limits the seller's liability post-transaction, so a buyer that comes in with an offer that includes the insurance can gain a leg up on competitors, Cone explains.
Mark Solomon, a mergers and acquisitions specialist and managing partner of Katten, Muchin Rosenman's Dallas office, agrees that sellers have increased leverage in a hot market, so they can demand that buyers provide the coverage. He says reps and warranties insurance has become "very commonplace" in deals worth $25 million and up. "There has been a lot that has changed in the last five years in the level of sophistication that occurs in the lower middle market," he says. "It's very unusual to see a deal that is for $30 million, $40 million, or $50 million that is not auctioned off. If one bidder has reps and warranties insurance and you don't, it's going to be a mark against your bid."
"There's a sense of getting while the getting is good, because maybe in a year it won't be as good."

Gemma Descoteaux, partner at Sheppard, Mullin, Richter & Hampton
The attraction to the seller is multi-fold. Without having to put as much in a post-closing escrow, it allows them to take more money at closing. And it ensures that "what they get in connection with the transaction is not at risk post-closing," Solomon explains. "There isn't any residual liability, which is important especially to private equity groups that can't go back to their fund for obligations that might come up after the sale."
The types of reps and warranties that are typically covered include the validity of financial reporting, the condition of goods in inventory, the collectability of receivables, regulatory issues, such as compliance with environmental or labor requirements; things needed to run the business, such as working equipment; and the presence of litigation.
Craig Schioppo, transactional risk practice leader for Marsh USA Inc., says some of the more frequently paid out claims he has seen involve billing matters by healthcare companies. "If you can think of all the reps that exist, we've probably had a claim on everyone of them. Ten to 15 percent of our policies have claims," he says of Marsh, which brokers policies in an industry where it and Aon are the largest players.
In healthcare, Schioppo says, claims usually involved billing disputes with government health programs that emerge post-closing. "The rules for Medicaid and Medicare are complicated and when you get audited, you often see things weren't coded right so you're going to have a claim on those liabilities," he says.
Schioppo  has watched reps and warranties insurance grow from an insignificant product to one that covers about 2,000 transactions nationwide each year. After the Great Recession, insurance carriers "started to tweak their policies in a manner that allowed it to be closer to a traditional indemnity a seller would have to give a buyer post-closing," he says.
Then came some high-profile claims, which showed M&A professionals that the insurance would be a benefit rather than something that would just bring another party into the dispute. Most notably, in 2014, a Japanese brewing company recouped $138 million from three insurers after a liquor company it had acquired was shown to have lied about its profitability.
Private equity purchasers were the first to purchase the insurance to limit their risks, but strategic buyers found their way too and now are just as likely to buy reps and warranties coverage, says Schioppo.
M&A Activity Remains Brisk
There are very few representations that can't be insured today, says Solomon. "At first you couldn't insurance on say, tax reps. Now it's readily available," he says.
Increasingly competitive market conditions are coming into play. There are at least 20 insurance companies that have entered the business and, "in such a competitive market, they are loath not to pay claims," Solomon says. "They'll get a reputation, and agents are going to steer people to companies that do."
The number of companies has also fostered price competition, according to an article by several Gibson, Dunn & Crutcher attorneys, posted in 2017 in a Harvard Law School forum. A few years prior, the article states, premiums generally ranged from 3 percent to 4 percent of coverage limits, with a deductible running from 1.5 percent to 2 percent of the deal's value. Premiums fell from there to less than 3 percent, with deductibles at 1 percent of deal value or less.
For not a lot of money, a buyer can cap unknown liabilities, which is particularly attractive to private equity funds making highly leveraged purchases, says Gemma Descoteaux, a partner at Sheppard, Mullin, Richter & Hampton. The strong M&A market that has given rise to widespread use of deal insurance shows few signs of abating, though many participants expect some kind of softening eventually. 
"There is a lot of concern, but nobody has a crystal ball," Descoteaux says. "There's some feeling there will be a downturn in Q1 or Q2 of 2020. There's a sense of getting while the getting is good, because maybe in a year it won't be as good. That I expect to make for a crazy remainder of 2019." 
---
Thomas Korosec is an award-winning journalist who specializes in business and legal topics.
D CEO Newsletter
Stay up to speed on DFW's fast-moving business community with weekly news reports, interviews, and insights.