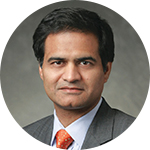 Sanjiv Das' day used to include 10 to 12 meetings a day. The Caliber Home Loans CEO would sit through presentations while checking email, making decisions, and guiding the business in its day-to-day operations. Caliber is one of the largest mortgage companies in the country and is consistently rated in the top five nationwide. But amidst all of the success, Das decided to turn his schedule upside down. He slashed his number of meetings in half, shortened presentations, and took more breaks. Was he sabotaging his career and the business along with it? Or did he know what he was doing?
Das says he was always in hyperactivity mode before he changed his ways, running Caliber's sales force of over 1,800 employees across more than 340 locations nationwide and a portfolio of more than $90 billion. Over the past few years, the company had grown rapidly, acquiring other loan companies like First Priority Financial and Banc Home Loans along the way. He needed to be on top of his game at all times, which led him to an interest in cognitive training and behavioral economics.
Knowing how much Das prioritized maximizing efficiency, Ross Perot Jr. introduced him to UT Dallas' Center for BrainHealth, an organization that works to understand how to protect, restore, and maximize the brain's power.
"When I saw what was going on, I was kind of blown away by the quality of the people that were there and the amount of work that was there," Das says. "I felt that there was a big opportunity in the commercial world to be able to leverage that."
Defining Brain Health
For generations, physical fitness has been a health priority–an assumed piece of what it takes to be healthy. But brain health hasn't received the same treatment. People don't give as much attention to their brain health as they do to their hearts, but the CBH wants to change that.
The CBH's Brain Performance Institute has a number of programs and training sessions to help everyone from students and CEOs to veterans. Its Strategic Memory Advanced Reasoning Training (SMART) is based on research performed at the center about what makes our brains function best. Das went through the training after taking a brain health assessment to better understand his strengths and weaknesses.
According to Jennifer Zientz, head of clinical services at the Brain Performance Institute, up to 50 percent of what we do every day can be toxic to our brains. Although advice like eating healthy, getting enough sleep, and drinking water make sense from a general health standpoint, there are other habits we think are making us more efficient that could be backfiring.
Many professionals wear their ability to multitask like a badge of honor, but the training teaches otherwise. Many people feel they aren't being efficient if they aren't checking their email during a conference call or meeting, but CBH research pushes back against being constantly busy and overstimulated.
"These pervasive behaviors make meetings inefficient and ineffective, and the cost of that is significant," Zientz says.
Overcoming preconceived notions about what makes one most efficient is part of the battle, but another is helping participants in the SMART program understand what they are getting and not getting. Many people expect to learn tips and tricks to help them have better memory, but the training is more about strengthening the executive functions and problem-solving of the brain.
For CEOs like Das, the training helps leaders take in massive amounts of information and know where to focus. "If I get 50 things every day, I am able to know which ones need my attention," Zientz says.
In the "Indian Summer" episode on the first season of Mad Men, Don Draper is giving an up-and-coming Peggy Olson some advice about how he comes up with his best ideas. "Peggy, just think about it deeply," he says. "Then forget it, and an idea will jump up in your face."
Don Draper understood something that the folks at the institute have been trying to communicate to professionals from around the world. Working harder, stressing over decisions, and spending more time on work can be counter-productive.
After his initial assessment, Das received a detailed report that helped him understand how his brain worked, where his strengths and weaknesses were, and specific recommendations about what he could do to improve. He needed more breaks between intense concentration, and fewer meetings. He needed to give his mind time to process an`d recuperate after working hard.
"We recommend that you take breaks away from your phone five times a day," says Leanne Young, executive director of the Brain Performance Institute. "It sounds super trivial, but it is hard to implement."
"We all come from such a high-energy, action-packed world," Das says. "I can't shave without listening to the news. We are info-hungry people."
It is during this down time that one's brain is humming and creating networks and making connections. Thinking about nothing in particular can be the best time to come up with new ideas; just ask Don Draper. "This is the reason you have your 'aha' moments in the shower," Young says.
Rather than rushing between a dozen meetings a day, Das revamped his schedule and slowed things down. He limited himself to six 45-minute meetings a day that started 15 minutes after the hour. This forced him to take mental breaks throughout the day. The changes required his co-workers to compress and summarize information.
Das realized he had been receiving way more detail than he needed prior to the shift, and says he experienced no loss of important content as his colleagues adjusted to new information-sharing strategies. The 15 minutes between meetings gave Das' brain a much-needed break, a time to process, refocus, and rest.
"It turns out we can do dramatic things to our brain health through behavioral changes," Young says.
Das also began to incorporate intentional breaks throughout the day where he would make a point to focus on nothing at all, and essentially meditate twice a day. He would breathe, clear his head, and for a short time, not be pulled in any direction at all.
Making Changes
The transition wasn't easy, and there were doubters. "We all come from such a high-energy, action-packed world," Das says. "I can't shave without listening to the news. We are info hungry people."
Through his experience, Das became an evangelist for brain health and had experts from the institute train the executive leadership team, with great success. "People talked about it for weeks," Das says. 
Das says he noticed the impact right away. After taking a mental break, he felt more centered, focused, and ready to take on what was next. He found himself thinking more clearly in meetings and making better decisions. "I became not just a better manager, but a more balanced person at home and in interactions with other people," he says. "It's a great feeling."
Get the D CEO Healthcare Newsletter
Stay informed with a detailed weekly report on DFW's evolving healthcare industry.