From D CEO June 2019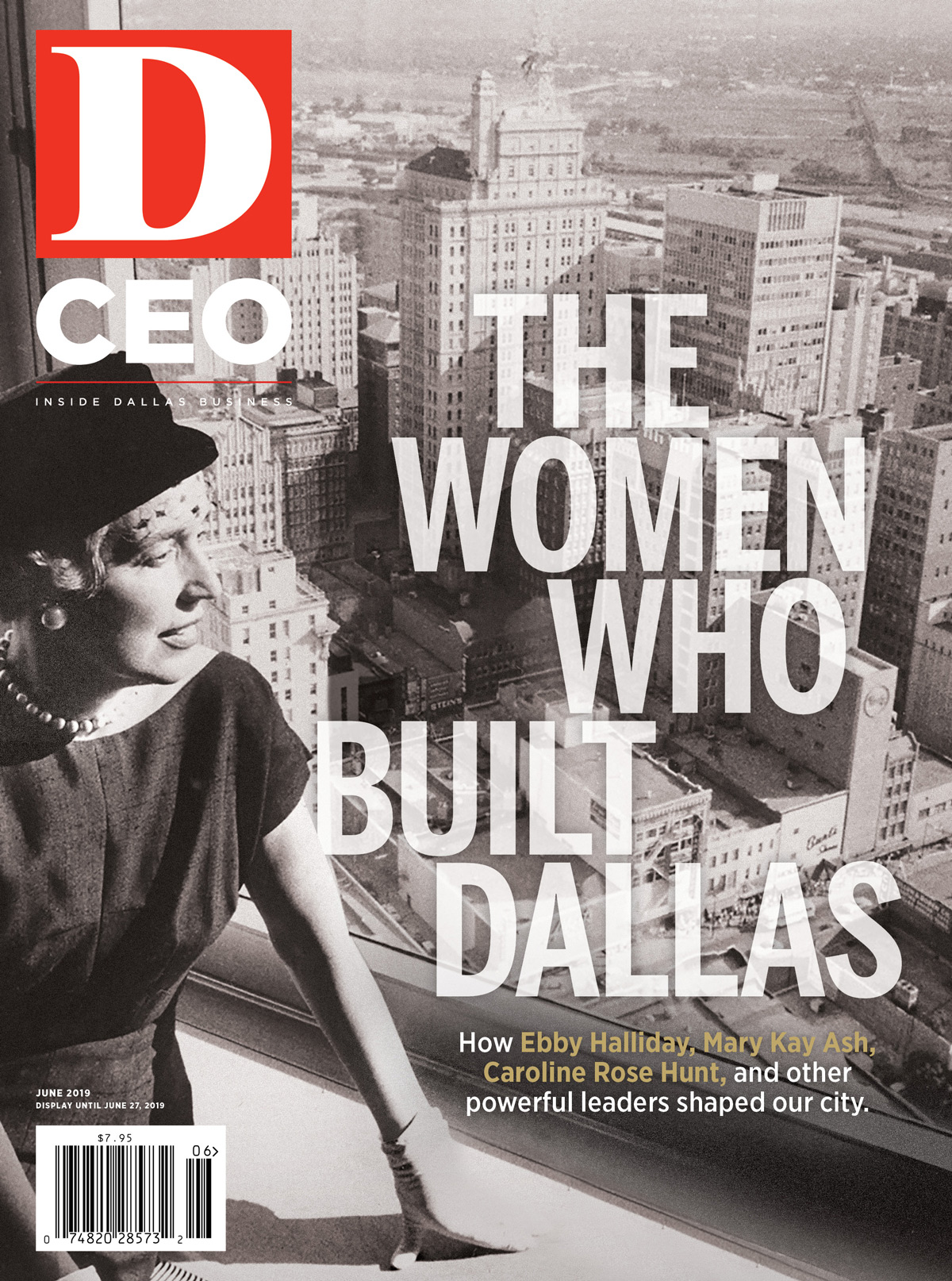 Subscribe
When four Dallas attorneys opened the doors to one of the area's first women-owned boutique law firms, they didn't have a grand plan on what it would one day become. They just wanted to practice law together and have more control over who they represented and how much they charged. In February 2008, when the litigators sat on the floor of their new tiny law firm and popped open a bottle of champagne, there was no way they could have predicted how the next few years would unfold. Men still ruled the roost in the legal field and other women-owned firms mostly specialized in family law and immigration.
Behind them was the security of partnerships at big-name firms, where they grounded individuality for someone else's vision. And in front, the ability to craft something of their own making. What they didn't predict was a ravaging economic depression that shuttered some 2.5 million businesses.
"Had we known where 2008's economy was going to go, I'm not sure we would have had the bravadoes to do what we did," says litigation attorney Dawn Estes about an idea that began a year earlier at lunch with a former colleague who had recently left the corporate world to start her own practice. "I want to hope we would have still done it, but it might have made the decision a little difficult."
As it turns out, the bold steps of Estes, Jane Taber, Jessica Thorne, and Lori Carr were taken at precisely the right time. When things began falling apart during the recession and money started to dry up, businesses were looking for ways to cut back. It was the perfect climate for four powerhouse litigation attorneys who suddenly had the upper hand when it came to landing clients that didn't want to pay the high rates big law firms charged. "It made us look smarter, or at least smart," Thorne says with a smile.
Eleven years later, the company—now known as Estes Thorne & Carr, following the 2014 departure of Taber—is one of the largest firms of its kind in North Texas. Clients include AT&T, D.R. Horton, Harley-Davidson, ORIX USA, and Vistra Energy. The partners have gone from being 'Women to Watch' to having their firm be recognized year after year as one of the nation's best by U.S. News & World Report. Recently, Estes, Thorne, and Carr earned first place on the 2019 BTI Client Service A-Team List, a forum typically dominated by legal giants.
No 'Box to Check'
The founding partners say a girl-power moment wasn't exactly what they set out to achieve. "We wanted to do something bigger," Estes says. "When we first started putting out press releases, we thought it would be obvious that we were women-owned and didn't want to tout it. We didn't want to come across as somehow being angry women—because we weren't. We just wanted to try something different. We didn't say, 'We are woman hear us roar.'
"Yes, it does set us apart and does put us in a niche; it gets us a foot in the door, and it might get us one piece of work, but if we're not great lawyers it doesn't really matter. And we don't want one piece of work. We want 100 pieces of work.
"A lot of people ask, 'What is it like?' Estes continues. "Well, it's like a law firm."
What they really wanted to do, the partners say, was pioneer a collaborative experience, forge long-term relationships with their clients, and be a firm that raises the bar when it comes to employing women and minorities.
Carol Payne, who in 2012 left a partnership with Vinson & Elkins in Dallas, says she gravitated toward Estes Thorne & Carr because the way the attorneys were practicing law was appealing. The firm handles of range of specialties—including commercial litigation, labor and employment matters, family law, construction, energy litigation, professional liability, and alternative dispute resolution—but things aren't siloed, Payne says. "A lot of our clients don't know that we are women-owned," she says. "They hire us because we are good lawyers. They don't have a box to check."
The partners keep wine in the refrigerator, but there's a more substantial way their approach differs from that of competitors:  clients belong to the whole firm. "That way we all have an interest in being collaborative and providing the best service we can without worrying about one person's pay scale," Thorne says.
Going forward, the women say they are focused on continuing success and laying a foundation for the future. They want to be role models and mentors for young leaders, and never forget that the journey is the reward. "It's not what comes at the end," Estes says. "It's the process." 
Get the D CEO Newsletter
Stay up to speed on DFW's fast-moving business community with weekly news reports, interviews, and insights.