From D CEO June 2019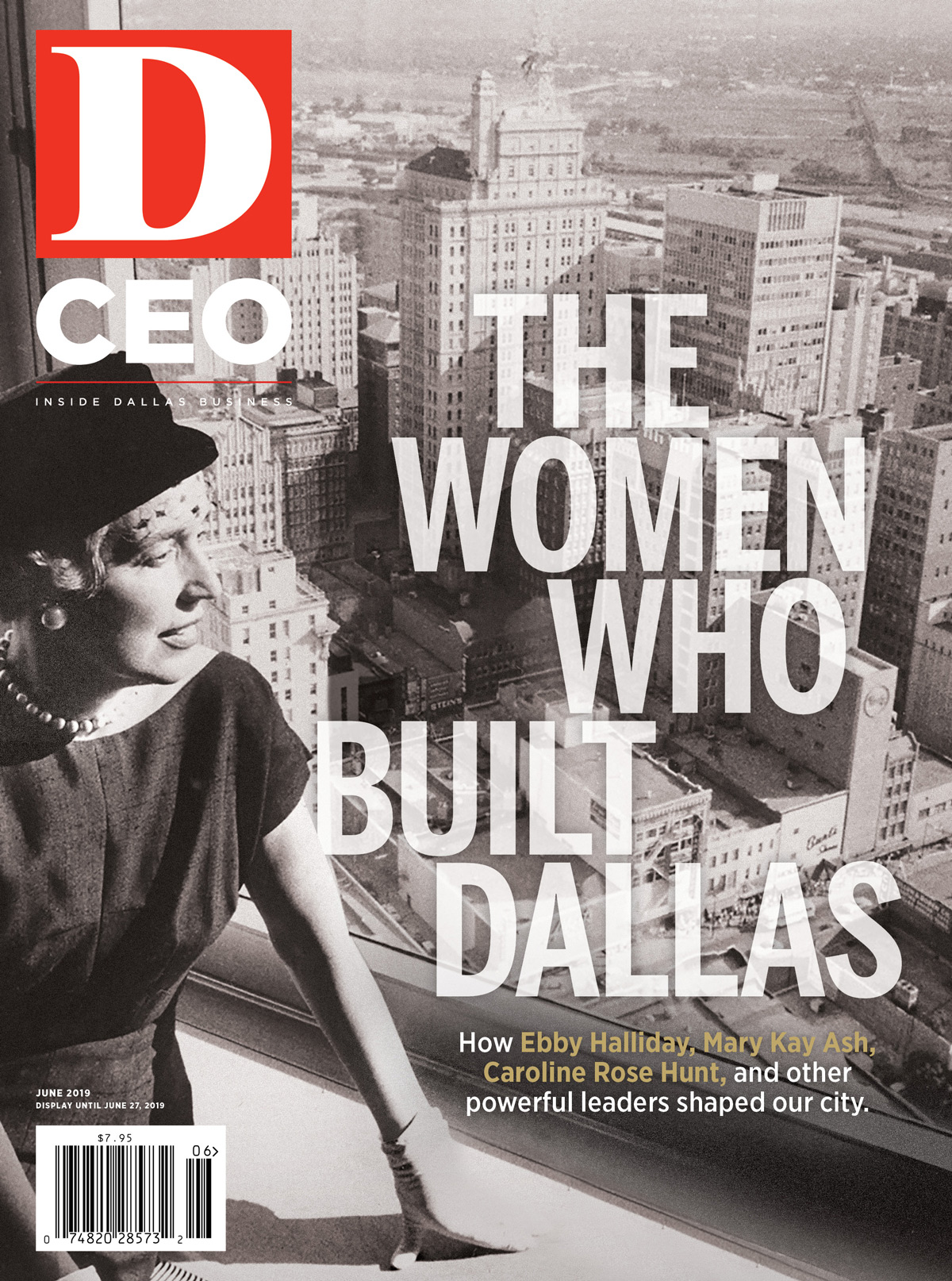 Subscribe
We had hoped to enjoy gourmet grilled cheese sandwiches outside of her Ruthie's food truck at Klyde Warren Park, but a sudden torrential downpour forced Ashlee Hunt Kleinert and me to seek cover at D Magazine Partners' nearby headquarters. Still, the Turkey Trots (smoked turkey, bacon, "slob" sauce, and sharp cheddar on grilled sourdough) traveled well.
The daughter of Nancy Ann and Ray L. Hunt grew up in Dallas and went to Southern Methodist University, where she met her husband, Chris Kleinert, on a blind date. His first job out of school, selling General Mills products, took the couple to Broken Arrow, Oklahoma. They returned to North Texas after two years, so Chris could attend TCU and earn his MBA. In short order they had three children—girl, boy, boy. Ashlee worked as a substitute elementary teacher and sold beauty products on the side. "I wasn't very good at it," she confesses. Chris joined her father's business in 1996; he's now CEO of Hunt Consolidated Investments and co-CEO of Hunt Consolidated Inc.
"I'm a terrible cook and not the best driver, so there's a lot of irony in my having a food truck company."
The Kleinerts are serious about using creative strategies to help improve the lives of others and make Dallas a better place. A good example is Executives in Action, which they co-founded in 2009. Business leaders who had lost their jobs were sending resumes to Chris for help. At the same time, Ashlee was looking for ways to aid philanthropic organizations that were cutting staff as funding dried up. "We thought, 'What if we put the two together?'" says Ashlee. EIA provided stipends to keep money coming in for professionals who helped the nonprofits. The groups benefited from high-level guidance they couldn't have afforded on their own. In 2016, EIA went national when it was merged into New York-based Catchafire Inc.
Ashlee had another "ah-ha" moment in 2011. She was at a national conference on nonprofits when a presenter talked about the new food-truck trend. She thought about the late-night grilled cheese sandwiches her paternal grandmother Ruth used to make, and impulsively decided to get into the business. "I'm a terrible cook and not the best driver, so there's a lot of irony in my having a food truck company," she says.
She has learned many lessons from the entrepreneurial venture—like not filling the truck up with diesel fuel, she says with a laugh. As with everything she does, she has found a way to amplify the impact of her food truck business. Her Ruthie's Snacks of Kindness program delivers food to different nonprofits and others in need. And in March, she joined forces with Chad Houser, whose Café Momentum helps at-risk youth learn culinary skills. Her food truck company, now known as Ruthie's, Fueled By Café Momentum, provides "externships" for kids who could use additional training beyond Houser's 12-month program.
Ashlee says she and Chris take a hands-on approach to giving back and believe their highest and best use is connecting people and finding ways to have a multiplier effect. "There's a lot of social innovation driven by dynamic, forward-thinking leaders at United Way, Cafe Momentum, Paul Quinn College, Bonton Farms, and many others that are making things happen," she says. "It's an exciting time for our city." 
Get the D CEO Newsletter
Stay up to speed on DFW's fast-moving business community with weekly news reports, interviews, and insights.