From D CEO July 2019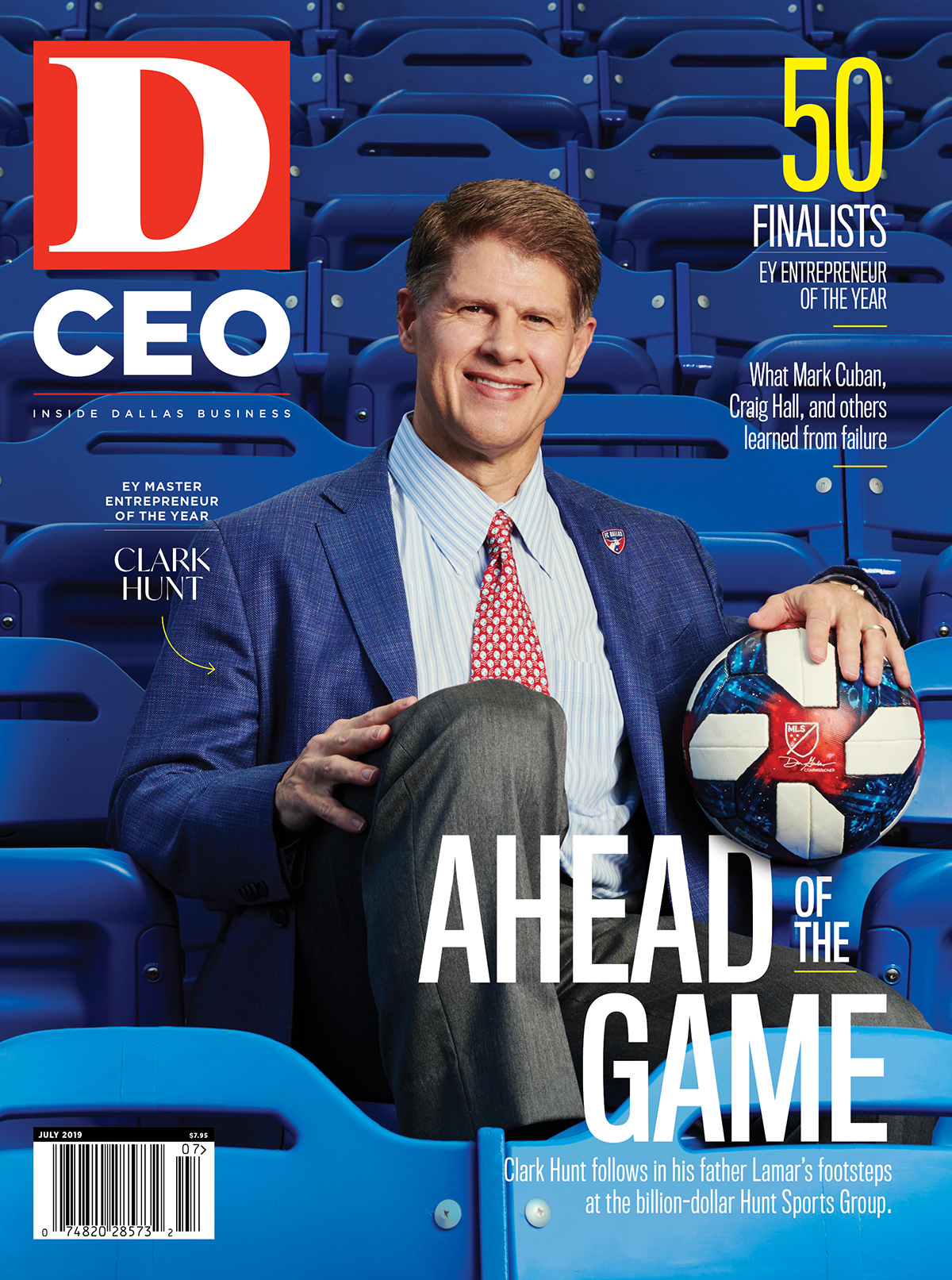 Subscribe
Five years ago, Andrew Gill stopped by to visit his friend Patrick Halbert at his home in the M Streets. He found Halbert in the garage with Rocco Milano, distilling spirits over an open flame. The space was littered with the kind of stuff you might expect to find in a garage—like a moped and a can of gasoline. "We almost blew ourselves up on more than one occasion," Milano says.
This is what bottled cocktail company On the Rocks looked like in its earliest days: three guys experimenting with liquor in a garage, trying not to burn anything down. The idea first sparked at Halbert's now-defunct Private/Social restaurant. In 2011, Halbert snagged Milano from the Mansion on Turtle Creek and hired him to serve as the mixologist for the Uptown eatery. Two years later, Halbert opened Barter in the same space. One night, Milano was mixing drinks for the food and beverage team at Virgin America.
They loved the cocktails, and asked what it would take to create a drink menu for their airline. Halbert had a better idea: what if, instead of creating a menu, they could bottle the concoctions? The idea stuck, and soon Halbert and Milano were busy filing for permits and untangling legalities. By 2015, Halbert had left the restaurant business and was all-in on the distillery concept. Gill, who had recently moved to Dallas to work in high-rise construction, was looking to make a career change. Their different skill sets meshed nicely, so the three of them—the restaurateur, the mixologist, and the self-described "wildcard"—joined forces and began experimenting.
The three founders recently gathered around a weathered wooden table in the modest conference room of their Arts District headquarters to recount their origin story.
"We started playing around with different possibilities, and just had a great time that first year, exploring," Milano says. "We quickly found out there were not a lot of players in the space; we really found a hole in
the marketplace."
The concept was simple: concoct and bottle bar-quality cocktails without preservatives. Once bottled, the drinks had to keep their quality as they aged. The partners hired a food science consultant, waded through hordes of ingredients, and worked through plenty of trial-and-error. At one point, On the Rocks had 80 recipes filed with the Alcohol and Tobacco Tax and Trade Bureau.
To gain traction, they worked to form alliances. FC Dallas began carrying On the Rocks cocktails at its stadium in 2016. Alaska Airlines acquired Virgin that same year, delaying any plans for expansion there. But On the Rocks still had high hopes of breaking into the airline space. The team went to a big industry trade show and handed out samples and garnered attention from Hawaiian Airlines. Hawaiian became their first airline customer in 2016 and now serves about 360,000 Mai Tais a year.
"We were able to get out of the startup enclosure and get to the profitable side by going after big partnerships," Gill says.
Hotels also offered huge potential, so the partners ran Google searches, made calls, and sent samples to food and beverage directors at local hotels. The Omni was the first luxury hotel to join the party; others followed, including several Four Seasons, Hyatt, and Hilton properties.
"Just that segment itself has turned to us as this unicorn product that everyone wants to grab onto," Halbert says. "Our drinks will be in minibars, on the cocktail list you order in-room, at banquets, spas, and everywhere that's not the hotel bar. And we've been able to capture this in so many different markets."
Finding a Spirit Partner
On the Rocks got another boost through the use of branded liquor in its cocktails. The company formed an alliance with Beam Suntory last year. Soon after, it moved bottling operations to Kentucky and launched a new line of branded cocktails: the Cosmopolitan made with Effen vodka, the Knob Creek Old Fashioned, the Cruzan rum Mai Tai, the Larios dry gin Aviation, the Hornitos Margarita, and the Jalapeño Pineapple Margarita. "It was really just an evolution of our business," Gill says. "It was important to find a spirit partner and have recognizable spirits."
So far, the On the Rocks team has rolled out distribution programs in 44 states across the country—no easy task, considering each state has its own web of liquor laws. They've also hit their fair share of snags in production, including a shipment of unusable corks that pushed back availability, and early-day sitcom-esque moments, like when Hawaiian Airlines needed more of their product and they had to load cocktails onto different commercial airliners to avoid losing the partnership.
On the Rocks has grown to a team of 18. Halbert serves as CEO, Milano is the global brand ambassador, and Gill is the company's chief strategy officer. But everyone wears every hat, Halbert says. These days, the partners are focused on building brand awareness and continuing their company's national expansion. Not bad for three guys who just five years ago were distilling spirits over an open flame in a garage.
Get the SideDish Newsletter
Dallas' hottest dining news, recipes, and reviews served up fresh to your inbox each week.