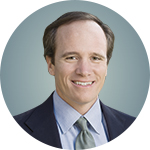 Education:
The University of Texas at San Antonio (MD), Harvard University (MPH), Baylor University (BBA)
First Job:
My father (Dr. Kenneth Cooper) had me walk around the Cooper Aerobics Center at the age of 11 or 12 picking up trash. I learned that the details matter and that you should always take pride in your work.
Greatest Inspiration:
Christ. My Christian faith successfully guides and drives everything that I do.
Toughest Challenge:
Working through some of the challenges of technology in an effort to more effectively scale our health-related knowledge to the public.
How I Motivate Others:
By working to be a great example and making sure that I'm living up to the expectations that I place upon others.
Funny Experience:
Many years ago during my medical residency, I was not able to keep myself in as good as shape as usual and had gained a few pounds. During that period, I was with my father in Washington, D.C., visiting the President of the United States who we'd known for many years, but had not recently seen. When the President walked in the room he looked at me and said "Well, hey Tyler. It looks like you've put on a few there, fat boy." I laughingly replied, "Yes. Thank you, Mr. President. May I have another?"
Car I Drive:
Jeep Wrangler Rubicon
Lesson Learned:
My mother always told me, "You never know what a man's really made of until you put his feet in the fire and see what he does." When I think back about times in my life when I've had my feet in the fire, I'm proud of how I handled it.
Proud Moment:
Opening our Cooper Aerobics Health and Wellness facility in Nanjing, China, in an effort to improve public health for the Chinese people.
Who'd Play Me in a Biopic:
Matt Damon. He's about the same age as me, and a good actor.
Hobby/Passion:
Anything I can climb, ski, or surf.
---
This Q&A is extended content from the 2019 edition of the Dallas 500, a special publication produced by D CEO that profiles the region's most influential business leaders. Visit www.dallas500.com for details.
Get our weekly recap
Brings new meaning to the phrase Sunday Funday. No spam, ever.