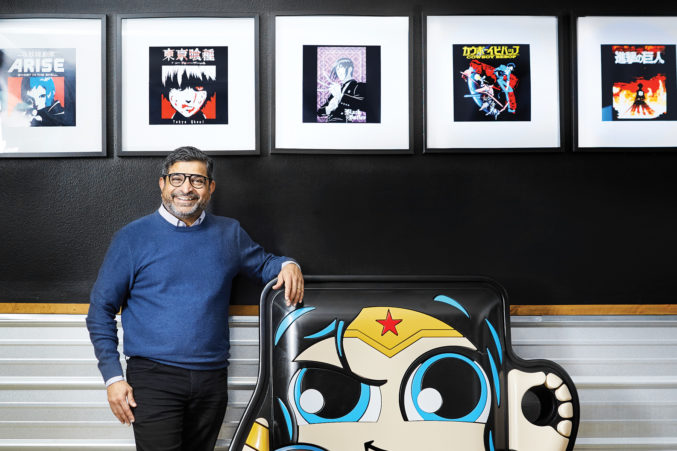 Catching Up with Bioworld's Elusive CEO, Raj Malik
The merchandiser has sold licensed goods for everyone from Limp Bizkit to Disney.
"He's the most humble person I know; he almost never does interviews," executive assistant Shelly Reid tells me, as I wait to speak with her boss, Raj Malik. "You don't know how many people I've had to turn down." The muted tones of Bioworld Merchandising's Irving headquarters seem to reflect its low-key CEO, and contradict the company's stature as one of the nation's largest designers and distributors of licensed apparel, headwear, and accessories.
But there are vibrant pops of color, too. Art pieces of characters from Bioworld partners hang on the walls, and large figurines of Wonder Woman and Vault Boy are scattered throughout, exuding inspiration, creativity, and fun. Malik welcomes me into his office, smiling warmly as he chats about the Thanksgiving dinner he recently enjoyed with his wife and three daughters.
Born in New Delhi, Malik came to Texas to earn his bachelor's degree at the University of Texas at Arlington. He worked as a door-to-door salesman to pay his college tuition, intrigued by an advertisement that said he could make $100 a day. To his surprise, Malik found he was a "decently proficient" salesman, routinely meeting his monthly sales goals. He took a more permanent job at a weekend flea market then an in-store job—all while a computer science and engineering student at UTA.
As he began to enjoy success in sales, Malik came to the realization that computer science wasn't for him. "I just didn't enjoy it," he says. "It was strictly coding and heavy computer programming." He found his true calling in 1999, when he segued into merchandising. "It was a pretty life-changing decision at that time, because I already had a successful wholesale business and I didn't really know whether this would be successful," Malik says. "We had secured some licenses, had a little bit of momentum, but it wasn't enough to guarantee success."
Malik understands the powerful allure of idols; rock bands Limp Bizkit and Slipknot were among the first bands licensed by Bioworld for merchandised goods. Malik saw an opportunity and began selling music-based accessories (headwear, bags, and novelty goods) through his first licenses. As consumer interests broadened, the company evolved from specializing only in music to other entertainment  and pop culture opportunities.
Today, the small licensed merchandising company that Malik self-started nearly two decades ago has 12 offices around the globe and more than 650 employees. It's one of the largest merchandisers for giants like Disney, Nintendo, and Warner Bros.
Although he runs a multimillion-dollar merchandising company that works with some of the industry's most recognizable brands, Malik isn't one to boast. He speaks exclusively in the third person when talking about the success of his company, and is quick to credit his team of designers, engineers, and retailers.  He says Bioworld's mission is ensuring that customers get the highest quality products, created by designers who genuinely love the characters and stories with which they work.
"We want to be fans first," Malik says. "We want to make sure we are creating the relevant products for the pop culture consumer. If you walk around the office, most of the people who are here are fans. It'd be very hard to work on something if you didn't absolutely love it."