My Roots: Manny Fernandez, KPMG Dallas Office Managing Partner
Growing up in Castro's Cuba has made Fernandez grateful for his life in the states.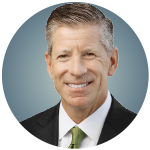 "When [Fidel] Castro came into power, my parents quickly realized that this was an oppressive regime lacking human rights, and at some point, they decided that they wanted a better life for me and my sister. I was 8 years old when we immigrated to the United States. At that age, you're a little immune to it because you're naive, in a sense.
"As I reflect now, knowing what I didn't know then, is that once my parents declared they were leaving for the States, they lost their jobs. My dad, who was a professional accountant, was relegated to a work camp, where basically he was cutting sugar cane for 27 months so we could go to America.
"The thing I remember most about living in Cuba is this one incident where my aunt sent me a stick of Juicy Fruit in the mail, and I savored it for about a month. When you're in an environment like that, and you're not used to luxuries in life, you savor them. It makes you realize how important it is to appreciate what you have in life and to give back to others. That's what's life is all about—giving people an opportunity.
"Whether it's with our employees or interacting with client, I think you just have to be yourself, you have to be authentic. I think people see that you care and that you're well-meaning and trying to enable their success. I think you become successful by making others successful."