Nineteenth-century railroads jump-started Dallas' journey from podunk prairie town to economic powerhouse, but no technology has been more important to North Texas than the automobile. It's what made us a big, sprawling, and fast-growing place.
Contradictory as it may sound, Dallas and its suburbs are blessed with a car problem. On the positive side, all the automobiles and pickup trucks signify Dallas-Fort Worth is a wealthy place, with almost two cars per household. The arrival of still more vehicles every year tells us that the local economy is growing and attracting new residents.
Just about any driver can tell you about the problems. First in mind, no doubt, would be traffic congestion on local highways, which robs us of precious leisure time. Internal combustion engines pollute the air, especially when mired in traffic jams. Out-of-pocket expenses for a privately owned vehicle average almost $8,500 a year—and more than $10,000 for a pickup truck. A big chunk of taxes we pay goes to road building and maintenance.
Weighing benefits and costs won't alter the fact that owning a car is more necessity than convenience in sprawling North Texas. According to American Community Survey data, residents of the 13-county region owned more than 4.5 million passenger vehicles in 2016. That equates to 1.85 vehicles per household, second only to Riverside, California, among the 15 largest metropolitan statistical areas (MSAs).
Two-thirds of DFW households owned more than one car. Less than 5 percent of DFW households were without any car—the lowest rate among the biggest metropolitan areas.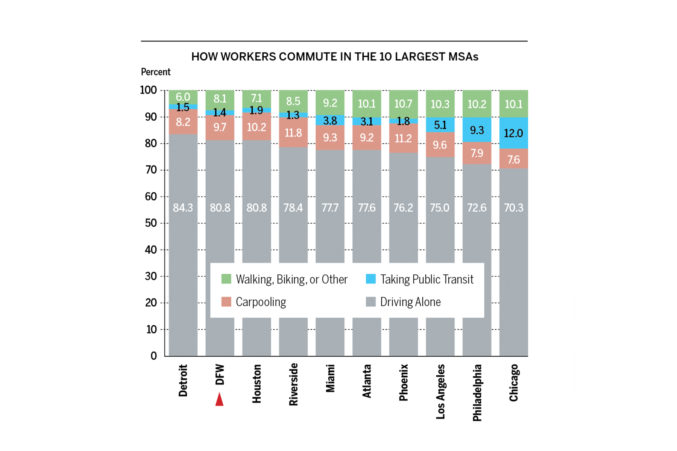 Not surprisingly, suburbs are more car-addicted than central cities. About 9 percent of Dallas households didn't own cars in 2016. The carless share was less than 2.5 percent in Frisco, Plano, McKinney, and Carrollton. Of the 13 largest suburbs, none had more than 5 percent of households without cars.
Families drive for shopping and recreation, but the primary use of most cars is getting to and from work. Among the 15 largest MSAs, DFW and Houston tied for second place behind Detroit—the Motor City—with more than 80 percent of workers driving alone to and from their jobs (see chart). Despite all the money spent on Dallas Area Rapid Transit, only 1.4 percent of DFW commuters use public transit, second lowest behind Riverside.
The bellyaching about bumper-to-bumper rush-hour traffic belies the fact that DFW commutes aren't onerous—at least by the standards of big cities. An average worker here takes about 27 minutes for the trip to or from work; among the 15 largest MSAs, only workers in Phoenix and Detroit spend less time in transit.
Our calculations find that DFW's commuting time is almost 9 percent faster than the area's population would dictate. But, can DFW drivers continue to be so lucky?
Capitalism To The Rescue
DFW's population grew from 5.1 million in 2000 to 7.4 million in 2017, an average annual gain of 2.5 percent.  And more people are on the way. The Regional Transportation Council, the local body charged with maintaining MSA mobility, projects an additional 4 million residents or more by 2045.
Assuming the newcomers own as many cars per household as the existing population, an additional 2.4 million vehicles will be on DFW roadways a quarter century from now. State and local governments know all the cars are coming, so they envision spending $135 billion over the next 28 years to improve highways and mass transit.
Planners acknowledge new roads won't be enough, and they pin their hopes on changing the way DFW residents get from one place to another. Strategies to reduce driving to work alone usually encourage mass transit, car-pooling, and even bicycling. Some drivers may regard these as poor substitutes for the comfort and convenience of their own cars.
Building more roads costs a lot and at best offers a temporary fix in a dynamic region that keeps attracting more people and more cars. To get off the treadmill of building new highways that eventually get overcrowded, DFW and other big MSAs need to offer drivers something better than owning a car.
This is where capitalism just might come to the rescue.
The first automobile age put Americans behind the steering wheels of their own cars in the 20th century, making life easier and creating places like DFW. Now, a second automobile age, one forged by increasingly powerful computer chips, ubiquitous internet connections, software, and big data, just might take Americans out of the driver's seat in the 21st century.
Companies like Uber and Lyft already use smartphone apps that allow passengers to quickly summon drivers, who use their vehicles to provide rides for a reasonable fee. The services have caught on because they get people where they want to go and eliminate the hassles of driving and parking. Owning a car has become a little less of a necessity.
The technology exists for an even more revolutionary step forward—cars and even flying taxis driven by machines. In a decade or so, DFW workers might press a few smartphone keys and walk out the door to a driverless car ready and waiting. These vehicles will be safer. They'll use existing roadways more efficiently, moving along in close formations at high speeds. For most people, owning a car at $8,500 a year will become a waste of money.
So DFW will end up with fewer cars. They'll be used more intensively to transport the growing number of people, needing fewer new roads and producing gains in air quality and  leisure time.
Looking for the big takeaway? The public sector response relies on existing technology, builds more highways and mass transit, and ends up with a worse product. The private sector response uses technology to increase efficiency and lower costs, leading to a better overall product for consumers.
---
W. Michael Cox is founding director of the William J. O'Neil Center for Global Markets and Freedom at Southern Methodist University.
Richard Alm is writer-in-residence at the center.
D CEO Newsletter
Stay up to speed on DFW's fast-moving business community with weekly news reports, interviews, and insights.