He was only 17 years old but, given the trials he had already endured, he had outgrown his childhood years before. Tall and lanky, Alfredo Duarte stood at the edge of the Tijuana River. He was going to seek a better life and in turn provide for his family back home in San Pedro, Guanaceví, in Durango, Mexico. It was 1975, and Tijuana had been experiencing torrential rain and flooding, making the river level perilously high. He knew it was dangerous, but so was living in abject poverty.
His uncle had arranged to pay a "coyote"—a smuggler of undocumented immigrants—for his nephew's safe arrival in Los Angeles. Duarte remembers stripping down to his underwear along with other immigrants making the journey. Clothes would only cause additional risks of getting pulled down into the current. They put their clothes atop their heads, linked arms, and entered the water.
"I remember that night like it was yesterday," Duarte says. "We were in a chain, water up to our necks. We were pulling up girls who were falling down. … We almost drowned because it was the worst rains they had seen that year."
When Duarte made it safely across, he was put in the trunk of a Mercury Grand Marquis with six other people. He remained balled up inside for three hours. "Someone was already drunk … so the smell," he says, shaking his head. "I remember getting out of the trunk and not being able to walk. Quite often, I think I would die [on that trip] now. That was a good thing—I was young."
Now the CEO of a $60 million food distribution company, Taxco Produce, Duarte, an American citizen, looks back with a smile and a few tears. "Being a little hungry and needy is not a bad thing. It gives you the drive to try," he says. "God permitted me to build a company, make money," and take care of my family.
Duarte not only took care of his own, but he and his co-founder and brother-in-law, Jesse Mendoza, now provide for 108 other employees. And, he's not alone in his journey to the American Dream. Dallas is home to a number of formerly undocumented immigrants who built successful companies. Andrea Pedraza, for example, launched her own European-style chocolate shop in Bishop Arts and now serves clients including American Airlines. Mario César Ramirez has built a chain of taquerias that employs 100 people and generates between $6 million and $8 million in annual revenue. Their stories are proof that some undocumented immigrants not only pull their own weight, but wind up bolstering the local economy.
"The most important thing for me is to be able to give [my fortune] away to help people," says Duarte, who's also become involved in several foundations and education organizations. "We [immigrants] have been such a force in this country … and for a long time we've done jobs nobody wants to do."
Starting From Scratch
Immigrants are more likely to become entrepreneurs than the average American adult—and Latinos have some of the highest rates of entrepreneurship, according to research. "The shortest way for assimilation and integration is becoming an entrepreneur," Ramirez says. "The six degrees of separation shrinks immediately. Now you're giving jobs to people and … growing the local economy."
For Pedraza, entrepreneurship wasn't the reason she came to the U.S. But almost 40 years after arriving, it provided an opportunity to do what she loves with the people she loves most. A seamstress from Guadalupe de los Faz, Matehuala, in San Luis Potosí, Mexico, Pedraza and her husband came to the U.S. when she was just 21 years old. She had dreamed about leaving her small village and exploring new places since age 4. She finally took the plunge in 1978. "It was a one-way bus ticket. There was no way back," she says, remembering the seven-hour ride to the border. "For me, it was an opportunity for a better life."
When she arrived at the border near Eagle Pass, dressed in high-heel boots—a decision she says wasn't the smartest—she and her husband split up and crossed when the water in the Rio Grande river was low. She made it to the back of a convenience store on the U.S. side, where a group of friends were waiting. Her husband was detained by immigration for two months as authorities tried and failed to get information on the friends who'd helped the couple. He reunited with her after crossing again later.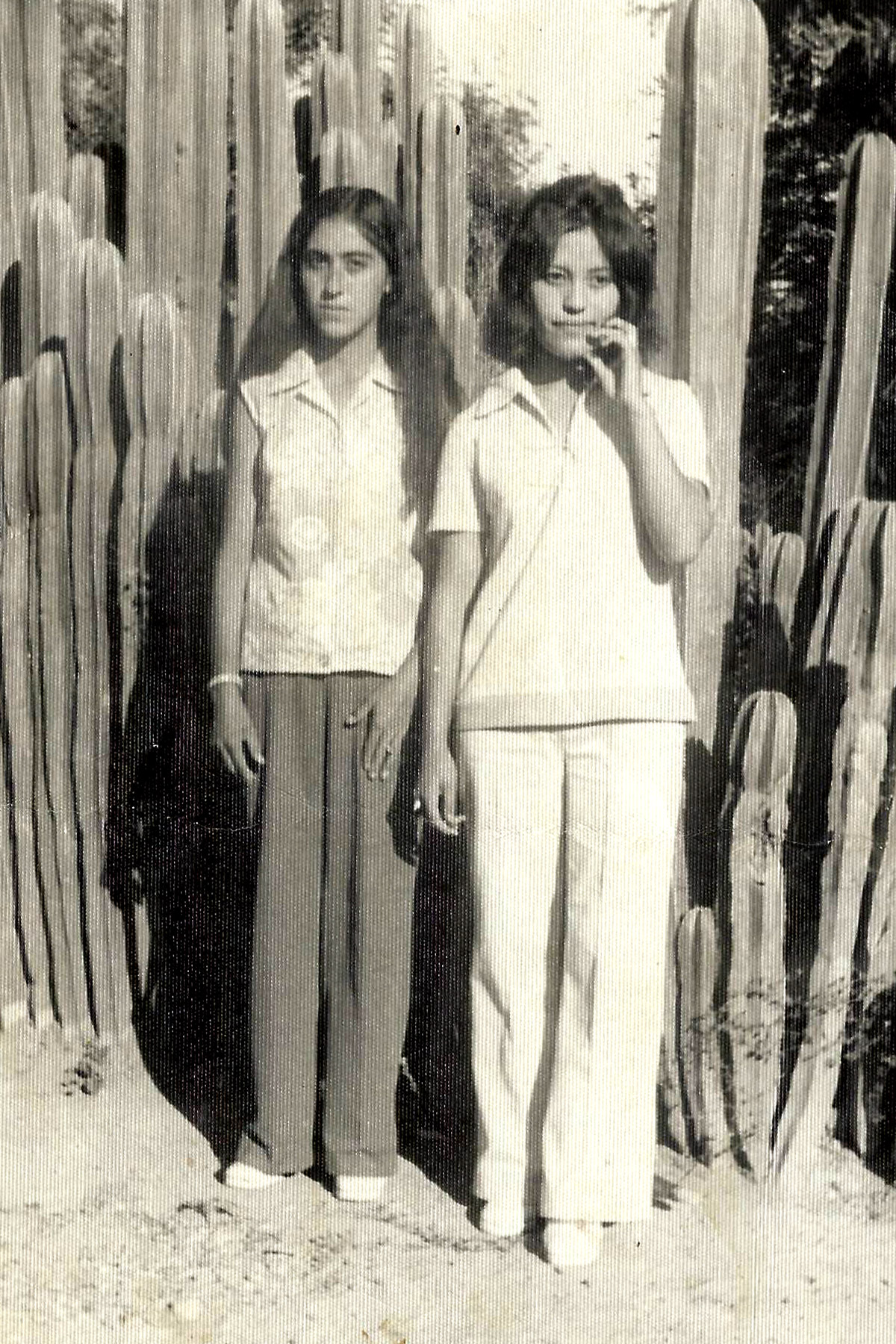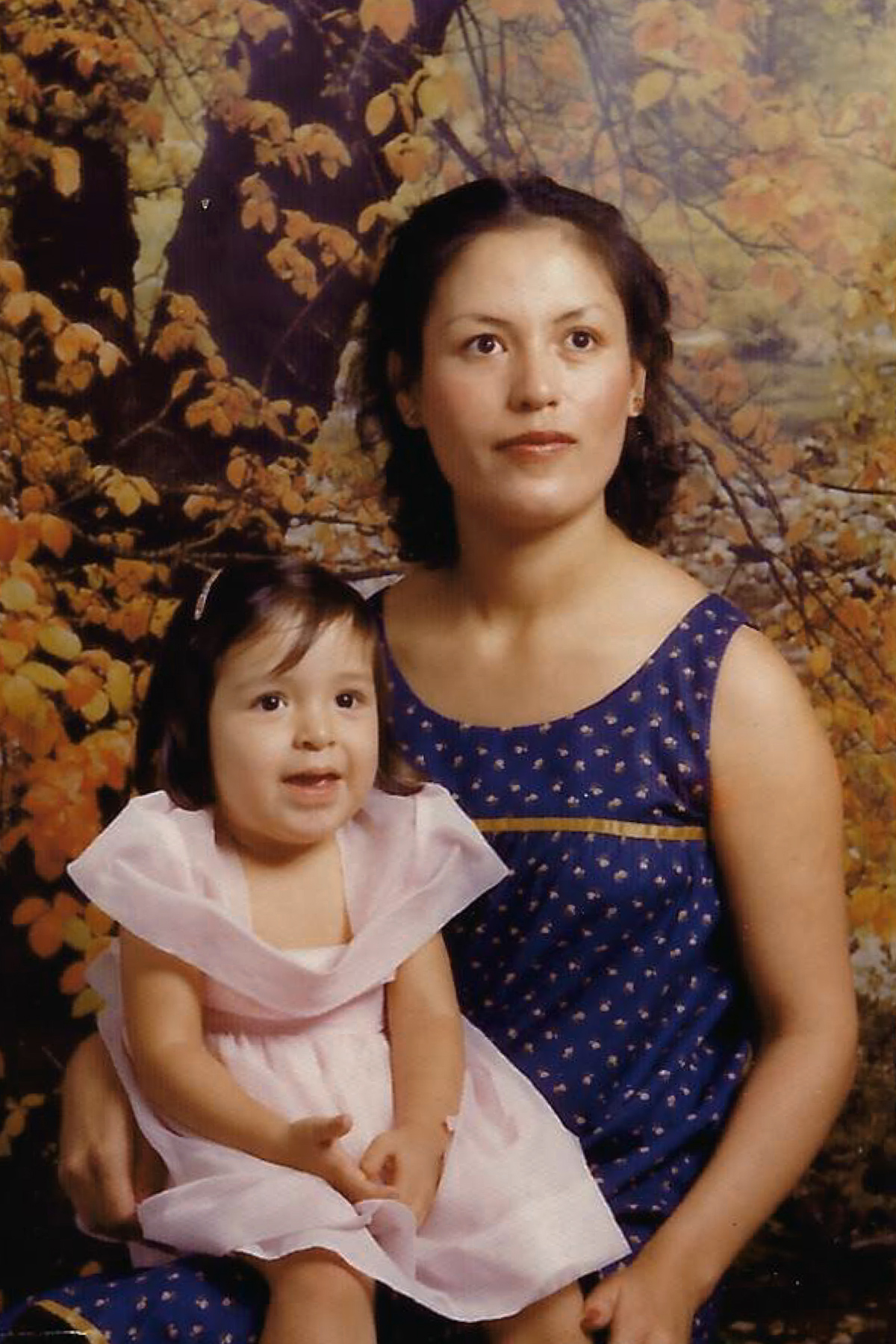 At age 14, Andrea Pedraza (in white pants) hangs out with her friend Noelia in her hometown in Mexico (left); Andrea Pedraza and her first born, Cindy Pedraza Puente, when Cindy was a toddler (right)
Meanwhile, two days after Pedraza arrived in Houston with her friends, she began working as a seamstress at Kuppenheimer, a men's clothing store. The minimum wage was $2.15 at the time, but Pedraza earned $3 for her skills. "My first lunch at work was a barbecue sandwich at Burger King," she smiles. "It was like, 'Oh my god, this is so good.' I became a Texan that day."
Two weeks later, she headed to Dallas to meet her father, who was in the city on a job at a meat packing company, and an aunt, who lived here. At the time, the local textile industry was "booming." Pedraza got hired on the spot at the Melrose clothing store. She worked in the building now occupied by the Sixth Floor Museum. In all, she spent 10 years as a seamstress before her future in chocolate molded into shape.
"I didn't look for chocolate," she says. "Chocolate found me."
"Now called CocoAndré, the chocolate shop recently landed its largest client, American Airlines, after presenting executives with sample chocolate airplanes."

Andrea Pedraza
Pedraza sought a job that could provide her more flexibility to care for her two daughters, Cindy and Mayra. Through more friends, she found a chocolatier who had just returned from a stay in Europe, where he was trained in European chocolate techniques. He needed assistance at his new Dallas chocolate shop. Pedraza had very little experience with chocolate, rarely having access to anything more than hot chocolate back in Mexico. But the job provided flexible hours, and the shop owner was willing to hire Pedraza instantly. "The more I started looking into the history of chocolate and becoming a master chocolatier, it was like falling in love," says Pedraza, who pored over books about chocolate. "I only lasted three days part-time before he asked me to go full-time."
Within a few weeks, Pedraza became the supervisor of the growing shop. She took the job hesitantly, as she was still struggling to speak English, and stayed there for 24 years. When the owner unexpectedly sold the shop, Pedraza was crushed. "What would make him think I would want to work for someone else?" she says, shaking her head.
That left Pedraza unsure about her next move. She began taking entrepreneurship classes as she envisioned a new dream: Opening her very own chocolate shop. But two months after transitioning out of her job, her dream became less of a distant hope and more of a necessity. Cindy Pedraza Puente, Andrea's oldest daughter and a single mother at the time, arrived at her mother's house. "I walk into the kitchen and I'm crying, saying, 'I lost my job,'" Pedraza Puente recalls. "I said, 'OK, now's the time" to start the chocolate business!
With nothing more than their last paychecks and $1,000 in savings, the two began hunting for a location to sell their own sweets. In November 2009, they leased a shop that had been abandoned for 27 years in the Bishop Arts District and enlisted family and friends to help set it up. Sisters, cousins, husbands, uncles, and aunts came together and covered holes in the walls, pulled out old, 10-foot-long puppets that had belonged to the previous tenant, and cleaned off four inches of dirt that had piled up on the chandeliers. Family members bought a cash register on craigslist, set up the shop's website, and jackhammered the floors. They put up a "raggedy" homemade sign that read "Chocolates" in the window and set up Christmas lights to illuminate the shop before they had the main lights up and running. "It was a labor of love," Puente Pedraza says. "Everybody that could pitch in did."
For five years, Pedraza and her daughter grew their shop steadily, saving up to purchase their own building. They reached their goal in 2015, when the company moved into its current Bishop Arts location. The business operates out of a charming country-style house surrounded by a white-picket fence. Inside, patrons can purchase an array of chocolate concoctions, request custom orders, and relax in a space that's adorned with Frida Kahlo décor. Now called CocoAndré, the chocolate shop recently landed its biggest client, American Airlines, after presenting executives with sample chocolate airplanes. The AA account added $57,000 in revenue and is on track to double this year.
Pedraza, who received citizenship 26 years ago through the amnesty immigration reform signed by President Ronald Reagan, is grateful for all she has accomplished. Today, she's set on helping others. In addition to growing the business, Pedraza supports other entrepreneurs by hosting a pop-up shop for their wares. "I just want to do more for everybody and make everyone more financially comfortable," she says.
On The Rise
Mario César Ramirez feels that same drive. The restaurateur and author hosts free entrepreneurship and business workshops for Latinos and immigrants, hoping some of the lessons he's learned will guide others. After all, he built his company with nothing more than hard work, determination, and later, a strong support staff.
Growing up in Rioverde in San Luis Potosí, Mexico, Ramirez had come to the states twice before making a life here in 1990. He first came on a work visa, aiming to make enough money to fulfill a wish list of items that included a car, three pairs of Converse shoes, and a washer and dryer for his mother. The next time, he was sent back upon arrival. The third time around, Ramirez, then 21, didn't take his opportunity for granted. "I knew that being here was a privilege," he says. "I said, 'There's something here, and I need to value whatever opportunities I have.'"
Back then, some businesses would help immigrants with a loan, paying the fee for a coyote to bring them across the border. Immigrants were hard-working, loyal workers that a lot of hospitality businesses wanted as employees. Ramirez benefited from that and, after arriving in Dallas, began working as a busboy at a local restaurant where his brother was employed. He lived in a two-bedroom apartment with seven other people. "We used to go on the weekend to the pool, and people would bring their coolers full of beer [brands] I'd never drunk in my life, and they'd listen to this music," Ramirez remembers. "And I still remember all the Americanos were tanning, and I had never seen people doing that. … And I said, 'This is the best! I'm living in a five-star hotel. I have a job, and a pool, and almost like a private gym.' … I didn't take anything for granted."
After just a couple of years of "living in the shadows," Ramirez and his brother heard about Reagan's amnesty program. So one morning, equipped with their $180 money orders, the two headed to Arlington to stand in line at 3 a.m. to apply. "That was a game-changer for me and my brother," Ramirez says. "We were not afraid to go outside anymore."
After losing his job at the restaurant, he answered an ad seeking bartenders for a New Orleans cruise ship. Ramirez was determined to see the world, even if he had no actual bartending experience. He was put to the test at his interview at the Renaissance Hotel in Dallas. The interviewer asked him to demonstrate serving champagne and making a margarita. "So I saw this white napkin there, and I put it on my arm," he says. "I had seen that maybe on 'The Love Boat.' I opened the bottle, and it went just fine, perfect. … But being from Mexico, we didn't know margaritas. They were born here. I mixed the margarita mix with vodka. She almost laughed." Nonetheless, he set the drink down confidently.
After botching the in-person test, Ramirez received a call back. The interviewer, impressed by his demeanor, offered him a job as a porter, to be trained later as a bartender. "I really learned how to speak English there," Ramirez says. "No one spoke Spanish [except for] one guy in the engine room."
At age 23, he left the cruise ship to return to Dallas-Fort Worth and attend community college in Collin County. On the side, he worked at El Paso Cantina in Plano, near a house he and his brother rented, and cleaned offices at the American Airlines Center at night. But one nuisance continued to bother him: Buying Mexican sweet breads was nearly impossible in DFW. So with help from a bread supplier and mentor in Dallas, he opened a 450-square-foot shop in Plano called La Paloma.
"That was a game-changer for me and my brother. We were not afraid to go outside anymore."

Mario César Ramirez
Within a few months, he was able to purchase his own oven, bake from scratch, and display the breads in an old case that he refurbished. Between the two jobs, school, and running his own shop, Ramirez became overwhelmed. He stepped back from everything and decided he was going to bet the farm on the bakery. In 1994, he opened a second shop in McKinney. "That was one of the most important decisions of my life," Ramirez says about focusing on the business. "Starting to support more families … it changed my life."
A little later, he found a struggling soup and salad restaurant in Plano. He took a chance and asked the owner to call him if he ever wanted to sell. It wasn't long before he received a call from the owner, who was ready to take Ramirez's offer. Ramirez kept all of the original assets and opened his first La Paloma taqueria as an extension of the bakery.
After expanding both the bakery and restaurant side of the business, Ramirez decided to focus solely on the taqueria. "The bakery can be very complicated," Ramirez says. "In order for you to train a baker, it could take months. To make a concha [a Mexican sweet bread] is complicated. To make a taco, it was so easy. And you can sell it for double."
From then on, there was one strategy: expansion. He continued to snap up restaurants, leverage the assets, and sell tacos. Some locations sizzled, while others never warmed up.
But 25 years later, Ramirez sits dressed in a Polo shirt, a bulky silver watch, buckled leather shoes, and gold-rimmed Ray-Ban sunglasses. He carries a book he published on immigrant entrepreneurs and talks about the six locations under the La Paloma flag. He also recently purchased El Grande Burrito, an independent brand in Allen he's planning to expand to multiple locations. And, just like Pedraza, Ramirez hopes he can help others in their entrepreneurial paths. "There are … so many talents you have to discover," he says. "My humble way to pay back to this country and society is to continue inspiring and teaching people how to open their own businesses and generate wealth."
No Regrets
Taxco's Alfredo Duarte knows a bit about expansion, too. He sits in a conference room surrounded by animal trophies from hunting excursions he's taken over the years. He'll only be in this office a few months more before moving his company from the current 3-acre warehouse to an 11-acre warehouse formerly occupied by the North Texas Food Bank.
It's a long way from the teenager who—three years before he would cross the Tijuana River into the U.S.—was dropped off at a factory in Chihuahua, Mexico, hundreds of miles from his home in San Pedro. "The first three months I cried," Duarte remembers of the day he was dropped off there by his father, who pushed Duarte to be both educated and skilled. "I was so lonely. I didn't know anyone. But then I realized this crying isn't going to get me anywhere. … That year and a half hardened me inside and made me a great part of what I am today."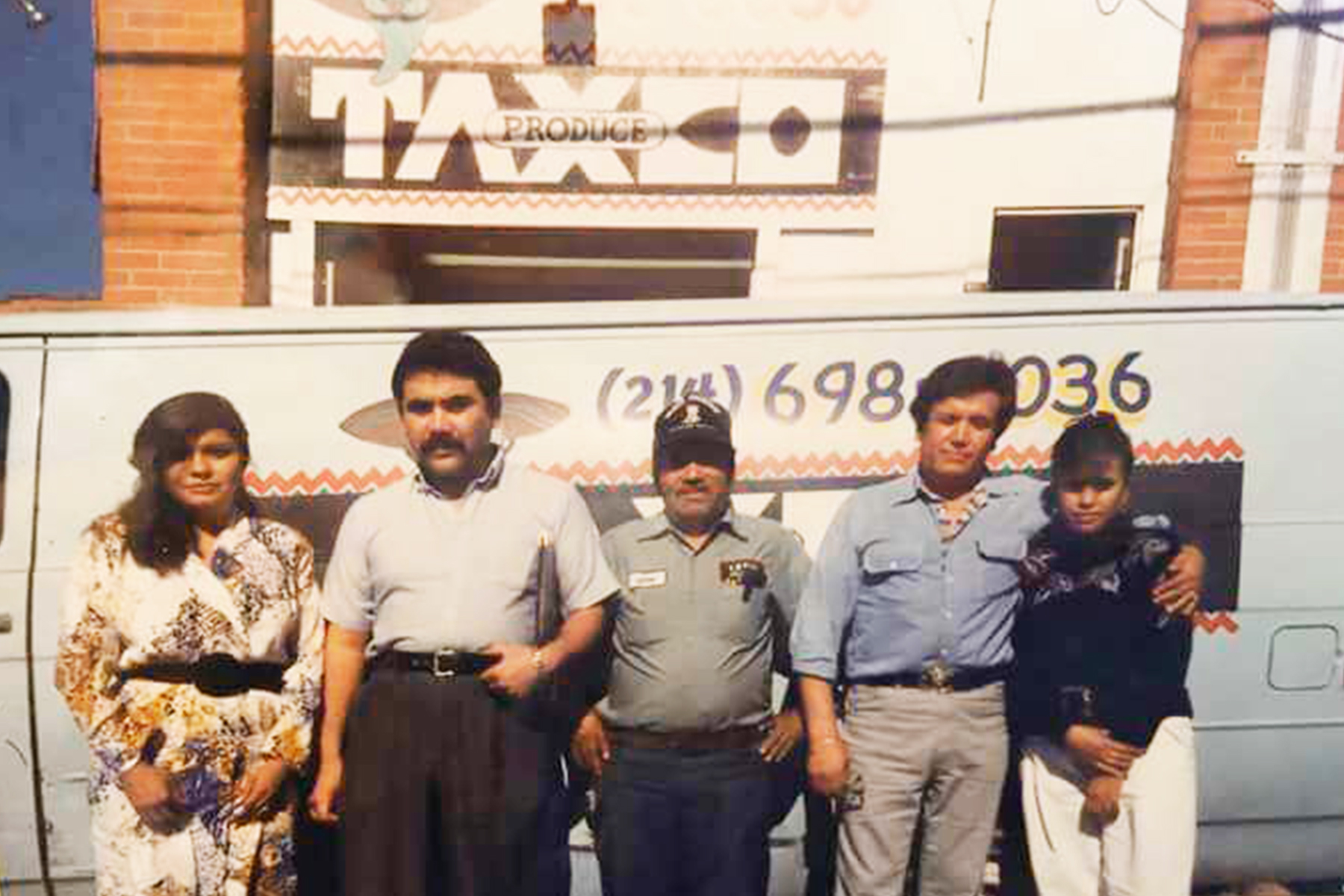 Alfredo Duarte, second from left, and Jesse Mendoza, second from right, stand with their team in the early days of Taxco Produce (left); A historical photo of Duarte with his two children, Alicia and Freddy Jr. (right)
Perhaps that's what helped him get through his tough journey to the states, and to later provide for his wife and son in El Monte, California, where he made just $2.95 an hour. Duarte and his family came to Dallas in 1983 to move in with his brother-in-law, Jesse Mendoza, who at the time worked for American Produce (now FreshPoint). In Dallas, Duarte worked about 17 hours a day at Cisco Foods and as a machinist for another company, and lived in an apartment where he had no dishes or furniture and only a box spring for a bed. On occasion, he would visit Mendoza at work. "Jesse is one of those people who can sell anything," Duarte says. "I saw the potential. Finally, I said, 'Jesse, we need to start a company.' He looked at me and said, 'You don't know anything about'" how to do that.
"I realized this crying wasn't going to get me anywhere … That year and a half hardened me inside and made me a great part of what I am today."

Alfredo Duarte
But Duarte had just suffered a debilitating blow. His best friend and co-worker had taken his own life, making it seemingly impossible for Duarte to return to his job as a machinist. Instead, Duarte borrowed some money and bought an old truck. With Mendoza's help, in 1985 the two sold tomatoes and chiles on the street under a the name Taxco Produce. Two months later, much to his surprise, Duarte convinced Mendoza to leave his full-time job. At the time, Mendoza was making $40,000 a year, owned a house, and was providing for his eight kids. "Then, this young fool is asking him to leave his job and start a company," Duarte remembers, laughing.
Mendoza partnered with Duarte for two months until his former employer came back with a better offer. "I said, 'Jesse … this is going to be big some day, and it'll be ours,'" Duarte remembers. "In 50 years, you're going to be obsolete there. … I said, 'If you continue with me, one day you're going to be on vacation in Europe.' And the rest is history."
Together, the two slowly built their company. Today Taxco, which distributes U.S. and Mexican food products, has about 34 trucks—nine of them big rigs—and will go from six loading docks to 27 in its new warehouse.
As he walks through the warehouse, Duarte passes pallets of Mexican soft drink Jarritos, Topo Chico carbonated water, El Tapatío hot sauce, and an entire aisle full of Mexican candy brands. He strolls back through the office adorned with ceramics and paintings of fruits and vegetables. An oversized mortar filled with plastic chilies and avocados sits in the front room. Duarte, who became a U.S. citizen two years ago, reflects on every struggle he experienced for the life he has now. "I would not change anything," he says. "Those are the things that make you who you are. … The most important thing is the time you have left."
Get the D CEO Newsletter
Stay up to speed on DFW's fast-moving business community with weekly news reports, interviews, and insights.