Amazon's HQ2
The real estate world lost its collective mind in September, when Amazon released a request for proposals for a second headquarters worth $5 billion. Between the release date and the Oct. 19 deadline, the Dallas Regional Chamber worked with developers all over North Texas to compile more than 30 possible sites for the tech behemoth. The 8 million-square-foot headquarters promises up to 50,000 jobs. By press time, it was still unclear which cities made the short list (or that there would even be a short list). But DFW—and every other major MSA—will be fighting tooth and nail until HQ2 breaks ground. Amazon requests proximity to an international airport, access to mass transit, a metro population over one million, a business-friendly environment, and "communities that think big and creatively."
Skyline Additions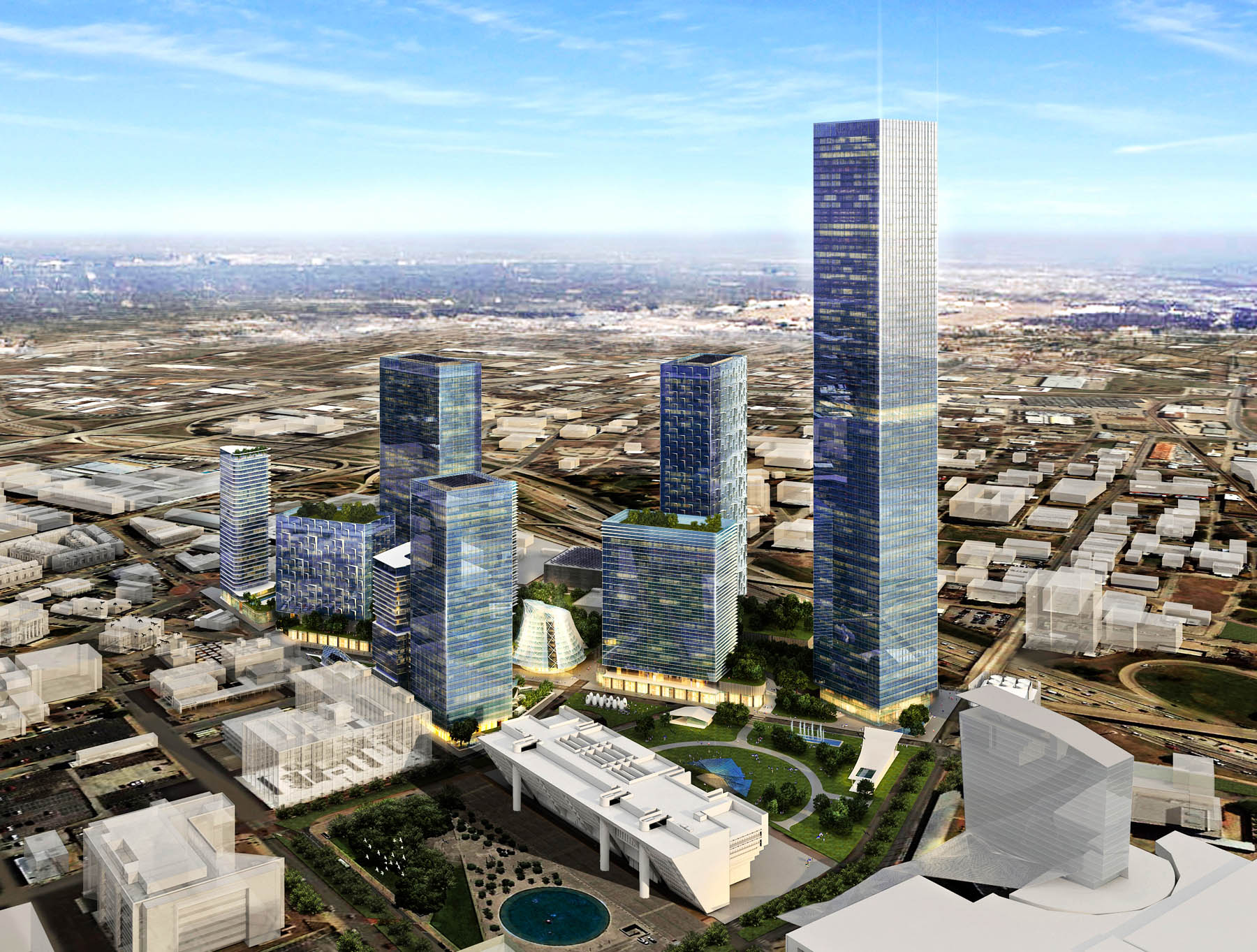 The first phase of Dallas Smart District's downtown campus will break ground by the end of 2018. (Courtesy of Pelli Clarke Pelli)
Besides the pipeline of projects, several proposed developments in DFW sit in limbo, searching for funding, anchor tenants, or absorption in similar product types. Most notably, Ross Perot Jr.'s Hillwood partnered with famed architect Sir Norman Foster to propose a 70-story skyscraper on the other side of Woodall Rodgers from the Perot Museum. Hillwood would need an anchor tenant to get the development off paper and in the ground. Hoque Global and KDC have proposed a 78-story tower. Hoque and KDC said they'd begin building a 20-acre mixed-use campus downtown, dubbed the Dallas Smart District, by the end of 2018.
Downtown Cowtown
Downtown Fort Worth sustained some disappointing losses in 2017 with DR Horton moving back to Arington and XTO Energy's announcement that it would relocate 1,600 employees to the Exxon Mobil campus. Despite those blows, institutional money has entered Fort Worth for the first time in its history. Jetta Operating and Anthracite Realty Partners will complete the $115 million Frost Tower in 2018. Downtown has seven hotels planned or under construction. The 27-mile TEXRail, which connects downtown to DFW Airport, will take its inaugural ride this year. By many accounts, Cowtown is headed for greener pastures.
Affordable Availability
West Dallas became the face of Dallas' affordability issues in 2017 when residents' homes became subject to gentrification. But West Dallas is really just a microcosm. DFW is the fourth worst metro in the U.S. for affordable housing, according to The National Low Income Housing Coalition, offering only 19 low-income units of affordable housing for every 100 demanded. Longtime low-income residents have few affordable options. Compared to every other major metro in the country, Dallas has the highest poverty rate—and it's climbed by more
than 40 percent in the
last 15 years.
The New Shopping Mall
Scott Beck introduced Valley View Center to a bulldozer, Sam Ware bought Collin Creek Mall with plans to redevelop it, and Peter Brodsky partnered with Corinth Properties to restore Red Bird to its former glory as a community mall. Blame it on e-commerce or blame it on millennials, but innovation in the enclosed mall space is no longer optional. Good thing several North Texas minds are up to the challenge.
Get the D CEO Real Estate Newsletter
Get weekly updates on breaking commercial real estate news and relevant industry reports.