The 50 Highest-Paid, Middle-Market CEOs in Dallas-Fort Worth
CEOs of Six Flags, Basic Energy, and Spirit Realty top the list. Plus, breakdowns by industry and mix of pay in this year's study of middle-market CEO compensation.
Net income climbed a median 24 percent at Dallas-Fort Worth middle market companies—and the chief executives running them were handsomely rewarded. Those are among the findings of D CEO's annual executive compensation report, which looks at companies with annual revenue of $150 million to $1.5 billion. Combined, the 50 DFW-based companies on this year's list generated a total of more than $31 billion in revenue.
For the ninth straight year, research was conducted by Paradox Compensation Advisors, a Dallas-based consulting firm. The analysis looked at total compensation (base salary, annual bonuses, and long-term incentives, such as stock options and stock awards), along with revenue and net income. The information is based on the most recent full fiscal year, which for four of the companies is 2018. To be included, the company's CEO had to be in place for the full fiscal year (or sufficient information was provided to project full-year pay).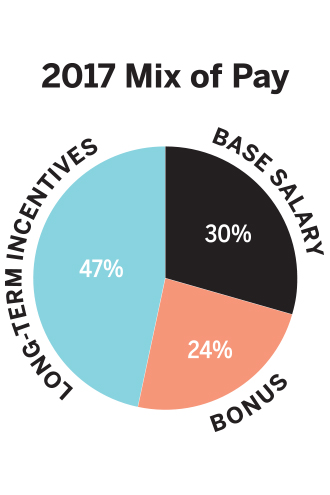 The net income growth of 24 percent is significantly higher than the median 9 percent net income increase in the prior fiscal year. What's more, income growth in the most recent fiscal year was produced on a 9 percent median increase in revenue, indicating much higher profitability than in the prior fiscal year, when net income growth exactly tracked revenue growth.
"The economics of these companies is the strongest we have observed in the nine years since the study began," says Marsha Cameron, managing partner and co-founder of Paradox.
As one might expect, CEO pay rose substantially. The median increase in total direct compensation was 9 percent, the largest in the nine-year history of the study. Oil and Gas continues to be the highest-paying industry for CEOs among DFW middle market companies. No one had a better year, percentage-wise, than Holly Energy Partner's George Damiris, who received a 338 percent increase in total compensation from 2016 to 2017, going from $452,187 to nearly $2 million.
Two industries—Technology and Financial Services/Real Estate —increased median CEO pay by double digits (30 percent and 45 percent, respectively). The median compensation change in Technology was driven by CEOs at all but one company seeing a bump in pay. The increase to Financial Services and Real Estate total compensation improved the industry's ranking from fifth-highest-paying in the prior fiscal year to third-highest in the most recent fiscal year.
Still, compensation for the most recent fiscal year appears to be a story of the haves and the have-nots. Despite the overall median increase of 9 percent, CEO pay actually decreased in a number of industries (Business and Professional Services, Retail, Consumer Products and Services, Healthcare and Health Services, Other Manufacturing, and Oil and Gas). On average, base salaries for middle market CEOs rose by 8 percent in 2017, more than twice the increase for the average employee. Meanwhile, annual bonuses increased by 25 percent, with all but four companies awarding them. "Bonuses are most frequently related to increases in profitability and/or revenue," Cameron says. "So, in a stellar year, increases to bonus awards are to be expected."
2017 vs. 2016
Median Total CEO Compensation By Industry
| Industry | 2017 Median | 2016 Median | Variance |
| --- | --- | --- | --- |
| Oil and Gas | $4,897,005 | $5,399,014 | -$502,009 |
| Technology | $4,789,746 | $3,698,028 | $1,091,718 |
| Financial Services and Real Estate | $3,583,182 | $2,480,091 | $1,103,091 |
| Other Manufacturing | $3,257,759 | $3,384,872 | -$127,113 |
| Hotels & Restaurants, Entertainment | $3,084,303 | $2,921,612 | $162,691 |
| Healthcare and Health Services | $3,022,893 | $3,229,925 | -$207,032 |
| Retail | $1,856,092 | $2,503,309 | -$647,217 |
| Consumer Products and Services | $1,495,223 | $2,269,012 | -$773,789 |
| Business and Professional Services | $1,248,360 | $1,290,004 | -$41,644 |
The median increase in long-term incentives during the last fiscal year was 6 percent. In the years since D CEO began the study, more middle market companies award long-term incentives regularly to the CEO, and the percent of total pay associated with these vehicles (stock options, stock awards, etc.) has grown to an average of 47 percent.
As data below reveal, total compensation for the last fiscal year, top to bottom, ranges from $14.9 million for Six Flags Entertainment CEO James Reid-Anderson to $405,000 for Alfredo (Al) Bala at Mannatech.
Top CEO Compensation
Dallas-Fort Worth Middle Market Companies
| Rank | Name of Company | CEO | Reported Salary (Base) | Total Cash Incentives (Base + Bonus) | Total Long-Term Incentives | Total Reported Compensation |
| --- | --- | --- | --- | --- | --- | --- |
| 1 | Six Flags Entertainment Corp. | James Reid-Anderson | $1,800,000 | $2,668,136 | $12,314,874 | $14,983,010 |
| 2 | Basic Energy Services Inc. | T.M. "Roe" Patterson | $700,000 | $1,330,000 | $10,756,941 | $12,086,941 |
| 3 | Spirit Realty Capital Inc. | Jackson Hsieh | $875,000 | $2,124,620 | $8,522,067 | $10,646,687 |
| 4 | Matador Resources Co. | Joseph WM. Foran | $1,000,000 | $4,950,000 | $5,107,898 | $10,057,898 |
| 5 | RealPage Inc. | Stephen T. Winn | $625,000 | $1,375,000 | $7,771,813 | $9,146,813 |
| 6 | Howard Hughes Corp. | David R. Weinreb | $1,000,000 | $6,000,000 | $1,136,075 | $7,136,075 |
| 7 | Cyrusone INc. | Gary J. Wojtaszek | $800,000 | $2,569,600 | $4,447,111 | $7,016,711 |
| 8 | CorePoint Lodging Inc. | Keith A. Cline | $772,500 | $1,572,733 | $4,159,607 | $5,732,340 |
| 9 | Diodes Inc. | Keh-Shew Lu | $660,750 | $2,144,704 | $3,303,771 | $5,448,475 |
| 10 | BlueCora Inc. | John S. Clendening | $550,000 | $1,672,000 | $3,748,292 | $5,420,292 |
| 11 | Elevate Credit Inc. | Kenneth E. Rees | $600,000 | $1,116,667 | $4,196,998 | $5,313,665 |
| 12 | Comstock Resources Inc. | M. Jay Allison | $825,000 | $2,164,723 | $3,130,218 | $5,294,941 |
| 13 | Eagle Materials Inc. | David B. Powers | $850,000 | $1,967,647 | $3,250,000 | $5,217,647 |
| 14 | HFF Inc. | Mark D. Gibson | $500,000 | $4,355,036 | $764,770 | $5,119,806 |
| 15 | Integer Holdings Corp. | Joseph W. Dziedzic | $850,000 | $1,016,154 | $4,094,278 | $5,110,432 |
| 16 | Exco Resources Inc. | Harold L. Hickey | $750,000 | $4,321,292 | $177,777 | $4,499,069 |
| 17 | Invitation Homes Inc. | Frederick C. Tuomi | $800,000 | $974,394 | $3,499,997 | $4,474,391 |
| 18 | Denbury Resources Inc. | Christian S. Kendall | $700,000 | $2,299,324 | $1,984,922 | $4,284,246 |
| 19 | HMS Holdings Corp. | William C. Lucia | $700,000 | $1,159,200 | $3,000,000 | $4,159,200 |
| 20 | Tyler Technologies Inc. | John S. Marr Jr.* | $425,000 | $935,000 | $2,780,462 | $3,715,462 |
| 21 | U.S. Concrete Inc. | William J. Sandbrook | $850,000 | $1,642,880 | $1,943,203 | $3,586,083 |
| 22 | Texas Capital Bancshares Inc. | C. Keith Cargill | $910,000 | $1,993,912 | $1,589,270 | $3,583,182 |
| 23 | KMG Chemicals Inc. | Christopher T. Fraser | $736,000 | $1,825,950 | $1,709,281 | $3,535,231 |
| 24 | Dave & Buster's Entertainment Inc. | Stephen M. King** | $800,000 | $1,853,626 | $1,593,680 | $3,447,306 |
| 25 | CSW Industrials Inc. | Joseph B. Armes | $512,500 | $1,491,018 | $1,766,741 | $3,257,759 |
| 26 | Green Brick Partners Inc. | James R. Brickman | $1,400,000 | $2,100,000 | $1,079,204 | $3,179,204 |
| 27 | Ennis Inc. | Keith S. Walters | $915,970 | $2,290,609 | $743,685 | $3,034,294 |
| 28 | Capital Senior Living Corp. | Lawrence A. Cohen | $772,712 | $1,262,172 | $1,760,721 | $3,022,893 |
| 29 | Zoe's Kitchen Inc. | Kevin Miles | $618,000 | $618,000 | $2,103,300 | $2,721,300 |
| 30 | Del Frisco's Restaurant Group Inc. | Norman J. Abdallah | $600,000 | $750,000 | $1,715,000 | $2,465,000 |
| 31 | Encore Wire Corp. | Daniel L. Jones | $850,000 | $1,750,000 | $370,130 | $2,120,130 |
| 32 | Tuesday Morning Corp. | Steven R. Becker | $717,500 | $717,500 | $1,363,684 | $2,081,184 |
| 33 | Legacy Texas Financial Group Inc. | Kevin J. Hanigan | $750,000 | $1,323,750 | $744,829 | $2,068,579 |
| 34 | A. H. Belo Corp. | James M. Moroney III** | $600,000 | $1,496,256 | $487,500 | $1,983,756 |
| 35 | Holly Energy Partners LP | George J. Damiris | $1,100,000 | $1,981,430 | $0 | $1,981,430 |
| 36 | Capstead Mortgage Corp. | Phillip A. Reinsch | $600,000 | $985,000 | $944,680 | $1,929,680 |
| 37 | Independent Bank Group Inc. | David R. Brooks | $700,000 | $1,450,000 | $398,382 | $1,848,382 |
| 38 | PFSweb Inc. | Michael C. Willoughby | $494,542 | $564,542 | $1,213,981 | $1,778,523 |
| 39 | Addus Homecare Corp. | R. Dirk Allison | $525,000 | $1,076,250 | $660,068 | $1,736,318 |
| 40 | Fiesta Restaurant Group Inc. | Richard C. Stockinger | $550,000 | $1,100,000 | $608,184 | $1,708,184 |
| 41 | AZZ Inc. | Thomas E. Ferguson | $724,500 | $802,746 | $900,000 | $1,702,746 |
| 42 | Container Store Group Inc. | Melissa Reiff | $800,000 | $1,631,000 | $0 | $1,631,000 |
| 43 | CECO Environmental Corp. | Dennis Sadlowski | $575,000 | $776,644 | $471,716 | $1,248,360 |
| 44 | Triumph Bancorp Inc. | Aaron P. Graft | $460,000 | $812,157 | $207,009 | $1,019,166 |
| 45 | Farmer Bros. Co. | Michael H. Keown | $534,690 | $534,690 | $472,000 | $1,006,690 |
| 46 | Southside Bancshares Inc. | Lee R. Gibson CPA | $615,000 | $892,655 | $0 | $892,655 |
| 47 | Hallmark Financial Services | Naveen Anand | $500,000 | $500,000 | $300,002 | $800,002 |
| 48 | BG Staffing Inc. | L. Allen Baker Jr. | $450,000 | $495,000 | $78,751 | $573,751 |
| 49 | Cambium Learning Group Inc. | John Campbell | $427,308 | $467,308 | $72,360 | $539,668 |
| 50 | Mannatech Inc. | Alfredo (Al) Bala | $400,000 | $405,000 | $0 | $405,000 |
* Now executive chairman ** Now retired
---
Research by Paradox Compensation Advisors