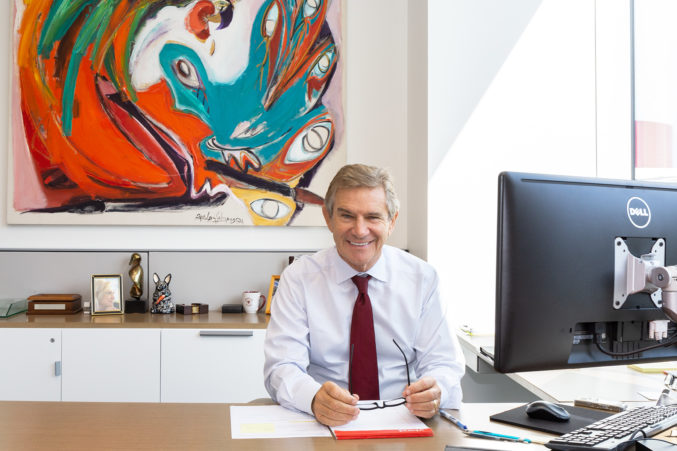 My Office: Craig Hall
The HALL Group founder tells us about the tie Herb Kelleher sent him and other things around his Dallas Arts District office.
Natural light floods through the windows at HALL Group's second-floor office at KPMG Plaza in the Dallas Arts District. Founder and Chairman Craig Hall occupies a corner desk within the firm's open-concept office, which is scattered with art in various mediums. The developer behind HALL Arts in downtown and HALL Park in Frisco is ramping up his private-lending platform, called HALL Structured Finance. Hall and his wife, Kathryn, also own and run HALL Wines in California's Napa Valley.
The most exciting feature of Hall's Dallas office, as displayed by his animation when discussing it, is the view of his forthcoming HALL Arts Hotel and Residences just outside his window. The 183-room boutique hotel will open next fall; the 28-story residential tower will open in early 2020, with up to 50 homes. Before drawing the blinds to get an unobstructed view of the construction, Hall puts on a personalized hard hat and safety vest for effect. "It's my favorite thing," he says, pointing. "I love this."