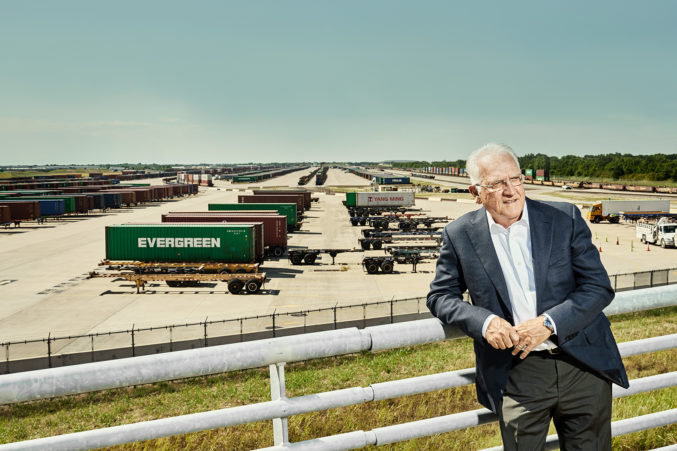 Developer Mike Rader Helped Pioneer Southern Dallas County's Booming Industrial Market
Two and a half decades later, it's one of the most active in the U.S.
Mike Rader, one of the most influential players in Southern Dallas County's booming industrial market, began developing land in the region before it was cool. Quiet and patient, the bespectacled, white-haired Rader worked in marketing and sales for General Motors' Chevrolet division until making a career switch nearly 25 years ago.
Rader formed his company, Prime 45 Development, in Colleyville, and developed industrial product in North Fort Worth during the early years of his commercial real estate career. But soon, he was spending more time in Dallas.
In 1984, Rader bought land at the corner of Interstate 20 and Interstate 45, seeing opportunity in the vast open spaces of Southern Dallas County. "When I first started, I thought it was going to be a short-term passive investment, and I'd move on," he says. "I didn't know it would be so difficult to bring development to the South Dallas area."
His vision for the southern sector and its potential as an industrial powerhouse never wavered, though, and by the late 1990s, he was pursuing an intermodal freight transport terminal that he believed would set the stage for the region's growth. In 2005, Union Pacific Railroad opened a facility on land Rader controlled in the cities of Wilmer and Hutchins.
The area would eventually become known as the International Inland Port of Dallas­—7,500 acres south of I-20 and between interstates 45 and 35, spanning portions of Dallas County and the cities of Dallas, Lancaster, Ferris, and DeSoto, and encompassing all of Hutchins and Wilmer.
"It took me seven years of persistence to convince the largest railroad in the United States to locate in Southern Dallas County," Rader recalls. It was the catalyst he had sought, and soon other developers—and big-name tenants—were flocking to the region.
As development coalesced, Rader established working relationships with city and county officials, real estate brokers, and Union Pacific. Those relationships have served him well over the years, as he's increased his land holdings and his influence.
Either alone or with partners, Rader now controls roughly 4,000 acres within the port's boundaries. He divides his time between his Colleyville office and another that he opened along Wintergreen Road in Hutchins, on land that is part of his Prime Pointe industrial park.
"This South Dallas growth has been the biggest accomplishment in my career," Rader says. "I'm excited to see the opportunity for more diverse growth, into technology and office, increasing the economic well-being of the area."
Today, the southern half of Dallas County is home to more than 120 million square feet of industrial space, according to Cushman & Wakefield. Over the years, Rader says, he never let the naysayers get him down. "People have told me in the past that nothing would come of South Dallas," he says. "I took it as a little bit of a challenge and worked at showing them that something definitely can come of South Dallas."