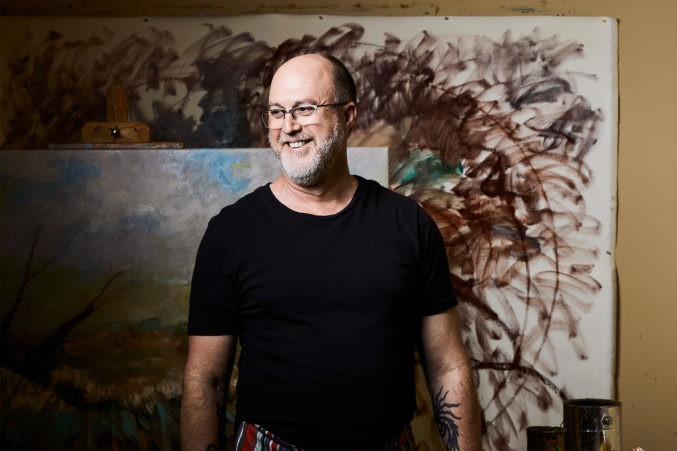 Comerica Bank Chief Economist Robert Dye Is Quite The Artist
And he has some thoughts about how easily we seem to separate the number crunchers and creatives of the world.
Two oil paintings, like "old friends," rest opposite each other in Robert Dye's downtown office. "I like to have them around," he says. "It just makes my office feel, for me, a little more familial."
Sitting across from his paintings—one an abstract landscape and the other a mishmash of color and light—the chief economist and senior vice president at Comerica Bank says people are often puzzled by "the left-brain, right-brain thing." But, he says, his data-driven day job and his artistic interest complement and expand each other.
"It's all creative problem-solving. I think that being an artist has made me a better economist, and maybe being an economist might make me a better artist, too. There's not one part of my brain that's opposed to another part," he says. "It's all the same stuff."
Dye's love for art began as a mental break from working toward his Ph.D. in the 1980s. Between writing his dissertation on energy management and policy at the University of Pennsylvania, Dye would drop by an art center on the way to campus. He began oil painting just "to do something different," but the diversion morphed into an enduring passion.
Dye went on to show his work up and down the East Coast; his latest art show is now open at the Business Council for the Arts in NorthPark Center. Running until Feb. 28, the gallery displays more than 20 of his works, mostly landscapes, but also still life and images of nothing but shape and color. He's never had a show at the BCA, where he's on the board of directors, but this latest exhibit allows him to share his art with Dallas.
Katherine Wagner, CEO of the BCA, says she's excited about the "mini retrospective," as most people who know Dye as a successful economist don't know him as "a professional-quality artist." Called "Places: Real and Imagined," the span of his collection demonstrates his growing focus on landscape, his love of nature, and colors melded into abstraction.
In his corner office at Comerica Bank Tower, Dye flips through photos of paintings on his phone: there's a boat dock, a reservoir, and landscapes of New Mexico and Alaska. The scenes bustle with thick brush strokes and texture that seems to pop through the glass screen.
Economics may have much to learn from art, from paintings like the green and purple horizon that sits above Dye's desk, or its companion, a splash of colors swirling snake-like around layers of painted canvas.
As a bank economist, Dye says he holds a unique position: He's the communicator; first the eyes and then the voice of the bank. Practicing observation before articulation has helped him succeed not only in his office, but also in his home studio. "My job is to think about what's happening in the real world—observation, analysis, really deciding what's important and what's not important," he says. Dye sifts through data to determine what is most relevant—and how to communicate it.
"In a very general way, that's the same as doing a landscape painting," he says. "You have to go through a process of deciding what's important visually. It's almost like any kind of problem-solving."
The creative process can take months. Even when he's struck by a scene—egrets hovering over the island by his lake house or a tumble of Texas hay bales—Dye doesn't always paint it right away. "You can go out and look at something, find something interesting to paint, but the best thing is to forget it and not go right into the studio. Maybe it comes back mentally to you a year or two later. By that point, you've digested it, you've simplified it, you've really made the image yours," he says.
Once he's ready to create, he makes sure the painting is a visual statement of his own. "To me, a successful painting is not an image. If you want an image, take a photograph, right?" Dye says. "A painting is something that has to do a lot more than that. It really has to have its own life and its own energy."