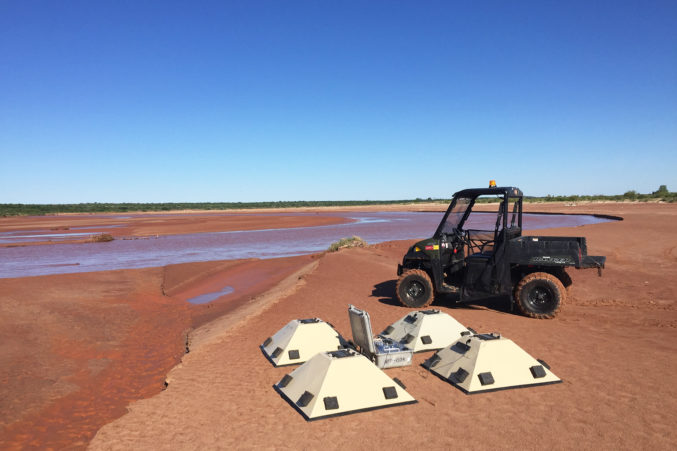 Calling All Hydrocarbons
Producers spend millions digging oil and gas wells that turn up empty. Hunt Consolidated spinout ES Xplore may have the answer.
Haroldson Lafayette Hunt built an oil and gas giant partly by digging where other people had already discovered raw fuels underground. Much like in 1930, when H.L. Hunt acquired East Texas land that would later become the world's largest oil field, exploration companies still have trouble knowing for certain whether they will find any raw oil or gas.
So, it's a touch ironic that the family business that bears his last name, Dallas-based Hunt Consolidated, created a separate business whose technology may offer an exponentially faster, easier, and cheaper way to determine where underground hydrocarbons are located and how far down they are—as much as 14,000 feet below the surface.
"This breakthrough technology gives companies newfound confidence in their drilling and exploration projects," says Dan Meyer, CEO of Dallas-based ES Xplore LLC, a roughly 20-employee shop that became independent in August 2016.
Using small, pyramid-shaped devices containing sensors the size of a cigar box, the company's system does its work without interfering with surrounding nature.
Even in areas close to production zones, only about 60 percent of exploratory wells find a significant amount of raw underground fuel, according to the IFP School, a French research and training institution. The success rate falls to 30 percent or less in geologically known areas, and 20 percent in areas with no previous exploration, IFP says.
Thus every producer must make enough from their successful wells to not only pay for the "dry holes" they dig but to turn a profit on top.
In 2016, a particularly bad year, Houston-based ConocoPhillips ate $432 million in dry-hole costs on its deep-water exploration, according to published accounts. The unsuccessful-drilling bug bit other majors that year, from Suncor Energy and Hess to BP and Royal Dutch Shell, too.
With conventional wells in particular, the problem is hitting a relatively small geological target underground, according to Bruce Bullock, director of the Maguire Energy Institute at SMU's Cox School of Business.
"If this technology or others can marginally improve the economics and take out some of the risk on the conventional side, it would certainly help," he says.
Lightning Plays a Role
ES Xplore's method involves recording and interpreting naturally-occurring underground waves of electromagnetic and seismic energy. Using small pyramid-shaped devices containing sensors the size of a cigar box, the company's system does its work without interfering with surrounding nature. The approach is both environmentally friendly and much faster than traditional methods, Meyer says.
The technology harnesses waves of electromagnetic energy that constantly hit the Earth's surface and travel partway through it. These waves are largely the product of lightning, which National Geographic says strikes Earth's surface about 100 times every second.
If an electromagnetic energy wave hits underground hydrocarbons, it returns to the surface in an electro-seismic wave. By measuring the strength of that electro-seismic signal, ES Xplore provides its clients with color-coded maps that show where raw oil and gas are located and which pockets have the most drilling potential.
It often pairs its data with seismic data that show structural information of geologic formations in which hydrocarbons could be trapped.
"We are providing an oil field exploration service to other oil and gas operators, and we sometimes partner with them in exploring prospects," Meyer says.
Long Time Coming
For now, ES Xplore is focusing on small and midsized producers exploring conventional reservoirs, which the company says are the easiest and least expensive to do and, when successful, are the most profitable.
A pair of its Dallas-area customers, Sovereign Resources and Unity Hunt, invested $12 million in the business when it spun out of Hunt Energy Enterprises, an incubator and venture group of Hunt Consolidated.
The incubator—which also spun out Dallas' Motive Drilling Technologies in 2015—began working on ES Xplore's technology in 2009. (Motive sold last year for $75 million.)
ExxonMobil tried building similar technology in the early 1990s, but eventually abandoned the effort. "At the present state of the technology, the generated signals are weak because of limits in driving large currents into the ground," the world's second-largest producer said in a 2006 scholarly article.
Hunt's venture group was able to get over that technological hump, partly because of advances in sensor design and "signal processing," or turning real-world phenomena such as sound and pictures into computers' language of 1s and 0s.
"We built the business by testing the technology over Hunt's own oil assets and iterated on our development over years of this testing," Meyer says. "As a stand-alone company we now have access to a much larger market."
If nothing else, ES Xplore could help level the playing field for smaller producers, which Bullock says often can't afford 3D seismic surveys, the current go-technology for hydrocarbon prospecting. The 3D surveys cost at least $85,000 just to get on seismic workstations. They essentially show what different rock formations look like in a chunk of ground.
"Hopefully it's something that helps," Bullock says of ES Xplore's technology. "There is a lot of oil that's untapped."