From D CEO May 2018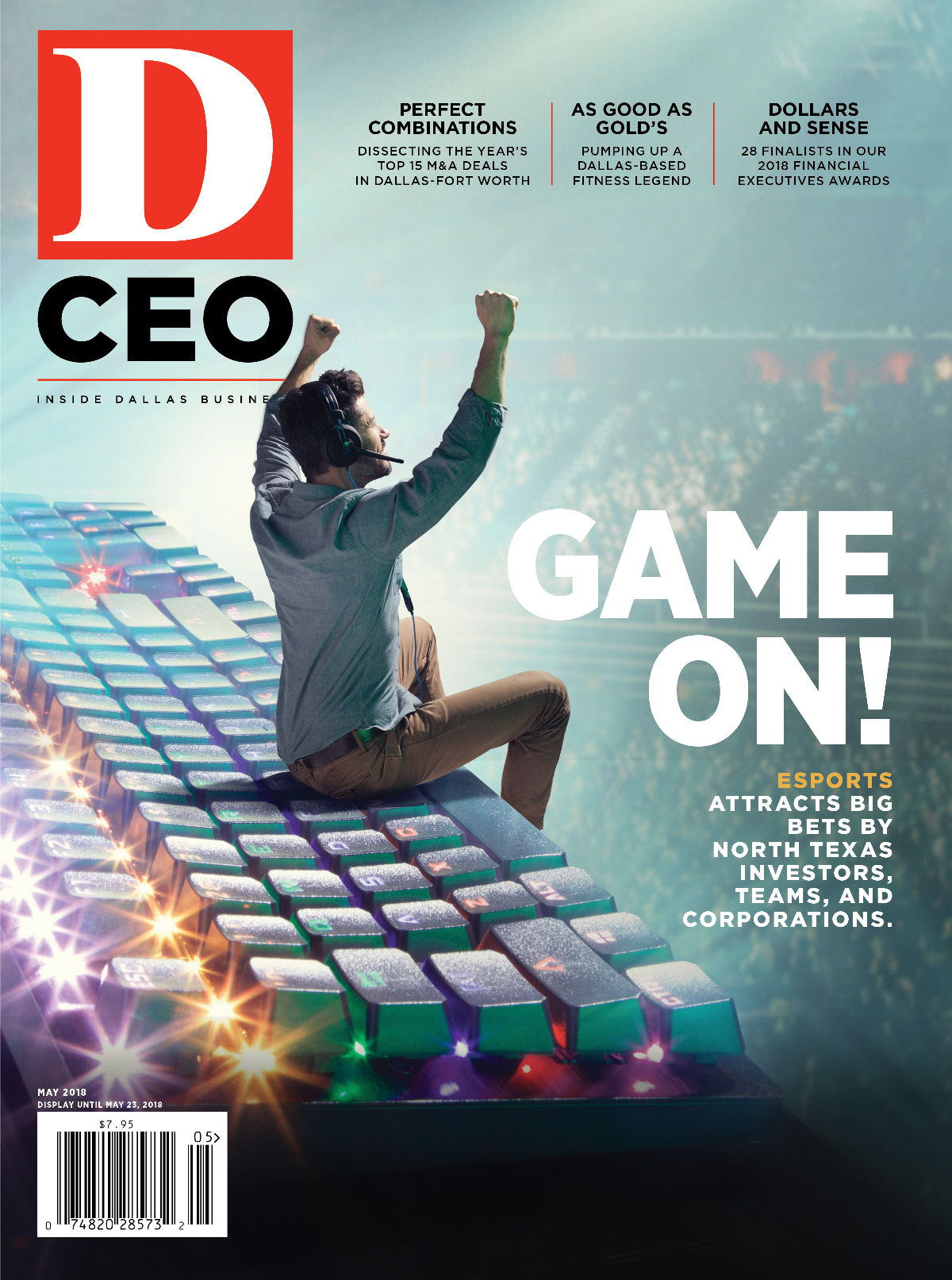 Subscribe
The legal market in Dallas—and Texas generally—is as hot right now as the temperatures will climb in August. Not only are large national firms continuing to open or expand offices here, but well-established Texas firms are yielding to the siren songs of national powerhouses. A new survey revealed that 82 percent of law firm leaders in the Lone Star State have been approached about merging with another firm. And according to a 2018 Law Firm Leaders Survey (conducted by consulting company Zeughauser Group), nearly a third of these leaders are open to combining with another firm within the next three to five years.
Certainly, recent developments in the Dallas legal scene bear this out. In late February, Virginia-based national firm Hunton & Williams and Texas' Andrews Kurth Kenyon announced a long-awaited merger. The new firm, Hunton Andrews Kurth, boasts more than 1,000 lawyers (roughly 300 in Texas) and an estimated $700 million in annual revenue. Andrews Kurth, with one of the preeminent oil and gas practice groups in Texas and a leading mergers and acquisitions section as well, had long been a prize eyed by other firms. Previous suitors whose names surfaced both before and after Andrews Kurth expanded in 2016 by merging with intellectual property boutique Kenyon & Kenyon included DLA Piper, Orrick, and Winston & Strawn.
Another mega-merger became effective on April 1, when Texas' 212-lawyer Gardere and 840-lawyer, Milwaukee-based national firm Foley & Lardner combined and became known in Texas and Colorado as Foley Gardere. In 2016, Gardere boasted gross revenue of $151 million, while Foley & Lardner had $671 million. The combined firm will have 1,100 lawyers in 24 offices in the U.S., Mexico, Europe, and Asia, and will rank among the top 50 U.S. firms.
This "mergermania" is hardly a Texas phenomenon. 2017 was a record-breaking year for law firm mergers nationally. In 2017, 102 law firm mergers or acquisitions occurred, according to legal sector analysts at Altman Weil MergerLine. This eclipsed the previous record of 91 law firm consolidations in 2015. But while corporate America might usually take a bullish view of mergers and acquisitions, legal observers attribute the consolidation of law firms to darker concerns. Facing a stagnant demand for legal services, big firms are battling for market share. There is a widening gap between the most profitable firms and the rest of the Am Law 200. Another factor driving the desire to explore mergers is the growing perception among firm leaders that more traditional ways to grow, such as the addition of lateral partners, is slow and rife with problems.
Yet another motivation to explore mergers: succession planning. Transitioning leadership and client relationships, respectively, to the next generation were identified by leaders of Texas law firms as their two biggest challenges, according to the 2018 Law Firm Leaders Survey Texas. With many firms coping with aging rainmakers and a glaring absence of next-generation business developers to carry the firm forward, mergers become increasingly attractive to maintain and expand a firm's strength. Only 69 percent of the law firm leaders surveyed were optimistic about the future of the overall environment for Texas law firms, with the level of competition from out-of-state firms cited as one of the biggest concerns (65 percent). The leaders identified enhancing their competitive position relative to larger firms as one of the top three reasons for merging, along with increasing profitability (45 percent) and ensuring the firm's long-term stability (42 percent).
Some legal observers view the growing openness to mergers as a reaction to the success that international and national law firms have enjoyed in expanding to Dallas. "There's a sense of 'if you can't beat 'em, join 'em,' because of the great success national firms have had here," legal recruiter Randy Block says. Block should know. The owner of Performance Legal Placement since 2005, he has worked with national firms like Holland & Knight to expand its Dallas office and is the exclusive placement professional for Chicago-based Katten Muchin as it grows its 13-lawyer Dallas presence. And while he acknowledges the merger interest by Texas firms as a way of increasing a firm's footprint beyond Texas or driving up profitability per partner, Block sounds a cautionary note to big, international and national firms: "People matter, and chemistry matters," he points out. "While numbers, practices, and books of business matter, so do happy people working in a collegial atmosphere. You can't just have a Frankensteinian mashup of people without the risk of it failing," says Block.
In the wake of a merger, there is no guarantee that a Texas firm's homegrown talent will warm to the new order. Within less than two months of the Andrews Kurth Kenyon/Hunton & Williams merger, more than 60 Andrews Kurth lawyers left the firm. While some departed to Texas-based firms, many headed to the Texas outposts of other national firms. In the case of Katten Muchin, Andrews Kurth's loss was Katten Muchin's gain, as Dallas managing partner and prominent mergers-and-acquisitions lawyer Mark Solomon opened Katten's Dallas office in February with six other former Andrews partners. Solomon says the goal is to grow the new Dallas office to 40 lawyers by early 2019.
Whether it happens by merger with a local firm or by starting an office in Texas, the Lone Star State has proven irresistible to international and national law firms in recent years. White & Case, which has 2,100 lawyers across 30 countries, opened a Houston office in February 2018. Shearman & Sterling, which has nearly 900 lawyers in 20 offices worldwide, launched its Austin office in February (with the aid of eight lawyers who left Andrews Kurth Kenyon), and has plans for a Houston office, too. And Los Angeles-based Sheppard Mullin, an 800-lawyer firm with 15 offices worldwide, announced plans in February to open a Dallas office.
Expanding to Texas isn't new for big firms—some out-of-state firms have had offices in the state for 30 years. So why the sudden feeding frenzy driving firms to the Lone Star State? The oil and gas industry is an attraction for many firms looking to bolster energy practices, and Houston is a logical target. On the technology front, Austin has been luring California companies for years. According to the San Francisco Chronicle, nearly two dozen Silicon Valley companies have relocated to or opened offices in Texas since 2014. Apple, Google, Amazon, and Oracle have built or expanded major campuses in Austin. North Texas has had a mix of everything, including major players in banking and insurance. Capital One has a large North Texas campus, and both Liberty Mutual and State Farm have opened major offices in North Texas. Toyota Motor North America's relocation from California to Plano created and relocated roughly 4,000 jobs to this area. Texas' strong economy and vibrant business opportunities put it on the top of most corporate wish lists, so it is hardly surprising that the law firms courting or already serving the legal needs of these companies want to be in Texas as well.
As national and international firms swoop into Dallas to merge with or raid talent from homegrown law firms, is the big native Texas firm becoming an endangered species? "Not yet, but I definitely put them on the 'watch' list," says Mike Gruber, a leading commercial litigator and principal at Dallas' Gruber Hail Johansen Shank. Gruber's firm has been courted by a number of big firms wanting to merge, and—so far—hasn't been won over. But Gruber himself is quick to point out that although these developments "put pressure on and endanger the high-end boutique firms" such as his, there are advantages as well and "for everyone I've talked to, it's been uniformly a positive experience.
"More and more of these big firms are receptive to the value-based billing/alternative fee arrangements that boutiques have embraced and which many companies are demanding," Gruber says. "With national law firms adopting this flexibility, getting away from just the billable hour model, and offering economies of scale while maintaining a small office work environment, they're going to be tough to resist."
---
John G. Browning is an attorney, award-winning journalist, and book author.
Get the D CEO Newsletter
Stay up to speed on DFW's fast-moving business community with weekly news reports, interviews, and insights.