From D CEO May 2018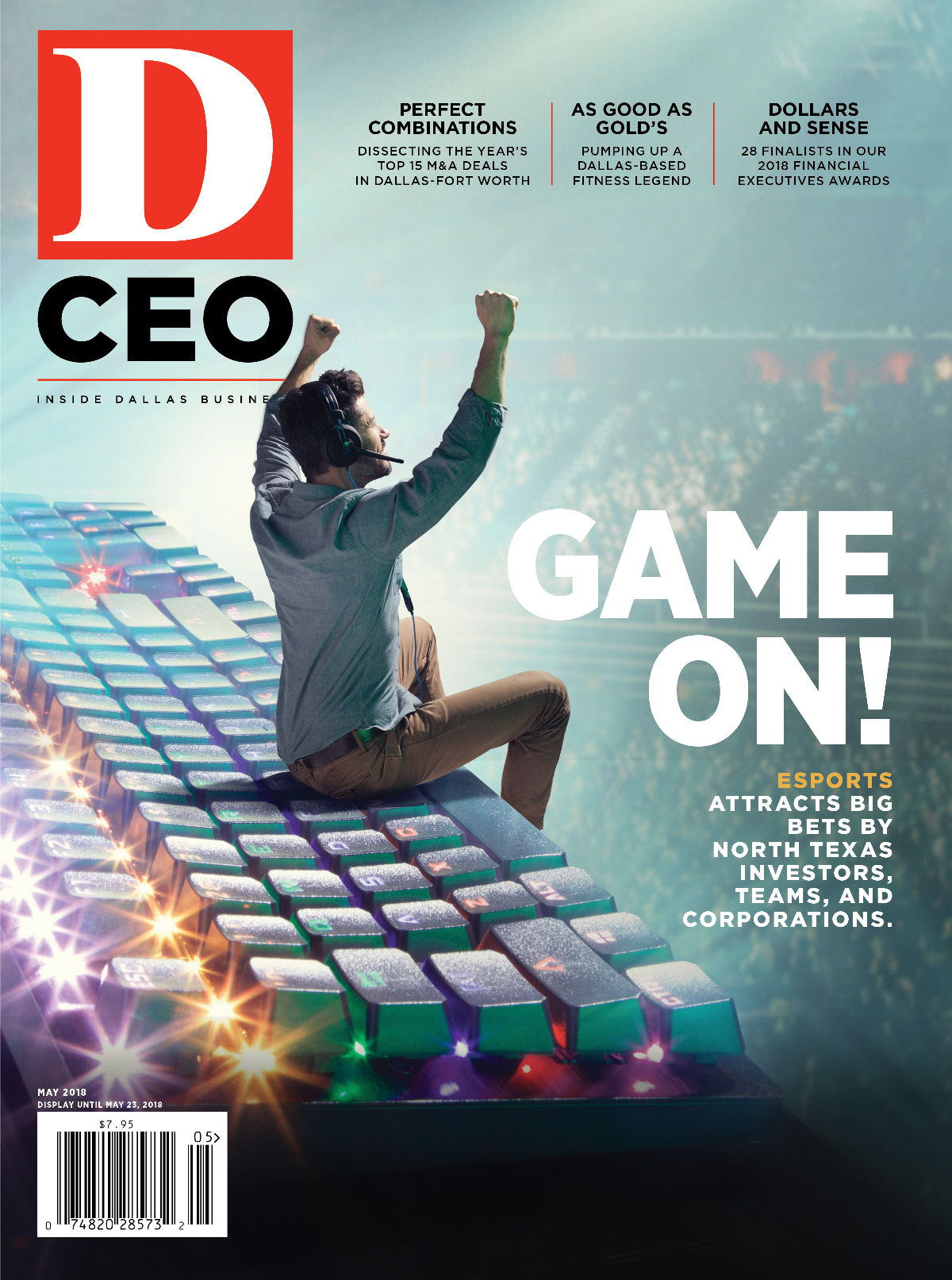 Subscribe
Three years ago, Addison-based Concentra Occupational Health watched as Nevada joined other U.S. states in adding a telemedicine parity law. Such laws say that private insurers have to reimburse telemedicine visits the same way they do in-person visits. Nevada's rule even specifically mentioned workers' compensation, a key for Concentra.
The shifting regulatory environment in that state and elsewhere would eventually provide reason enough for Concentra to enter the market, introducing a telemedicine product in 2017. A Concentra executive told me that it's been well-received, prompting the company to expand within the telemed arena. The company provides workers' compensation injury care digitally, and recently launched a tele-rehabilitation app.
What Concentra would soon find in Nevada is a lesson about the nature of the still-developing telemedicine market that can be applied in Texas and elsewhere. Nevada state officials would not allow e-signatures for what's called a "first report of injury," which has stalled Concentra's advances in the Silver State. In Texas, by contrast, telemedicine is primed to take off after legislators passed telemedicine act SB 1107 last year, legally establishing that telemedicine doctors can see patients digitally without prior in-person visits. But the industry won't find itself completely unstrapped from red tape.
Texas' telemedicine advocates are basking in the glow of new Texas Medical Board rules put into place in late 2017 to align with the new law. Those rules reversed a 2015 mandate saying clinicians had to see patients in person before seeing them digitally. That mandate never jibed with the business model at companies like Lewisville-based Teladoc—which functions as an Uber of the medical world, allowing contracted docs to sign on from wherever they happen to be. Without the restrictive rule in place, patients can wake up with a scratchy throat and dial in to be seen immediately—via video chat—by whatever physician happens to be signed on.
Enthusiasts are already dreaming up the next step: a thriving world of telepsychiatry, tele-rehabilitation, tele-neurology, tele-just-about-anything. Some see telemedicine as an extension of the real-world kind, a key to follow-ups and check-ups with existing providers—an idea that's gaining more and more acceptance among North Texas' major health systems. They see it as a way to close the gaps within underserved areas. The path forward will no doubt bring bumps like the ones Concentra is experiencing, but one thing's for sure: If you give innovators a green light to innovate, that's what they'll do. North Texas has only scratched the surface when it comes to telehealth.
All proponents of telemedicine would agree the state took a leap forward when it reversed the 2015 medical board rule last year. The Texas Medical Association, a collection of some 50,000 physicians, had previously supported the prior-visits requirement. The rule prompted a lawsuit by Teladoc, the oldest and largest telemedicine company in the country. Telemedicine providers were able to continue operating without prior in-person visits, but uncertainty prevailed.
Then came some compromise. The points that earned the most buzz were prior visits—no longer required—and a provision that says a physician practicing telemedicine in Texas must have a Texas medical license, a win for in-state clinicians. "It's one of the most positive things that came out of the last legislative session," says Stephen Love, president and CEO of the Dallas-Fort Worth Hospital Council, referring to SB 1107. He praised the way physicians collaborated with hospitals and legislators to bring it to fruition.
Marianne Fazen, executive director at the DFW Business Group on Health, was similarly complimentary. The employers she represents see telemedicine as a whisper of hope within the rising-cost conditions. Fazen says the real advantage for employers will come when it's taken beyond the "common cold" cases and toward care for patients with complex and higher-cost conditions like cancer, musculoskeletal issues, and heart disease. "It's hard to see a downside of telehealth, and it's hard to see a downside of the continuing expansion," she says.
Greg Hansch, public policy director at the National Alliance on Mental Illness Texas, says NAMI believes telepsychiatry has a role to play in mental health treatment. North Texas stands to be a major beneficiary. A recent study from the North Texas Community Health Collaborative showed six of 16 counties have fewer than 60 behavioral care providers per 100,000 people, falling well below the state's average of about 95. "There are a lack of providers," says Hansch. "So, this creates access to mental healthcare."
Also toward that end, Congress recently introduced legislation that would allow some mental health and addiction centers to be registered as clinics, allowing telemedicine providers to prescribe controlled substances without in-person screenings.
A variety of expanded use cases sit right around the corner. Dr. Thomas Kim, who has his hands in telehealth as a physican evangelist at telehealth company Medici and chief medical officer at telehealth company Med2You, says that, in a post-SB 1107 world, he could see pure telehealth companies expanding toward every vertical.
Yet his dream scenario entails telemedicine as an extension of your in-person medical experience. Put another way: Right now, seeing a digital doctor means seeing a doctor with no prior information, at the right time. "In the end, what I hope for is your doctor, with the right information—somebody that knows you—at the right time," Kim says.
Hospital systems, which might seem to be direct competitors of telehealth companies, have started to embrace new digital services as well. Dallas-based Baylor Scott & White Health, for instance, has a system with a portal to allow patients to communicate in text to their doctors. When I sat down with Baylor Scott & White CEO Jim Hinton recently, he mimed the way a patient might take a remote, transdermal sodium measurement in the future, raising his right hand out as if giving an oath.
"Patients with congestive heart failure who are trying to manage their weight and their sodium could step on a scale, put their hand up on the screen," Hinton says. "What that entails today is, you drive from Grapevine down to [Baylor University Medical Center], you park in the parking garage, you go in, and they stick a needle in your arm and put you on a scale."
"All that can be done"—snap—"like that," Hinton says.
When I talked with Methodist Health System CEO Stephen Mansfield, he also was big on the idea of digitally delivered health. We were on the phone to discuss a different subject, but telemed took over the conversation. Mansfield's system in January launched Methodist NOW, which connects patients and providers virtually. The text-based conversations end up in a patient's chart—which, in Mansfield's view, allows what is generally an "episodic" relationship to become part of a patient's "longitudinal" care.
The tele-whatevers of the world can and probably will still face obstacles, of course. Concentra, as it turns out, is facing a hiccup in its home state as well. The Texas Division of Workers' Compensation has traditionally reserved telemedicine related to workers' comp injuries for patients in "underserved" areas. The Division posted an informal rule to change that last fall, but Concentra's Ann Schnure, vice president of the company's telemedicine operations, says it's been told of a delay in instituting the rule. "So, we're in a holding pattern," Schnure says. (A representative for the Division before press time told me the rule is in the public comment period, which was scheduled to end on April 2. If all goes as planned, the rule was to be adopted by the end of April.)
No matter, it's likely that telemed innovators are viewing new state law as a green light. Says Kim: "There is no clinical specialty that telehealth cannot enhance."
Get the D CEO Newsletter
Stay up to speed on DFW's fast-moving business community with weekly news reports, interviews, and insights.