From D CEO May 2018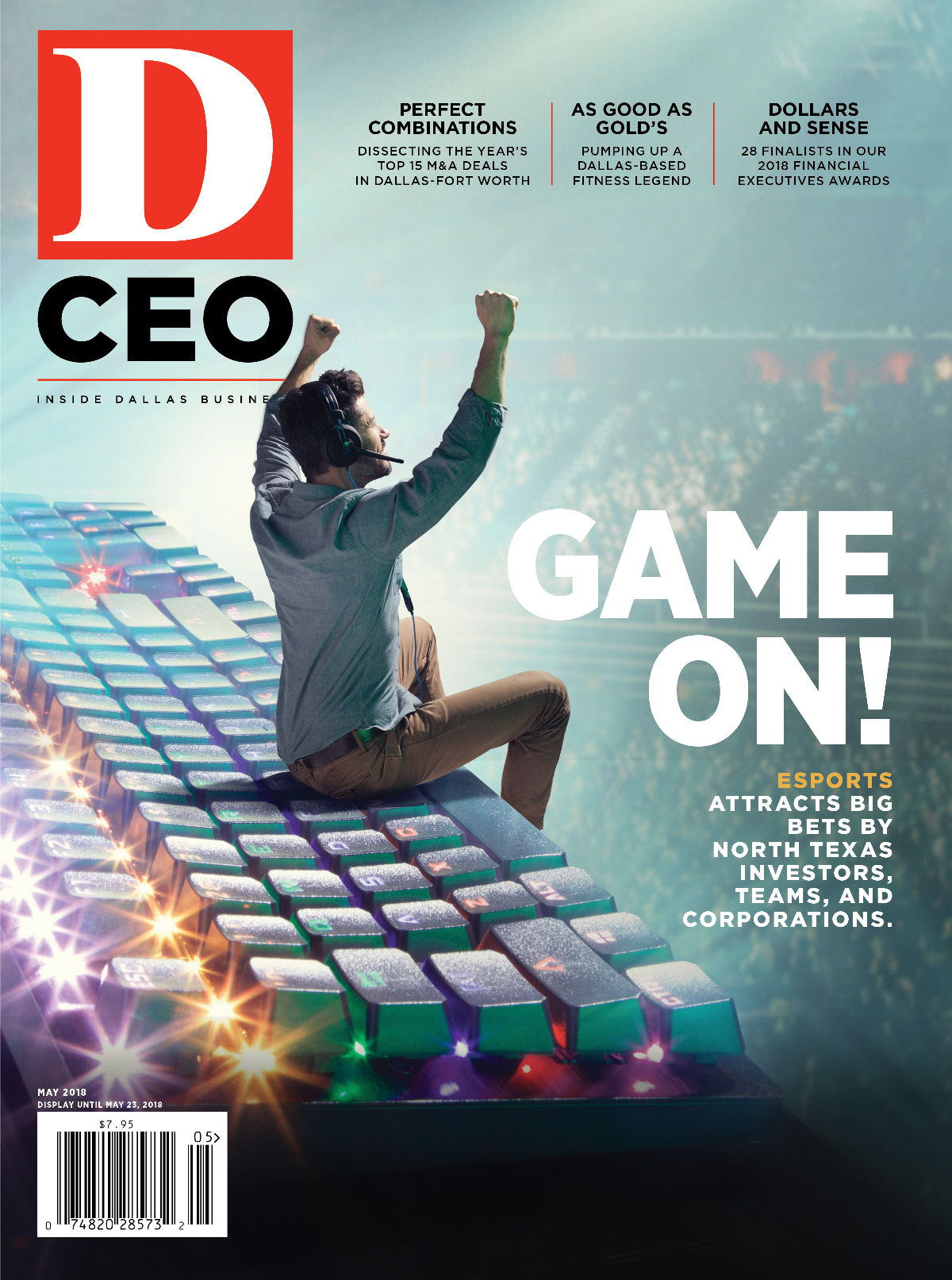 Subscribe
When Oliver Cone talks to business owners, he tells them if they're considering selling their business in the next couple of years, they should probably think about selling now.
"It's hard to believe this market is going to get much better than it is if you're a seller," says the senior vice president at Bulkley Capital, a Dallas-based investment bank serving the middle market.
A long list of favorable factors moved buyers and sellers in 2017. As a result, the number of mergers-and-acquisitions deals statewide increased slightly compared with 2016, which was also a strong year. In Texas, 986 deals involving an in-state target, bidder, or seller were announced in 2017, according to the trade publication Mergermarket. That was just 4 percent shy of the record 1,054 deals announced in 2014.
Statewide, the energy sector made up two-thirds of the value of the deals. But a much wider array of businesses were involved in mergers and acquisitions in North Texas.
Companies involved in homebuilding, natural foods, pallets, firearms, sports-business software, single-family home rentals, and work clothes were among those named as finalists in our annual Mergers & Acquisitions Awards, presented by D CEO and the Association for Corporate Growth. We'll announce the winners at an event in May. Judges for the 2018 awards program were Gemma Descoteaux, corporate partner, Sheppard Mullin; Robert Kibby, shareholder, Munsch Hardt Kopf & Harr P.C.; Mike Morrow, managing director, TRANSEARCH International; and Preston Roush, vice president, corporate banking, Texas Capital Bank.
Macro-economic conditions were favorable for sellers of businesses throughout 2017, with few clouds in the sky, says Bobby Renkes, managing director of Dallas' Pinecrest Capital, a middle-market investment bank. "Valuations were at attractive multiples, and that is due to the fact that capital—effectively cash on the sidelines—is as [prevalent] as it's been as long as anyone has seen. When the economy is good and there's that much available cash, buyers are willing to pay these attractive multiples, sellers are willing to sell, and this is when you see the highest deal activity."
Renkes, who's a finalist for Investment Banking Dealmaker of the Year in this year's M&A Awards, says private equity firms that held off buying in 2015 or 2016—out of political uncertainty, or concern that the economy was due to turn— became buyers in 2017.
There has also been a multiplication of private equity firms—a 50 percent growth in the number over the past three years—as the 10-year economic expansion has continued, Renkes observes. Partners spin off into their own firms, and that trend is taking place in Dallas as well. More firms mean more potential buyers.
Cone, who's also a finalist for Investment Banking Dealmaker of the Year, said demographic trends that have long been predicted appear to be having an effect as owners from the baby-boom generation retire and sell their businesses. "That trend had been slower than we expected, but these high valuations are perhaps finally having their effect and bringing on a wave of these sellers," he says.
Cone also notes that Dallas' family offices—professional managers of family wealth—have taken a stronger interest in buying operating businesses directly, rather than investing through funds. "From our side, they're ideal buyers," he says, particularly when sellers are concerned about their legacy and the effect of a sale on managers, employees, suppliers, and customers. "They typically have a much longer investment hold concept. They won't flip [the business] in five years and take the cash."
Although there are concerns about interest rates rising, rates remained near historic lows throughout 2017, so that factor also did not slow the market, Renkes says.
Strategic buyers—companies making purchases to enhance their businesses—were also "flush with cash" and somewhat less put off by rich valuations than financial buyers, says Jonathan Whalen, a partner at Gibson, Dunn & Crutcher LLP. "Strategic buyers are able to generate synergies, so they're able to accept slightly lower returns because of it."
Articulating A Vision
Whalen, who's a finalist for Attorney Dealmaker of the Year, says it's hard to imagine an industry that has turned around more since the 2008 recession than homebuilding. One of the most-watched deals of the year was Arlington-based D.R. Horton's acquisition of Colorado-based land developer Forestar Group, following a bidding war with Starwood Capital Group, a private equity firm based in Connecticut. The D.R. Horton/Forestar transaction is a finalist in the Public Deals category.
Whalen, who represented D. R. Horton, says the homebuilder wanted to maintain Forestar as a separate entity in order to allow it to raise its own capital. "They had a cash offer in hand, and we were offering cash and stock," Whalen explained. "We were skeptical the market would be able to digest this long-term story, even though it made sense. In public M&A, complexity is not a good thing. The investor has to understand what they're getting. But Horton did a really nice job of working with their PR firm to clearly articulate their vision."
Renkes, the investment banker, says the relative strength of the Dallas economy during the last downturn was an added incentive for buyers of Dallas businesses. "Buyers want to buy Texas-based firms, and a lot of that is due to the fact that in 2008, 2009, the rest of the country suffered much more than Texas did. The diversity of its economy made for more sustainable revenue and earnings at a lot of businesses, and buyers are looking for companies that will perform well in the event of a slowdown."
Renkes says his firm has carved out a niche in healthcare for that same reason: its resiliency during downturns. He says the push and pull in Washington over the Affordable Health Care Act had little effect on the health-oriented businesses he advises: "That wasn't a significant driver in deal activity. What we heard mostly was business owners' concerns that their healthcare costs are rising so much that they wouldn't be able to provide the same quality of health insurance that they've been providing for the past 20 or 30 years."
Mark Solomon, an Attorney Dealmaker of the Year finalist, switched firms and opened an M&A practice in Dallas for Katten Muchin Rosenman LLP in early 2018. That development itself was indicative of the region's healthy deal-making climate. "We are seeing so many law firms opening offices in Dallas," Solomon said. "It's a symptom of everything else going on around here."
Growth appeared to be self-perpetuating in other ways as well. In late 2016, Jacobs Engineering, a multifaceted engineering company, moved its headquarters to downtown Dallas, making North Texas home to yet another Fortune 500 company. A year later, in December 2017, Jacobs completed the $3.27 billion acquisition of Colorado-based CH2M, an engineering firm that largely serves government clients in the water, transportation, and nuclear sectors. Jacobs, whose transaction with CH2M is a finalist in the Public Deals category, said it would combine the two companies' headquarters in Dallas. The merged company is expected to have annual revenue of approximately $15 billion.
In energy M&A, West Texas' Permian Basin was again the center of activity involving North Texas players in 2017. "In terms of getting attention from Wall Street and investors in general, the Permian was the central focus, and that will likely continue into 2018," says Bruce Bullock, director of the Maguire Energy Institute at Southern Methodist University. "The factors are: you have a stacked play where there are multiple levels you can produce from, the scale the industry has achieved, and technical advancements that have driven down break-even points to where you have some of the most attractive oil investments in the world."
At press time in March, all Dallas dealmakers interviewed predicted more of the same favorable environment for 2018. Typical were the views expressed by Solomon, the M&A attorney: "Valuations are very, very high. But with the availability of credit, the only real mitigant is the uncertainty of the geopolitical landscape. … With all the dry powder out there, and interest rates that are rising but are still low, there's a feeling out there that this is good time to buy, especially locally."
Get the D CEO Newsletter
Stay up to speed on DFW's fast-moving business community with weekly news reports, interviews, and insights.