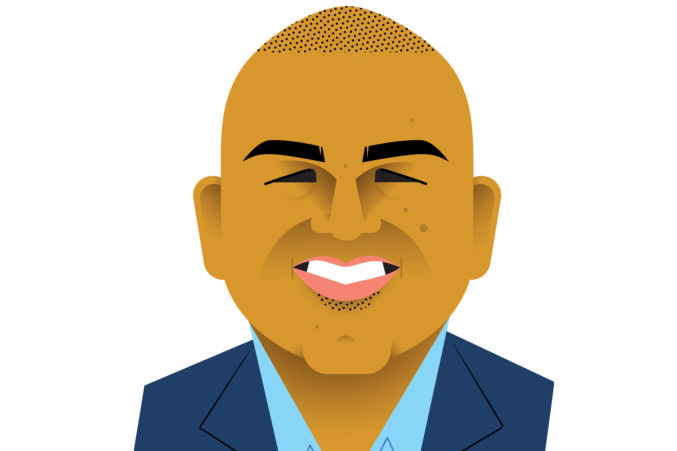 Lunch With D CEO: Mike Hoque
The serial entrepreneur has big plans to transform South Dallas with a smart district and the redevelopment of the Pilgrim's Pride plant.
Two words describe Mike Hoque's business philosophy: organic growth. Hoque is the restaurateur behind DRG Concepts, the parent company of brands such as Dallas Fish Market and Wild Salsa. He also sits at the helm of international real estate development, hospitality, technology, and logistics company Hoque Global.
The bulk of Hoque's time is spent on two local projects: the development of the Dallas Smart District and the redevelopment of the empty Pilgrim's Pride plant in South Dallas.
For the former, he spent the last three years buying up 20 acres around City Hall to build a mixed-use destination integrated with smart technology. Last year, he brought on developer KDC and architect Pelli Clarke Pelli.
"For any project I do, it must help the surrounding area. If not, I won't do it."
"Every downtown I visit, there's a resurgence of people coming back to downtown. Why not us?" he says before we take the elevator downstairs to his Dallas Chop House restaurant. "But to build a culture takes a long time. It will be years of work." He says this admitting he has admiration for the work already being done in downtown's southern half.
When pressed for a timeline, Hoque reiterates his stance on market-driven organic growth. The Dallas Smart District, he says, has both equity and a lender lined up, and he's not in a hurry to build too fast. A first phase with an undisclosed 500,000-square-foot office tenant will kick off by the end of 2018.
Hoque plans to announce more details on the Smart District and his Pilgrim's Pride project, which Hoque bought in July 2017, in upcoming weeks, he says as we're settling into a booth. As waiters pass, he greets them all by name.
The Smart District is in something of a partial holding pattern until Amazon decides where to locate its HQ2. (Dallas Smart District was identified in the Dallas Regional Chamber's bid as one possible location for the tech giant's second headquarters.) However, moving forward now are Hoque's plans to transform Pilgrim's Pride into another mixed-use project, which will have varying levels of affordable housing. "Pilgrim's Pride is going to change the southern portion of the city," Hoque says, digging into his lunch of seared redfish. "South Dallas needs visionary projects and long-term investors … For any project I do, it must help the surrounding area. If not, I won't do it."
To kick off two massive projects this late in a real estate cycle, Hoque says he's prepared to see these developments to the finish line, regardless of how long it takes. "I'm setting this up to develop during a recession. Our goal is not to be the biggest, but solid," he says.
He takes a similar approach with DRG Concepts, which is run by CEO and co-founder Nafees Alam. DRG is working on a vegetarian concept with a lower-cost price point, and a fast-casual sister to Wild Salsa called Taqueria by Wild Salsa. "We've learned from other people that you can grow quickly and dilute your brand," Hoque says. "If I didn't have Nafees as a CEO, I might have done that." To prevent that from happening to DRG, Hoque plans to see how some things pan out over the next few years. Namely, he's watching how the leadership shakeup at Chipotle could create opportunity in the fast-casual Mexican space, and how the massive influx of restaurants in Dallas' northern suburbs will create some winners and losers—and empty restaurant.
"I'm not a billionaire, nor do I have a billionaire's money behind me. I have to, by nature, do things organically," Hoque says. "A lot of people think I'm crazy, but I'm really not. I'm a calculated man, and I bring smarter people around me."